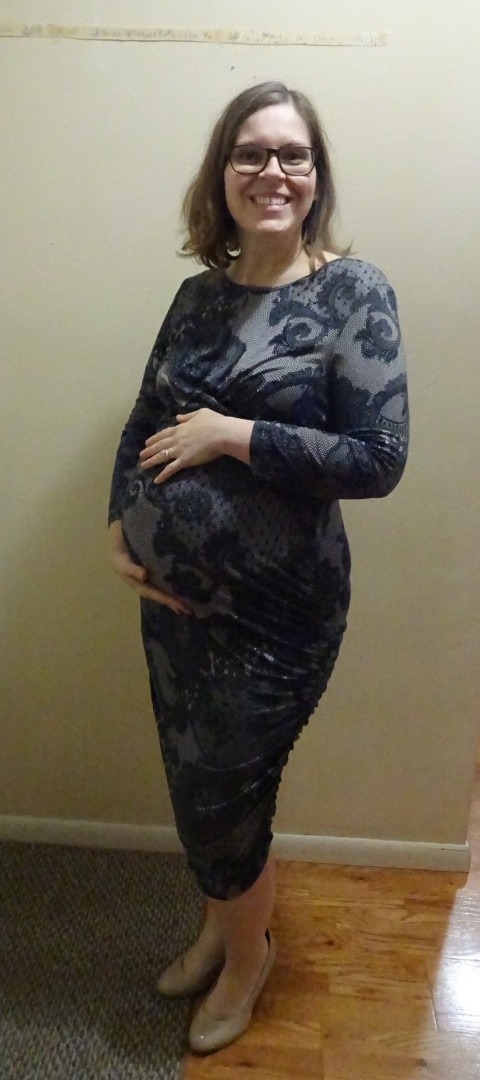 Rent maternity clothes? And why not?! I saw an ad on Facebook for Le Tote, and thought that if I were ever to rent clothing, it would be during pregnancy! Seeing as pregnancy is a common time for both regular and maternity clothes to not fit one day, when they fit just fine the other day, rental sounded like a plausible option. Also, when you're "only" pregnant every several years, the styles seem to change quite a bit between pregnancies. In addition, some pregnancies take place in the opposite season as a previous pregnancy, leaving the owner with little ability to wear prior maternity clothes. Clothing rental could also be a great choice for someone changing sizes rapidly from dieting or post-partum. When Le Tote sent me a coupon for 50% off my first month's rental, it sealed the deal for me!
How Does It Work?
When you decide to order a "tote" from Le Tote, you choose which package you'd like. For maternity, I could choose between 3 clothing items/2 accessories or 4 clothing items/0 accessories (for about $10 more). For an additional $5, I purchased "clothing insurance" in case I damaged or stained an item. (But really, what kind of slob spolshes dirty dishwater on her baby bump...?) An employee at Le Tote chose clothing based on my measurements and style selections. I had 48 hours to look over those selections and trade from among hundreds of other items. (I actually "exchanged" each of the 4 clothing items for something that was more practical for my lifestyle: a long, tunic-style top, a formal dress for the orchestra, a sweatshirt, and sport pants.) Every item fits perfectly well.
What Do I Think?
I like that I can keep all of the clothing items as a "set" for as long as I'm a member. Unfortunately, I only wanted to try out the membership for one month. Subtracting the time for shipping from and back to Le Tote, I get only about 3 weeks to wear the clothes. Also, as far as customer service went, I had a hard time having any questions answered prior to membership. Once I spent the money to become a member, I emailed with some specific questions that I couldn't find the answers to on the website. The rep who answered my email just sent me a link to the FAQ page I had already perused, so that wasn't particularly helpful!
Le Tote launders all of the clothes before shipping them. The detergent scent was a bit strong, perhaps stronger than I would've liked, but the scent wore off after airing out the clothes. The up-side to the laundering is that you don't need to wash the clothing items at all while you rent them! Less laundry for me, more for Le Tote!
Comparisons
Compared to the Stitch Fix, it was great to be able to remove and change the items in my "tote" prior to shipment. Also, Le Tote had no styling fee to pay for the maternity rental. Both have free shipping. Both also offer discounts if you purchase every item in the entire shipment.
Compared to the online clothing thrift store Thread Up, Le Tote certainly cost more money per item (which you have to return, not keep), but it also features "free" shipping, for which Thread Up charges. However, one thing Thread Up has going for it is the detailed information on each clothing item on their website. Le Tote had minimal information on clothing measurements or kinds of fabric. That being said, when I recently checked Thread Up for my size of maternity occasion dress, I didn't find any choices I liked.
Not interested in rental clothing? You can also purchase your rental items from Le Tote after trying them out via a rental.
Summary
Tomorrow, I'll pack my rental clothing in a postage-prepaid bag and send it back to Le Tote. Overall, I'm very pleased with the "tote" I received from Le Tote. The quality of the clothing was excellent. I also received many compliments while wearing the items. I'm pleased that I don't need to be concerned about how or where to store these pieces when I'm no longer pregnant, nor was I concerned about staining them. If the cost were lower per month, I'd consider continuing my membership through the end of the pregnancy. However, I'm thankful to have had a significant discount code emailed to me so I could give Le Tote a try for November. It was a fun way to flirt with fashion.
Follow this link, and it says that my friends receive a free tote. If you choose to purchase another month's rental, I get a $25 credit toward a future rental (just in time for a lovely Christmas dress?).