ThredUP Review
---
If you're anything like me, you love thrift stores, not just because of the prices, but also because of the variety of items and styles available. You're not locked in to the current "hot" fashions sold in first-hand stores. It also soothes my consumption-conscience that thrift stores keep items out of landfills when they still have life left in them.
So, why not "thrift" online? After my recent purchase with Thrive Market for groceries in the comfort of my own home, I learned about a new resale shop for women's clothing that is also based online. It's called ThredUP and I want to tell you about my recent purchases.
I originally came across this company when a Facebook friend referred me. (After a few emails with customer service, this friend received a $10 credit to her account after I made a purchase. I would be delighted to refer you and receive a $10 credit if this blog convinces you to try it out!)
One evening, when the kids were tucked in, I spent about a half hour adding a dozen or so dresses to my virtual cart. I was looking for a dress I could wear for my first time attending the orchestra next month, but also something I could dress down with leggings and a sweater to go a museum or playdate. (I'd have other times in mind, too, but I don't often wear dresses while I'm breastfeeding for "logistical" reasons.)
I wasn't sure what my clothing budget was for the month, so I decided I needed to work on finances before I made a purchase. When I returned to the website after two days, my "cart" had been emptied and the items put back on the "shelf" for other shoppers to view. I was really disappointed at first, thinking I'd have to shift through the entire website again; however, there was a list at the bottom of the page of "recently viewed items" so it was easy to add back what I wanted. I learned later that the items remain in your cart up to 24 hours.
At that point, I realized that I, as a first-time shopper, had an additional 40% off coupon. This made the already discounted clothing even cheaper. There was free shipping on order over $79, but I didn't spend that much, and instead paid $5.99 shipping.
How to Decide?
There were so many lovely dresses offered at ThreadUp! How to choose what to purchase? Here was my process:
I paired down all of the offerings just to dresses. Then I only looked at dresses my own size.
Originally, I didn't add anything to my cart that was over $20. There wasn't a button to specify my price-range, but the dress prices were clearly labeled.
From the dozen or so dresses I added to my cart from the original menu, I clicked on them individually. There, specific descriptions were given, including fabric type, any problems or stains with the garment, and measurements. I eliminated anything that was stained or that I thought would be too short or too tight in the chest. (Waist measurements were, unfortunately, not given.)
I also decided to eliminate any clearance items in my cart. The price was right, but since they can't be returned, and I wasn't certain of my size, I didn't want to chance it.
I wound up ordering three dresses.
Vera Wang: $8.38
Merona: $6.00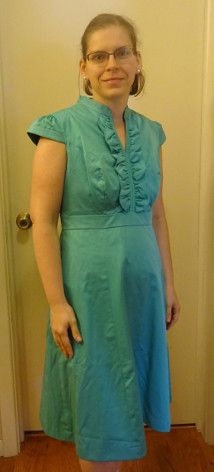 eShakti: $10.20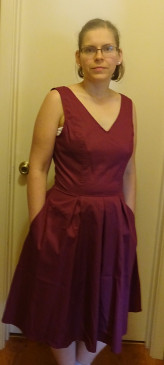 All three dresses were pre-worn, but many originally in my cart were brand new.
Returns?
I plan to keep the first two dresses and return the third. I didn't think the cut was very flattering on me, even though I liked the color. I also loved the pockets, but the zipper had a few threads coming out of it, and it think it would age pretty quickly. (Also, I bought with the expectation of returning something so I can update later about the return process.)
ThredUP's policy states that you have 14 days from receiving your package to decide what to keep and what to return. They offer free return shipping if you take your refund as a store credit. (This is what I plan to do.)
I will report back with an update about the status of my return.
Summary
All in all, I loved the process of clothes shopping from my own home. There was a bit of risk involved considering that I couldn't try on the items ahead of time, but with the free return policy, it seems worth the small risk for what I made up in convenience, not needing to leave my own home (with my kids!) to shop for a dress. I would do this again for special occasion items, but also for basic wardrobe pieces. With the 40% off sale, the value I received was amazing, and I loved finding unique pieces! I'll definitely be shopping ThredUP again, and I hope you will try it, too!
---

TAGS: Motherhood, Product Review, Clothing, Home Economics