Honest Diaper Delivery Review
---
This past summer, I looked into natural diapers to see which brands were available and determine whether it was worth paying extra for any of them. At that time, I was introduced to The Honest Company when I purchased a box for review from a local brick-and-mortar store. As I researched the company for that blog post, I learned that the company primarily offers its diapers wholesale from its website, with a diaper "auto-plan" where they send you an order each month. I wanted to test it out and pass on my opinions to you.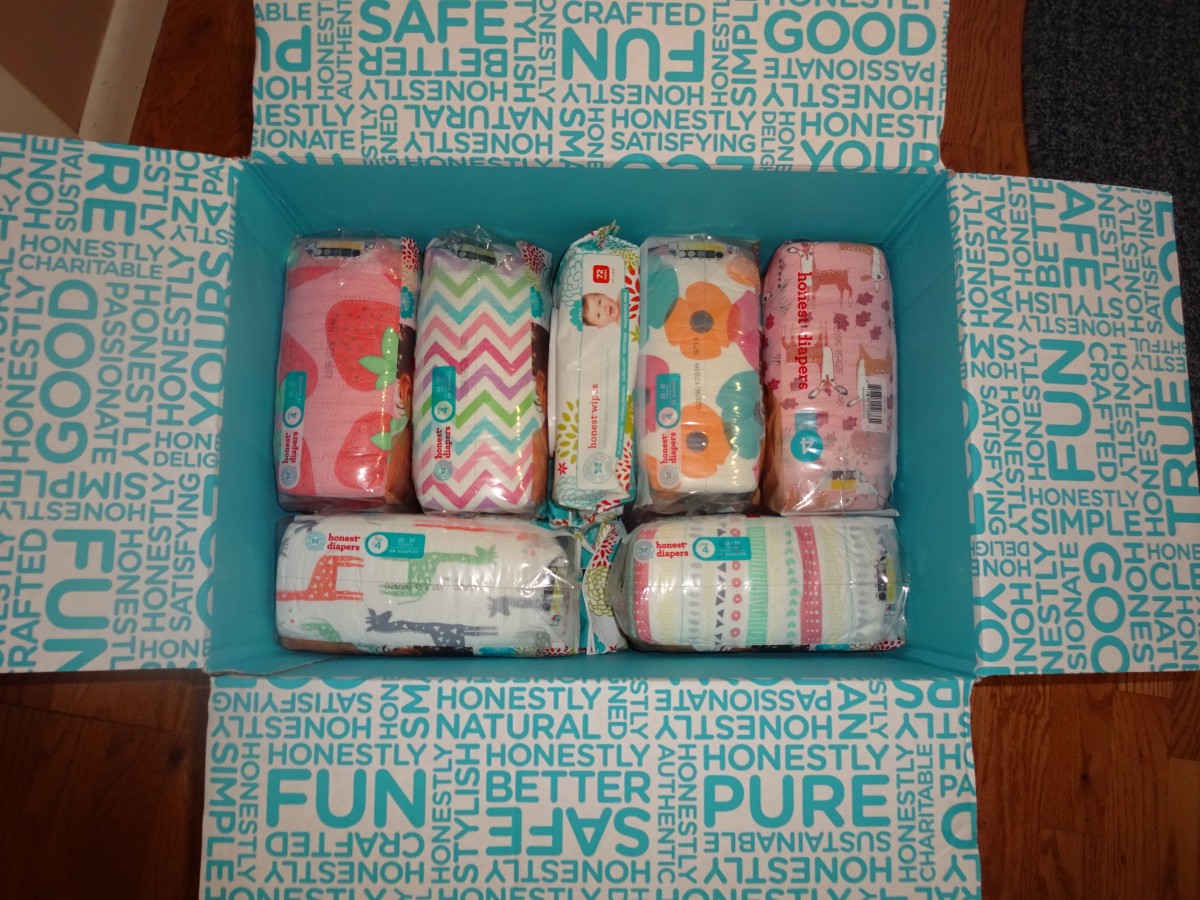 How It Works
This company offers far more than just diapers—many family essentials, including, formula, vitamins, cleaning supplies, and baby gear. No membership is needed.
You can add individual items into your virtual shopping cart, but the company definitely promotes "bundles" over individual products. A "bundle" is a group of products shipped together, but often as a mix-'n'-match choice with a discount. They offer four types of customizable bundles: diapers/wipes, formula, cleaning supplies, and vitamins.
The buyer may also add to an existing bundle up to three of any item The Honest Company sells, receiving an additional 25% off those three items.
Alternatively, you can try a sampling of their products for "free" if you pay $5.95 for shipping. You will be auto-enrolled in a monthly plan at the monthly price unless you cancel within seven days of receiving your goodies.
You make your purchase and the products are shipped to your home. You are automatically set up to receive the same bundle each month unless you cancel or otherwise change the settings on your account.
My Personal Experience
I ordered a "diaper bundle" which consists of six packages of size 4 diapers and four packs of plant-based wipes. I could have chosen smaller or larger sizes of diapers, and I did get to chose up to six prints for the patterns of the diapers from numerous options. I chose to turn down the offer of buying an additional three items at 25% off.
I placed my order on Wednesday, October 5, in the afternoon. I made use of two special offers: $20 off your first bundle purchase and free shipping on orders over $50. (It's pretty easy to spend $50 on diapers.) At the time of writing this blog, the current promo is 40% off your first bundle, which for the diaper bundle is an even better deal that the $20 off I received.
What did I pay? If the wipes each were about about $3 a package, then each diaper came out to about 28 cents. Aldi diapers are still probably cheaper, but they definitely aren't as cute! And, remember that The Honest Company promises to cut the chemicals and include healthy ingredients. It's really quite a steal compared to buying a natural diaper package at the store.
I reeceived the bundle on October 12 in the afternoon. The diapers work great both during the day and overnight, and I don't have to change them often. One caveat, though: in order for it to do its job, a diaper must actually be on a baby's bottom! (We recently had an incident where the baby was found to be in a puddle, wearing pants, but no diaper. No one seems to know what happened.) The wipes are thick, not smelly, and work well, too.
One note, however: six packages of diapers takes a lot of space to store. If you don't have a lot of storage in a closet or a porch, this might not be the way to go for you. On the other hand, I am at peace having the knowledge that I won't need to run to the store at midnight to pick up some more diapers!
I just received an email from the company that they are preparing to ship another bundle to me and that I should make any changes to my account if I desire. I still have about half of the packages and most of the wipes, so I stretched my subscription out a few more weeks. This time, I also added a container of laundry detergent to try out at the 25% discount.
I encourage you to check out The Honest Company for yourself. If you choose to try Honest Diapers based on this review, please purchase through my link, since I will receive $20 credit to purchase diapers for my family (well, for my baby, actually). Thank you.
---

TAGS: Healthcare, Motherhood, Product Review, Home Economics