In The Reason I Believe: The Basics of Christian Apologetics, Allen Quist reveals "the forgotten and untold secret of our time," namely, that the apostles grounded their teaching of Christ's resurrection upon well-supported and widely known facts, which secular authorities also documented during the first and second centuries A.D.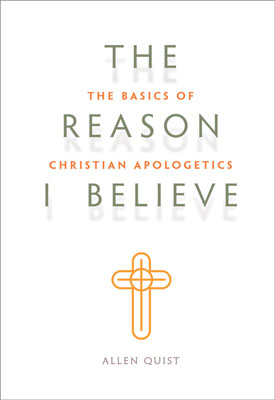 Quist identifies four objective criteria by which to distinguish true from false prophets in the Old Testament era:
True prophets authenticate their ministries with sensational miracles.
True prophets agree with the teachings of Moses.
The predictions of true prophets always come to pass.
True prophets avoid the marks of false prophets (that is, they avoid telling people what the want to hear, making self-serving predictions, promoting false gods, living immoral lives, and making predictions that fail to come true).
In a similar manner, Quist also identifies four objective criteria by which to distinguish reliable from unreliable accounts of the chief events recorded in the New Testament.
Avoiding academic jargon, Quist makes Christian apologetics accessible to a broad audience, equipping the rising generation to "share the gospel and the evidence of its truth." This book will benefit high school and college students and is suitable both for personal reading and group study. I heartily recommend it.