Blog
Details

By

Marie MacPherson
Into Your Hands, LLC is giving away a free book, celebrating our newest book Meditations on the Vocation of Motherhood: Volume 2: New Testament!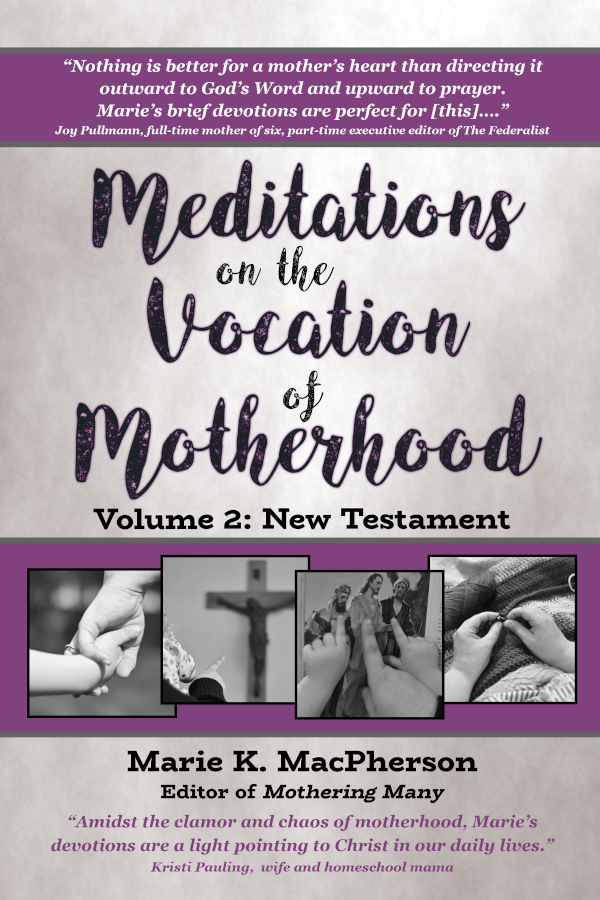 To Enter:
To enter the Book Giveaway Contest before 11:59 PM MT on Saturday, August 19, 2023:
Share our website's Meditations on the Vocation of Motherhood: Volume Two webpage on your personal Facebook wall with a personal note to your friends.
Visit Into Your Hands LLC's website Contact Form.
Send a note to the publisher with your mailing address, saying, "I shared MVM2!"
If your entry is randomly selected as the winner, a free copy of Meditations on the Vocation of Motherhood will be shipped to the address provided. We will announce the winner on our Facebook page.
We'd appreciate if the winner could do an Amazon book review!
Official Rules and Disclosures:
Sponsor: This contest is sponsored solely by Into Your Hands LLC, www.intoyourhandsllc.com. Participants agree that the owners of Into Your Hands LLC shall not be held individually liable for any complaint pertaining to this contest.
Eligibility: Entrants must be U.S. citizens, eighteen (18) years of age or older. Family members of employees or owners Into Your Hands LLC are ineligible.
Deadline: Entries must be made by 11:59 PM MT on August 19, 2023. The contest will close at that time.
Prize: One randomly selected entrant will receive one free book, valued at $13.95. The winner will be selected randomly by the author's 6th child (who does not yet read). The winner will then be notified by email. Please note that neither the author nor the publisher are responsible for undelivered prizes due to incorrect information provided by participants.
Odds: This is a contest with an unforeseeable number of applicants; odds are unknown.
Legality: This contest shall be governed by Wyoming state law and is void where prohibited by law.
Facebook is in no way associated with this giveaway.
Details

By

Marie MacPherson
This presentation was given by Marie at the Consortium for Classical Lutheran Education Conference in Seward, Nebraska on July 20, 2023.

Part 1: Introduction
He was a shepherd, turned giant-slayer, turned king, used for God's purposes. Even so, he struggled throughout his life, burdened by the Philistines, long weeks of deprivation as a soldier, and familial fighting as an adult. But, God turned his weeping into joy, using his struggles for our encouragement as he penned the words of many of our psalms, the hymnbook of the Old Testament, still used in our liturgy today. King David, the king of the Golden Age of Israel, wrote these words which inspire us, in our own struggles and weakness, even today:
"To You, O Lord, I lift up my soul. O my God, I trust in You; ... On You I wait all the day….Turn Yourself to me, and have mercy on me, For I am desolate and afflicted. The troubles of my heart have enlarged; Bring me out of my distresses! Look on my affliction and my pain, And forgive all my sins. Redeem Israel, O God, Out of all their troubles!" (Selected verses from Psalm 25)
In today's presentation, I want to focus on the redemption God gives us—first and foremost through the blood of His Son Jesus. But also, how God in Christ redeems our trials and struggles to bring glory to Him as we serve our neighbors—even as homeschooling parents! Although homeschooling, and the Christian life in general, can be full of joy, we shouldn't be surprised at the bumps along the way. Christ tells us "If anyone would come after Me, let him deny himself and take up his cross and follow me" (Luke 9:23). Further, He warns us "in the world you will have tribulation." But, He doesn't stop there: "Be of good cheer," He says, "I have overcome the world" [John 16:33]. Homeschooling parents have the vocation to raise their children in the nurture and admonition of the Lord [Eph. 6:4], and may face challenges doing so. Whether those trials are for the parents, children, or extended family, whether those trials are short-term or long-term, all challenges can remind us of when Jesus' disciples asked Him why a man was blind from birth. He explained that this burden had been placed on the man, not because of his sin, but that "the works of God should be revealed in him," [John 9:3]. As we reflect today on the works of God being revealed in our struggles, let's first consider some foundational principles and then some practical suggestions.
Part 2: Theological Foundations
He was a legal expert, turned monk, turned reformer, used for God's purposes. Even so, he struggled throughout his life, burdened with folks who misunderstood his theology, with depression, and the difficulties that come with having a price on one's head. But God turned his weeping into joy, using his trials as a blessing to us as he penned the words of the Small Catechism, still used by Lutherans today. Martin Luther, the great reformer of the Church, wrote these words, which encapsulate our beliefs, in our own struggles and weaknesses, even today:
"The Seventh Petition: But deliver us from evil. What does this mean? We pray in this petition, in summary, that our Father in heaven would rescue us from every evil of body and soul, possessions and reputation, and finally, when our last hour comes, give us a blessed end, and graciously take us from this valley of sorrow to Himself in heaven."
In this section, I'd like to point to four areas of reflection. First, where should we focus when times are tough—and even when they aren't? The priority for all of our lives, and especially in our homeschooling families, is to focus on the Word of life, as found in Scripture, the Small Catechism, and the hymns and liturgy. Any and all Scriptures are useful to the soul, but when I am struggling, my go-to Scriptures are the Psalms. Of course, many of the psalms and Scriptures are reflected in the liturgy of the Church, and I find that these words repeated weekly in the Divine Service can quickly and easily find their way to my tongue. "Make haste, O God, to deliver me! Make haste to help me, O Lord!" Some other favorite verses for me to recite or read to the children during hard times include Ecclesiastics 3—A time for everything, Lamentations 3—Great is His faithfulness, and John 16—You will have sorrow, but your hearts will rejoice.
A few moments ago, I read some words from the Catechism. Words memorized and inwardly digested in Catechism class many years ago, still give expression to the truth we need repeated in our lives. Even the word catechism comes from the Greek to echo. Especially in times of distress, echoing the words from the Catechism fills our hearts with truth instead of lies.
The hymns of the church combine the truths of Scripture with poetry and music, and often, they dig their way deep into our souls. In times of trouble, a hymn in a minor key can allow for the expression of grief that is very real in the human experience, all the while, pointing us back to God's Word. I'd like to share the lyrics of two lesser-known hymns that have been a comfort to my family over the years, which we have memorized and sung at nap times and bedtimes literally thousands of times.
This first one is a medieval traditional hymn from the city of Prague, which has seen many tumultuous times over the centuries.
God, my Lord, my Strength, my place of hiding And confiding

In all needs by night and day;

Though foes surround me And Satan mark his prey,

God shall have His way.

Up, weak knees and spirit bowed in sorrow! No tomorrow

Shall arise to beat you down;

God goes before you And angels all around;

On your head a crown!
The next hymn was written by a real Princess-- Princess Eugenie of Sweden in the 1800s. It holds special significance to my family because we memorized it during COVID lockdowns. At first, we had plague and death on our minds, and later we had government overreach and religious persecution on our minds as we sang. Here are some verses.
My heart is longing to praise my Savior

And glorify His name in song and prayer;

For He has shown me His wondrous favor

And offered me all Heaven with Him to share.

O blessed Jesus, what You have given,

Through dying on the cross in bitter pains,

Has filled my heart with the peace of heaven;

My winter's gone, and spring is mine again.

O Christian friends, let our song ascending

Give honor, praise to Him who set us free!

Our tribulations may seem unending;

But soon with Him we shall forever be.

Soon we are home and shall stand before Him;

What matter then that we have suffered here?

Then He shall crown us, while we adore Him;

So death and all our pains will disappear.
Both of these hymns can be found in the Evangelical Lutheran Hymnary. I also have a PDF I compiled available with several hundred verses of hymns which deal specifically with depression and anxiety. Please email me if you are interested in receiving a copy. Scriptures, the Catechism, and the hymnody of the church are excellent remedies to soothe the pain of our daily trials in our vocations.
Whether short-term or long-term struggles are your lot, another area for reflection is vigilance. We know that God is with us through our trials and is working all things together for good [Romans 8:28], but Satan wants nothing more than to tempt us to sin that we would ultimately fall away from faith. There are three common temptations I find that Satan confronts me with when times are hard. The first is my feelings. I pray that God reminds me, and I frequently remind my children, that our feelings do not determine truth. God's Word is truth. Another sin I struggle against is anger. Many a time, I have prayed for the Lord to provide additional help with a burden that seems impossible. It feels as if God has not answered my prayer, and I am angry my burden remains. However, with the gift of time, I can look backward, at least somewhat, and realize that although God has not answered my prayers in the ways I might have imagined, but He has answered them in the very ways He knows I need.
One final temptation that Satan may use during trials is that of focusing on one's self, and looking internally for satisfaction. When we focus inward, rather than looking to the cross, we likely find one of two extremes: pride, or despair. The Devil wants your eyes to be on yourself, and anywhere but on the Triune God. Under the shadow of the cross, however, look not in, but up.
Your specific weaknesses and temptations may be different than mine, but I pray that in your struggles, you can "Be vigilant; because your adversary the devil walks about like a roaring lion, seeking whom he may devour. Resist him, steadfast in the faith, knowing that the same sufferings are experienced by your brotherhood in the world" [1 Peter 5:8-9]. And when you struggle with temptations, cling to the gift of your baptism and the forgiveness of sins given you through Christ's body and blood.
Giving thanks is a third focus for anyone undergoing trials. Being thankful during a trial may seem counter intuitive, but Paul commands from God, "Rejoice always. Pray without ceasing. In everything, give thanks" [1 Thessalonians 5:16-18]. Yes, we look for blessings that occur side by side with our challenges, but we can also give thanks for those very challenges, for through them, the Lord shapes each of us, stretching and growing our faith through our struggles, as we rely on Him. In fact, not only do trials give us the opportunity to give thanks to God, all throughout the New Testament we are told that trials give us reason to rejoice! Some of these passages include Romans 5:3-5; 2 Corinthians 12:10; and 1 Peter 4:12. These point the suffering Christian back to the joy and thanksgiving of Christ's cross.
Humility is another focus for anyone undergoing trials. Parents should not feel ashamed to admit their struggles and reach out to the Church and community for help. In his letter to the Philippians, Paul tells us, "[L]et this attitude be in you, which was also in Christ Jesus. Though he was by nature God, he did not consider equality with God as a prize to be displayed, but he emptied himself by taking the nature of a servant…. [H]e humbled himself and became obedient to the point of death—even death on a cross" [2:5-8]. While asking for help from your pastor, Church, and the homeschooling community are good places to start, you may also have some untapped help under your own roof. Moms and dads might be conscious to not burden their own children and make them "grow up too soon," as some may say. However, it could be that God is calling your children into a new vocation of service to the family. Most of us want to protect our children from something like this, but having a child take on a new role, even imperfectly, might be an idea to open your heart to. Sometimes, it's what humility might require.
We've discussed some big-picture ideas such as prioritizing God's Word through Scriptures, the Catechism, and Hymnody, as well as being vigilant against Satan's attacks when we are vulnerable, and finding ways to give thanks and ask for help. All of this gives us a theological paradigm for practical ideas.
Part 3: General Practical Ideas
He was a theologian, turned pastor, turned poet, used for God's purposes. Even so, he struggled throughout his life, burdened with his country's war, his steadfastness against compromise, and the death of his wife and the majority of his children. But, God turned his weeping into joy, using his struggles for our encouragement as he penned the words of many hymns we treasure even centuries later. Paul Gerhardt, the "sweet singer of Lutheranism," wrote these words, which inspire us, in our struggles and weakness, even today:
"Why should cross and trial grieve me?
Christ is near With His cheer;
Never will He leave me.
Who can rob me of the heaven
That God's Son For my own
To my faith hath given?

Though a heavy cross I'm bearing
And my heart Feels the smart,
Shall I be despairing?
God, my Helper, who doth send it,
Well doth know All my woe
And how best to end it.

God oft gives me days of gladness;
Shall I grieve If He give
Seasons, too, of sadness?
God is good and tempers ever
All my ill, And He will
Wholly leave me never."
I suspect these words may be a different translation than what most of you are accustomed to. But I cannot confirm this, because I just moved, and my LSB is presumably somewhere in a box in my new house. I trust you can cut me a break for using the ELH, however, since I've only been LCMS for a week!
In part three of this presentation, I'd like to suggest changes the homeschool teacher might make before or during struggles. Note that these ideas are a simple springboard. I appreciate the God-given differences of each of our families. We are not all the same; both preferences and needs may dictate different ideas than my suggestions. Take what might be helpful to you and tuck it away. Leave the rest.
Before I get into some specific practical ideas, I'd like to tackle the ideas of school, as well as homeschool legal compliance.
Let's first call out the "elephant in the room": Is school the solution to homeschooling families who are struggling? As much as I am an advocate for the benefits of home education, when it comes to the idea of school, I want to emphasize that it is not a "homeschool failure" to send your child to school. If you are considering ending your time of homeschooling, pray about it. Talk to your pastor and other Christian mentors. Luther even explains in the Large Catechism, "Where a father is unable alone to educate his...child, he employs a schoolmaster to instruct him; if he be too weak, he enlists the aid of his friends and neighbors." But, he also warns, "I advise no one to place his child where the scriptures do not reign paramount." It could be possible that God is allowing a trial in your life in order to tear down your reliance on your own parenting. The role of homeschool parent is a good and blessed role, but even it can become an idol.

While a Christian school may be a God-pleasing choice for your child, it's not quite that simple. Whether your child attends school or not, you are still a home-educating parent in early mornings, late afternoons, evenings, nights, weekends, holidays, and summers! Parents considering a switch to school need to be realistic: There is a huge learning curve that comes with school enrollment, investing the time to teach your children new daily routines, committing to checking nightly homework, and so on. Perhaps you could brainstorm ways for your church and school to support you in your endeavor to home educate.

It could be that during a crisis or family struggle, continuing to homeschool within the laws of your state might actually be easier than school enrollment. Check out HSLDA.org, which will have a link to your state's specific laws. When you read the requirements, it's likely that your own family's standards are much higher than what the laws require, and you can scale back on your expectations for a season as you weather challenges. The laws are written this way because many people recognize homeschooling's value for families and communities, as well as its positive outcomes for producing intelligent and valuable citizens. Give thanks for the flexibility that homeschooling offers and embrace it. Although I think a classical education is the pinnacle of educational models, for the short-term, unschooling may have a place.
For states tracking monthly or weekly hours, consider expanding your definition of educational hours to include outside playtime (physical education?!), crafts (fine arts!?), board games (math and economics?!), nature videos (science?!), audio books (literature!?) and chores (life-skills training?!). Examine your conscience within your state's framework for homeschooling as you consider how to make changes that work for your family.
Now, on to some practical ideas for streaming-lining the homeschool. Like all vocations, the home educating parent does his or her duty not because it is easy, but because the task has been given to do. What aspects of home education are vitally important? What can be simplified or skipped for a season? Since we are all gathered here at the Consortium for Classical Lutheran Education, it's apparent we all value Lutheranism, the Classics, and education. So, let's sort some practical ideas into those categories.
First, and most important in the homeschool, is faith. Jesus tells Martha in Luke 10:42 that only one thing is needful, and this is true in home education, as well. Every other subject can be put on hold for a time, but our families' growing souls need the bread of life to survive each day, especially when the normal routine is out of sorts due to illness or stress. I'm not even talking about "religion class" here, but specifically reading the Bible and having family devotions. This is my top recommendation for homeschooling under the cross. By prioritizing God's Word in your home, you send a signal to your children about your priorities for this life, and also for the life to come. But, more importantly, you redeem the time, allowing the Holy Spirit to work through the Word each and every day in your children's lives. There's no more important subject than this One Thing Needful.
For some, the idea of continuing a classical education during a challenging time might seem like "too much." Trying to pile on Latin and Logic to an already full curriculum might seem overwhelming. However, there is a way to preserve the fundamentals of classical learning, even without the extra commitment to these wonderful and worthwhile subjects. Classical proponents have long advocated the three levels of learning, and these are excellent ideas for the homeschooling parent who needs to streamline. The first level is the grammar stage for young children, from around preschool to middle school. Parents can take advantage of the natural bent of the child to memorize and repeat by emphasizing flashcards and other quizzing-types of curriculum that can be self-taught. In the logic stage, students around junior high age seem to naturally enjoy discussion and evidence. Parents can capitalize on this by engaging in dialectic conversation and sharing apologetics resources. Third, young adults of high school age are ready to share their opinions with eloquence and persuasion in speech and writing, and much of their time and energy can be devoted toward these ends. By following the three levels of classical education, curriculum can be streamlined and tailored to individual children to fit these natural developmental milestones. Rather than teaching every subject, focus on these stages.
Another concept in classical education is reading the great books and the primary sources of history. Even if your children are voracious readers, like mine, they will not exhaust the classics in a single school year, so simply assigning a pre-made reading list of excellent literature can be an easy way to preserve a classical approach in times of difficulty. I've created a number of print and go literature guides for K-12 available for purchase on Mary Moerbe's website Lutheran Homeschool.com. And, there are dozens of excellent reading lists available online for free!
Classical education, fundamentally, is looking for big answers to big questions. I find that reflecting on Biblical answers to these questions during times of trial is important, including a focus on that which is good, true, and beautiful. Surround your children with excellent literature, inspiring music, and elevating art. Consider the things of God. Look toward Heaven.
We've now discussed ways of preserving faith and classics in the homeschool. Now let's talk about some venues for educational support.
Galatians instructs us to bear one another's burdens and so fulfill the law of Christ. First, we can look within our own household for help. In challenging times, perhaps the spouse or extended family members of the main teacher would be willing to take over a certain subject or time of day or day of the week. It can be helpful to think outside of the "school box" with this, as well. Homeschooling doesn't need to take place between 8am and 3pm. Some families need to do their school subjects primarily in the evenings or on the weekends to have support of another parent. Having those conversations with your spouse is crucial. As a mom who has faced some challenges in homeschooling, and having talked to other parents in similar situations, I find that wherever your natural bent might be, you may need to swing to the other side of the pendulum to muddle through. For instance, a very organized, scheduled homeschool might need to tolerate unschooling for a season and a casual homeschool might need more order and detailed schedules. Your spouse can help you sort through these shifts. Whatever shuffling of homeschool responsibilities takes place, I frequently reevaluate those changes with my husband, and put it on our calendar to touch base. That way, if the burden that was the impetus for change ramps up or cools down, the responsibilities can shift similarly, which is healthy for both our children, and our marriage.
There are many ways your own children can take hold of their learning, and manage the home. Personally, I prioritize curriculum choices that are, for the most part, self-taught after grade three, including Saxon Math and Hake Grammar. We also do a lot of family-style learning for subjects that need not be grade-level specific, like history and science. This cuts way down on the number of "classes" I need to supervise each week and the amount of time I need to prep. I have many recommendations for curriculum on my blog, which is listed on your handout. I find that simple checklists on a whiteboard for schoolwork and chore charts taped to the fridge work well for my children. These home and education routines not only lighten the load of parents, but they also give children specific ways to live out their sanctification by serving their families.
However, sometimes even the extra support from the family isn't quite enough to keep our homeschool thriving. While the online education offered by public schools during COVID was less than ideal, we can thank God that this venue has grown by leaps and bounds. Parents still need to vet the education coming through their computer to their child, but what a blessing that there are so many opportunities available online, while our children are physically safe in our homes. Wittenberg Academy offers a full curriculum for children in middle-and high-school, and we have been so pleased with them for two of our children. They are a vendor here at CCLE, and I encourage you to visit with them and consider their amazing options. You might also consider hiring a caregiver, tutor, or mother's helper for a season in life, either to help with home tasks and free your time for school, or to help educate your children while you focus on the home. You might find folks from your church, homeschool coop, or even students at a local college to help. And don't forget to share your challenges with your pastor. Aside from serving you with the Word and Sacraments, he might also be willing to assist you with religious education and language study.
Part Four: Personal Practical Ideas
She was a depressed teen, turned professor's wife, turned special-needs homeschool mom, used for God's purposes. Even so, she struggled throughout her life, burdened with anxiety, the anguish brought by the death of two children and her mother, and the simple, every day struggles of motherhood. But, God turned her weeping into joy, using these struggles to encourage others as she penned the words of this presentation for this very moment in time. Yes, Marie MacPherson has struggled, just as David, Luther, and Gerhardt struggled. And, just as we all struggle in various ways in the shadow of Christ's cross while we pilgrim here on earth. I share my struggles with you, not for pity, but rather for praise: "Praise be to the God and Father of our Lord Jesus Christ, the Father of compassion and the God of all comfort, who comforts us in all our troubles, so that we can comfort those in any trouble with the comfort we ourselves receive from God" [2 Corinthians 1].
With twelve years of homeschooling experience, and one high school graduate under my belt, I'd like to share with you some specific examples in my life, in the shadow of the cross, and how the Lord has directed our family to make changes in our educational experiences.
When I had three living children, I began our homeschooling journey. I was pregnant with my fourth little one, Selah, but this child did not live to birth. I suffered subsequent hormonal issues and raging anger. There was a time when I had gathered the children around me on the couch to teach them science, and it was not working out. I lost my temper, screamed, and kicked over a big vase. After things calmed down and I had asked for forgiveness from my family, I still felt I could never teach Science again. My husband lovingly took on science in our home, and continued until just last year. It hasn't just been that his taking on science has saved me time, but it is more the feeling that we are a team, together responsible for the education of our children. So, I'd encourage everyone to try to find a way the other homeschooling parent can invest in their children's education.
Another struggle I faced was interpersonal issues with a particular child, who had special needs. How does one live the philosophy of homeschooling, but simultaneously feel they cannot stand to be in the same room as a particular child? As both my daughter and I worked on some communication skills, my husband took her to his office a few afternoons a week, and we hired a tutor who met her there and worked on social skills. Over the years, we've also hired babysitters and caregivers for various preschool-aged children a few times a week, and even swapped babysitting to save money. In one of these instances, I was reluctant to have a babysitter due to pride, but my husband insisted, and my submission to his wishes ended up being a great blessing. Imagine that!
I've birthed several babies without family nearby to help. Minnesota's homeschooling laws have no prescription for homeschooling during particular months or for a certain number of days. We took advantage of this and just took a month off of our curriculum after a new baby, and finished up into the summer. With my most recent babies, my older children have been incredible blessings to me, taking over both household and homeschool duties with the younger children, allowing me to rest and recover.
After my fifth child was born, I experienced bone-numbing exhaustion. I saw a natural health practitioner and was diagnosed with adrenal fatigue. After some labs came back, I was told my stress and cortisol level had been so high for so long just living my normal life, that they had burned out and stopped functioning properly. If I rested, I might recover. If I didn't, I wouldn't. Definitely not an ideal diagnosis with a brand new baby! Well, needless to stay that homeschooling that year had to be streamlined. And I mean it was quite minimal. I managed to read a lot of good literature from the couch. And I love literature, I do not love sweaty children climbing all over me all day, fighting just to see the next picture! At this time, my husband and I also worked with one of the children to cook breakfast every morning, so I could sleep a little longer. Those of you who know my children know that that year did not negatively impact them in the long run. They are all incredibly gifted individuals, and so there's hope for you and your children if you need time off, as well.
While I was organizing in preparation for our move, I came across a letter written to me by an older lady from church during this trial of exhaustion. I had completely forgotten about it. She wrote that she couldn't help with the children because of her age, and she didn't trust herself to cook for me with my food intolerances, but she could do this one small thing, a basket of laundry each week. This woman picked up a basket of laundry from me each week, washing, drying, and folding it, while she prayed for me. Praise the Lord for how He provides, even in ways we don't see, or imagine, or perceive.
When I was in my early twenties, and my mom was in her early fifties, she was diagnosed with early-onset dementia. I could dedicate an entire presentation to living under the shadow of this particular cross. But for the purposes of this presentation, you should know that my mom came to live with our family long-term on a few different occasions, and toward the end of her life, I was her primary caregiver for several months. By this time, my older children were working independently quite a bit for school, and I delayed starting formal schooling for my younger children. However, all of my children learned a lot. One thing they learned was how to do laundry. They took over. And I haven't really done a load since! They also learned about compassion and empathy, about communicating love when words didn't work. Life was about singing her the same "I am Jesus' Little Lamb" that she sang to me when I was a baby. We wouldn't trade those months for anything in the world. Later, my mom needed 24-hour care that I couldn't provide. She was moved to a memory care unit 6 hours away from us. And while homeschooling went back to "normal," we were forever changed.
My mom was safe in a nursing home. Meanwhile, my dad's liver was failing. Fast. He was on a transplant list, but it required that he have a 24-hour caregiver available at any moment after his release from surgery. Without his wife to care for him, this responsibility fell to me. So, there I was. Six children and a homeschooling mother. I wanted to be there for my father. But realistically? Could I really give it all up at a moment's notice and go care for him indefinitely? I pondered my vocation and prayed for the Lord's direction. There seemed a solution: school. I contacted our local Christian school, explained the circumstances. The principal said he would try to work with us. I didn't like this idea. I didn't want to give up homeschooling. But, it seemed to be where God was leading, and I prayed He would change my heart to follow. In the end, my father was indeed blessed with a transplant, and I was there for a few days afterward. However, some minor complications followed, and he was actually hospitalized for the entirety of his recovery, and needed no caregiver by the time he returned home! The Lord brought me to confront the idol of what I thought my life should be, helped me to trust in Him, and blessed me through it.
A few months later, we got a call that my mother would soon be entering her heavenly home. I brought my sons along for the car-ride and indefinite stay, hoping beyond hopes that we would make it in time to give her one last hug, and sing her to Heaven. While preparing to go, I told my sons to pack their math curriculum, not because they needed to keep up, but because math is certain and predictable, and the journey we were embarking on was anything but. Needless to say, those days in the nursing home were not the most academically productive days for us. That being said, we learned more spiritually that week than we likely will learn during any future week of homeschooling. After my mother's death, I truly believe that homeschooling allowed us to grieve on our own schedule, to pause and talk about Grandma and memories.
So, I've had a few struggles along the way. But, through all of these experiences, nearly without exception, my husband has led our family in daily Scripture readings for devotion, the foundation of our homeschool and of our family. I am truly indebted to him, and thank the Lord for His picture of Christ to me through my husband, reminding me of God's faithfulness each new morning at devotion.
David, Luther, Gerhardt, myself, and now you… all of us are used for God's purpose, even with our burdens. Each of you, each of your children, has a story, used for God's purposes, and through your trials, God's glory will be revealed—perhaps not in this life, but certainly in the life to come. I pray He will turn your weeping into joy, and I welcome you to reach out with prayer requests.
Part Five: Conclusion
She was a college grad, newlywed, and now expecting! It wasn't an easy pregnancy by any means, though: so much morning sickness. Except that it wasn't morning sickness at all. My friend's son was delivered by C-Section at 28 weeks, so she could begin stomach cancer treatment as soon as possible. She had a few months with her son and husband before she left this world, and thanks be to Christ, into the arms of her heavenly Father.

My friend was safely home. What about her little boy? Family, friends, and the community came together to help the father and lift him up in his difficult vocation, all the while still mourning for that beautiful dream. Before long, God provided a new wife for this man, and a new mother for his son. I recently saw this lovely family with their active 11-year-old son, several other siblings, and another baby on the way.

During her medical ordeal, I checked my friend's Facebook page frequently for updates. I talked to fellow church members to hear if there was any news. I hugged my own children a little more tightly. And I realized that I am dispensable. Wait, what?

As Lutherans, we've got a lot of good theology going for us, including the Doctrine of Vocation, the theology of the cross, and the roles of men and women. We posit that children need both fathers and mothers and that mothers have a unique and irreplaceable role in raising their babies. So, why would a speaker who believes all that call a mother dispensable?

God grants the blessing of children. He handpicks parents for children. He chooses to provide for the young and the old primarily through their families. But He can and sometimes does choose to bless our families in creative and unique ways.

As homeschooling parents, we have all had situations where we just couldn't do it. There was a project we couldn't accomplish. There was sickness which made us incompetent. There was a failure that let down our loved ones.
The fact is: we can't do it all. In Eternal Treasures, Mary Moerbe explains: "God does not depend on parental competency in order to raise a child [or serve our families]. ... We might feel like we need to be in control, but a beautiful, gracious thing is already at work, helping us and raising our children: God's Word" (p. 99).

God doesn't leave us in our sins. He promised a Savior, and he fulfilled that promise. This was no project He couldn't accomplish; no sickness left Him incompetent; no failure let us down. He provided justification through the obedience, death, and resurrection of Jesus, that through Him, we may have life more abundantly (John 10:10).
I learned so much from my friend, in both life and death. Her trial and death taught me that even if I die, God will continue to care for the physical and spiritual needs of my children. Doesn't it follow that He will also care for them and their education if I'm just not as capable as I hoped I would be, or even if I feel I can't continue the homeschooling path that I imagined? There will be cycles of times in our lives when we as servants to our families can't do what we are "supposed" to be doing. But, despite our inadequacies, God can still provide in creative and merciful ways.
Take heart! God planned for your presence in your family in this moment, even if it means homeschooling doesn't look how you want. Even if your family must serve you in this season. Even in the last dark walk through the valley of the shadow of death, God can and will provide for your children and family, both educationally, physically, and spiritually, with or without you. Your children (and you) are baptized into Christ. Nothing can snatch you out of His hand!
Recommended Reading:
Marie K. MacPherson is wife to Ryan, homeschooling mother to their six living children, and redeemed child of God. They make their home in Mankato, MN. She is a certified Classical Lutheran Educator from CCLE, author of Meditations on the Vocation of Motherhood (2018), and editor of Mothering Many: Sanity-Saving Strategies(2016). She is also the author of LFL's booklets The Story of Baby Shalom (2017) and Teaching Children Chastity: Talking Points for Christian Parents (2020). She has a bachelor's degree in Elementary Education from Bethany Lutheran College, with Lutheran school certification and a specialty in communication arts and literature. Marie is an advocate for mothers, serving as a La Leche League Leader for over six years and a volunteer at a local pro-life pregnancy clinic. When she's not caring for her own children, or the mothers of other children, Marie reads extensively, researching natural health, homeschooling, evangelism, marriage, and parenting. Read her contributions to Blest the House; The Hausvater Project; Sister, Daughter, Mother, Wife; and Lutherans for Life. Follow her blog at: www.intoyourhandsllc.com/blog.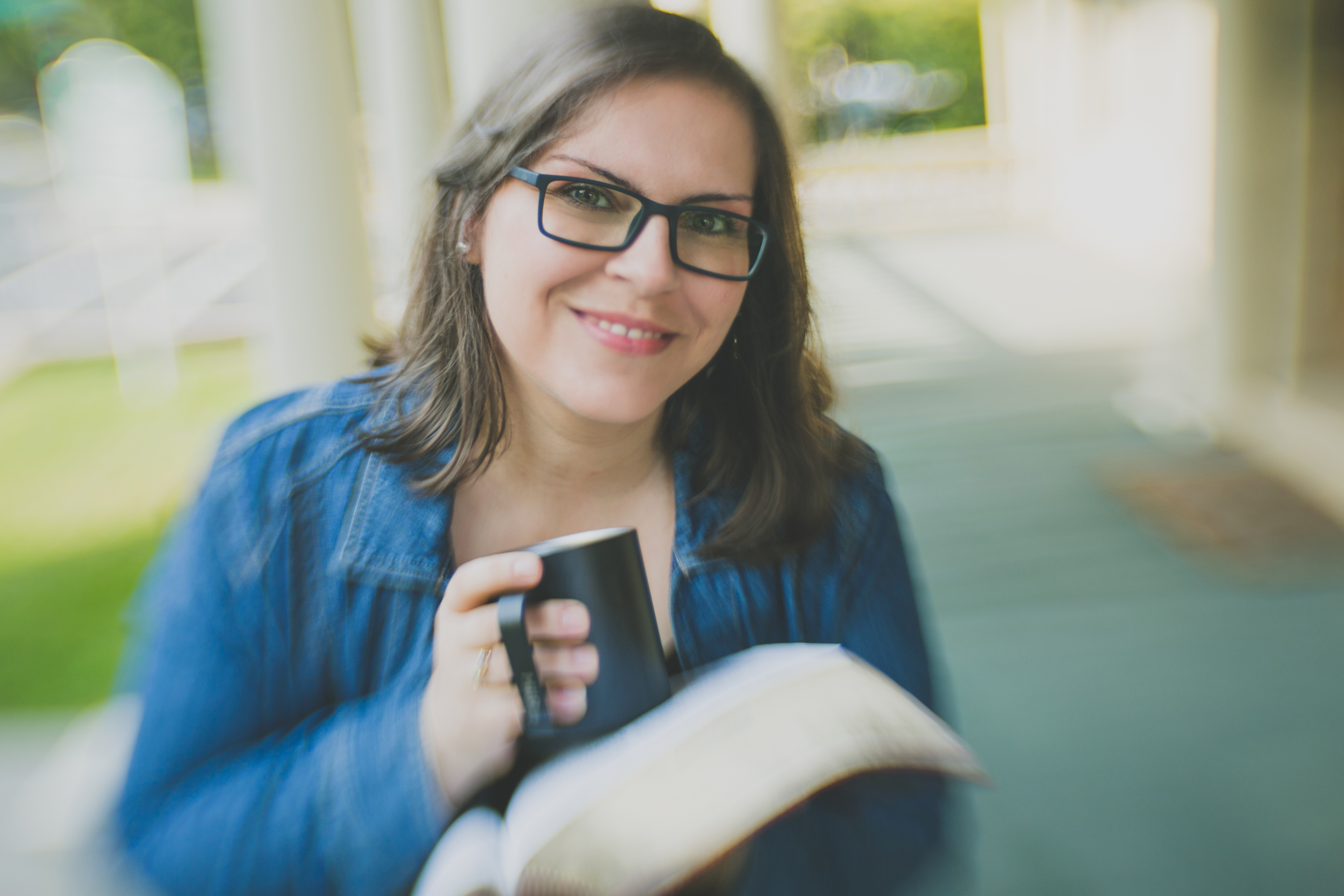 Details

By

Marie MacPherson
The Bad Bean
A Science Research Paper by Rose MacPherson

In C. S. Lewis' well-loved book The Silver Chair, Jill Pole expresses her delight at the delicious breakfast she was treated to at the end of the story, and her relief that it would not contain soybeans. "Jill [could]... smell... sausages, and more, and more, and more sausages. And not wretched sausages half full of bread and Soya Bean either, but real meaty, spicey ones, fat and piping hot and burst and just the tiniest bit burnt" (203). Though Jill is only an imaginary character in a mere children's book, she was on to something. I do not believe that soy should be used as food. I will begin by giving several facts about soy and agriculture. I will continue by revealing the many food products in which soy is found. I will explain the numerous health problems that soy consumption will cause. I will conclude by identifying the proper uses for soy.

First, let's examine soy as a crop. "Soya is a very big business, particularly in the USA" (Campbell 112). In fact, soy is the third leading crop in the United States, most of it being grown in Iowa and Illinois (Harper 683). America grows "more soybeans than any other country," almost 70% of the world's soy (683). Most soy is genetically modified and sprayed with many pesticides, making it an extremely inexpensive product (Campbell-McBride 112-113). One source claims that "the soybean is one of the world's most useful...sources of protein" (Harper 683). However, this "usefulness" is because of its low cost, not because soy is a nutritious food, as you will discover. Even so, the prices are rising! "Soy foods are now nearly as expensive as meat and pricier than dairy" (30). Those are a few facts about soy, one of America's biggest crops.

Second, very many – if not most – processed foods contain soy. "Up to 60% of processed foods... contain [soy protein isolate]" (Campbell-McBride 113). Please note that this percentage does not include other kinds of soy. "Soy proteins have been hiding in chopped meat mixes such as preformed hamburger patties, readymade meat loaves, spaghetti sauces and even some brands of fresh ground beef for years" (Daniel 87). One source mentions that soy is made into pseudo cheese, burgers, hot dogs, "chicken" nuggets, ice cream, and yogurt (Perlmutter 253). Besides these items, soy "can be found in many processed foods, margarines [sic], salad dressings and sauces, breads, biscuits, pizza, baby food, children's snacks, sweets, cakes, vegetarian products, dairy replacements, infant milk formulas, etc" (Campbell-McBride 113). In addition, "most [protein bars] are soy based" (Allison and Barrett 136). Most farm animals are fed a diet quite high in soy (Perlmutter 89). This would include farm-raised fish (Allison and Barrett 177). When people eat the beef, pork, and fish from animals fed in this manner, they are practically eating soy. "Most commercial breads today contain small amounts of soy flour, even though they are not labeled as soy products" (Daniel 81). Forms of soy are sometimes added to orange juice (96). Those are only a few of the many examples of food – processed or otherwise – in which soy can be found. Now that I have revealed the many processed foods in which soy is found, let's next discover what harm soy has the potential to cause. Soy can cause cancer, block minerals and inhibit enzymes, make for intestinal problems and growth retardation, lead to autoimmune thyroid disease, and be the cause of protein assimilation problems. In fact, soy is included in the Food and Drug Administration's "Poisonous Plant Database" (31). Let's take a look at some of these risks.

Soy protein isolate will cause cancer because it is contaminated with aluminum, which is carcinogenic. Aluminum, which is also a brain toxin, links soy consumption with dementia (Bollinger 477). Just how is this soy protein isolate made? "After removing the fibre with an alkaline solution the soybeans are put into large aluminium tanks with and acid wash. Acid makes the soybeans absorb aluminium, which will remain in the end product. ...After the aluminium-acid wash the beans are treated with many other chemicals including nitreates, which have been implicated in cancer development" (Campbell-McBride 113). Even before soy is processed in this manner, it is already carcinogenic. Soy contains phytates, phytoestrogens, and enzyme inhibitors, which are themselves cancer-causing (Fallon 29). Trypsin inhibitors are also quite plentiful in soy. These nasty little things make the digestion of protein almost impossible, and they are also carcinogenic. "Soy isoflavones [another name for phytoestrogens] cause breast cancer cells to grow" (Bollinger 467)! In summary, phytoestrogens, trypsin inhibitors, and aluminum are all found in soy, putting those who eat soy at a high risk for cancer. Another concern about soy is the fact that it contains high levels of phytates. Phytates are substances that block the absorption of micronutrients, or vitamins and minerals. "Soybeans have some of the highest phytate levels" (Allison and Barrett 10). These phytates, which are also called phytic acid, make it extremely difficult – if not impossible – for the body to absorb the minerals calcium, magnesium, copper, iron, and zinc (Bollinger 467). Many other foods, such as nuts, beans, lentils, and grain, also contain phytic acid; however, these phytates can be – and are – broken down by processes such as soaking, sprouting, and cooking. The phytates in soy, on the other hand, are much more harmful because they do not respond to these methods of elimination. The phytic acid found in soybeans are "only deactivated by fermentation and not by ordinary cooking" (Fallon 62). Because of these frightful phytates, soy consumption will lead to mineral deficiencies. Sadly, "soy protein blocks iron absorption even when all the phytic acid has been removed" (Nagel 60).

As mentioned earlier, many people argue that the soybean is one of the world's most useful sources of protein. But is this really true? "Animal protein is our only source of complete protein" (Fallon 26), although some sources also count quinoa as a complete protein (Nischwitz 130). Some people are under the impression that soy, too, is a complete protein, as it technically contains all of the essential amino acids; however, "it is so low in two [of these] that it cannot serve as a complete protein" (496). Amino acids are the substances of which protein is built up of. Eight of the twenty-two amino acids are essential, by which is meant that the body cannot produce them. "If just one essential amino acid is low or missing, the body is unable to synthesize the other proteins it needs, even when overall protein intake is high" (26). In soy, two of the essential amino acids are quite low. These are called methionine and cystine (Bollinger 477). That is why I do not believe that the aforementioned claim – that the soybean is one of the world's most useful sources of protein – is accurate. As Nourishing Traditions says, "health cannot be maintained on a diet that omits animal protein" (496).

Chemicals are yet another issue with soy. Soybeans are heavily sprayed by fungicides and insecticides (Harper 962). "Most soy is genetically modified" (Allison and Barrett 10). One would also wonder if soybeans, which grow along the highways, are exposed to the pollution caused by traffic at any hour of the day or night. And all this takes place even before the soy is processed! The dangers of aluminum contamination have already been covered. In addition, "food manufacturers are now using a toxic chemical called hexane to process soy" (Bollinger 478). Because of all of these ways in which soy is exposed to chemicals, it is quite toxic. "Soy is generally not recommended," says Dr. Dominik Nischwitz, a naturopath and holistic dentist from Germany and international speaker (130). "This deadly 'food' belongs in the toxic waste dump," one source is bold enough to proclaim (Bollinger 479). I can't say I disagree.

Because of those many concerns – that this food can cause cancer, thyroid problems, and intestinal problems and also block minerals, vitamins, and nutrients – it is best to avoid "questionable foods like soy" (Fallon 58).

Although up until now I have only mentioned the terrible troubles that soybeans will cause you, there are actually many good uses for soy as well. When God made the earth and all vegetation, He "saw that it was good" (Genesis 1:12). Even though the world is now corrupted, soy can still be used for good. Soybeans can be useful for many non-food items. For instance, my planner has been printed using soy-based ink. "Soy meal is... used in manufacturing such products as... fire extinguisher fluid, insect sprays, and paint" (Harper 690). Adhesive tape, leather softeners, and carbon paper are often made from soybean oil (691). Soybean oil has also been used to light lamps (Daniel 14). The soy hot dog has been called a "rubbery concoction," and it is very bouncy (86). We should be making bouncy balls out of this stuff, not eating it! Soy oil can also be used in the production of paint and soap (104). I find it fascinating to know that "Most soybean meal was used as fertilizer until the mid-1930's" (Harper 692). Soybeans were originally not cultivated as a food source, but as a way to put nitrogen back into the soil (Fallon 201). "Spun soy protein fibers are not much different from plastic fibers" (Daniel 95). This gives soybeans the potential to be useful in the manufacturing of many useful items, although it also contributes to the evidence that soy is quite detrimental to one's health. The most interesting use for soy is in the manufacturing of automobiles. In 1937, Henry Ford designed and built a "soymobile," although he never made more than one. The plastic produced from the soybeans turned out to be stronger than steel (Daniel 18). With all of these excellent, health-preserving uses for soy, why would anyone bother to eat it?

Many studies show that if soy is fermented, on the other hand, it is not so harmful. While many researchers have identified "its negative effects, there are some studies that show the opposite" – once it has been fermented, that is (Allison and Barrett 10-11). "Soybeans should be eaten only after they have been fermented" (Fallon 495). The process of fermentation breaks down the phytates, which makes for easier absorption of nutrients – especially zinc (248). "The Chinese had learned to ferment soy beans to make them edible" (201). It is interesting to note that one source defines soy as "a sauce made from soybeans fermented in brine" (Merriam-Webster 686, emphasis added). Fermented soy products, such as Miso, can be a good source of probiotics, or healthy bacteria (Sonnenburg 107). Miso, along with egg yolks and greens, is a good source of vitamin K (Fallon 39). "Soybeans must... only [be used] as fermented products like miso, natto and tempeh" (62). However, these benefits do not apply to modern soy sauce, even though it claims to be fermented. "Traditional soy sauce is made by a fermentation process that takes six to eight months to complete" (Fallon 147). It only takes two days for the modern kind. "Fermented soy products, such as special fermented soy drinks (not available in the store), natural soy sauce, miso and tempeh can be acceptable. However, use fermented soy with care and awareness" (Nagel 85). Although fermented soy has no phytates, please remember that the phytoestrogens still remain (Fallon 62). "Natto (special fermented soybeans) or the enzyme from natto, nattokinase increases blood circulation and can help reduce infections" [sic] (144). Another benefit of natto is the "extremely powerful" probiotic Bacillus subtilis. This strain of healthy bacteria is proven to be excellent for the strengthening of the immune system (Axe 121). "Miso... [is] believed to stimulate the digestive system and energize the body for the day ahead. The fermentation process produces a rich, complex flavor" (Axe 122). So you see, soybeans can actually be beneficial to one's health after undergoing a long period of fermentation.

We have now looked at several facts about soy and agriculture, realized how many food products soy is found in, discussed the numerous health problems that soy consumption will cause, and discovered the proper uses for soy. I am sure you can agree with me that soybeans should not be used as food. We can all say, along with Jill, that we would much rather not have soybeans in our sausages.
Works Cited:
Allison, Serene and Barrett, Pearl. Trim Healthy Mama. Perfec Type: Nashville, TN 2012.
All Scripture quotations are taken from the King James Version.
Axe, Josh. Eat Dirt. Harper Wave: New York, NY 2016.
Bollinger, Ty M. Cancer – Step Outside the Box. Infinity 5105 Partners: USA 2014.
Campbell-McBride, Natasha. Gut and Psychology Syndrome. Medinform Publishing: York, Pennsylvania 2010.
Daniel, Kaayla T. PhD, CCN.

The Whole Soy Story.

NewTrends Publishing: Washington, D. C. 2005.
Fallon, Sally.

Nourishing Traditions.

NewTrends Publishing: Washington, D. C. 2001.
Harper, J. E. "Soybean." The World Book Encyclopedia. Vol. 18. Chicago: 1990.
Lewis, C. S.

The Silver Chair.

Collier Books: New York: 1978.
Nagel, Ramiel.

Cure Tooth Decay.

Golden Child Publishing: Los Gatos, CA 2011.
Nischwitz, Dominik.

It's All in Your Mouth.

Chelsea Green Publishing: White River Junction, VT, 2020.
Perlmutter, David MD. Grain Brain. Little, Brown Spark: New York, NY 2018.
Sonnenburg, Justin and Erica, PhDs. The Good Gut. Penguin Press: New York, NY 2015.
The Merriam-Webster Dictionary. Merriam-Webster, Incorporated: Springfield, Massachusetts 2016.
Details

By

Marie MacPherson
Review by Rose M. MacPherson
Note: The following information is not intended as medical advice, but simply a distillation of the recommendations given in the book which has been reviewed.
Thesis

Orthomolecular nutrition, or vitamin therapy, is "the basis for effective medical practice" (1).

Unique Points

• Vitamin C, because it destroys histamine, can effectively prevent and remove swelling from insect bites. High amounts of vitamin C also lessen fevers, destroy cancer, and offer protection from radiation.
• Honey harvested in the fall is much healthier, as bees are quite often fed sucrose syrup all winter. This honey is just as bad as eating sugar, while fall honey can be nutritious in small amounts.
• In all of recorded history, only about three deaths were reported that might possibly have been from vitamin overdose. On the other hand, acetaminophen alone killed 147 people in just one year.

Worldview
Sadly, the authors of this book are clearly not Christians. I noticed at least six references to Evolution. These included "millions of years" as well as our "animal ancestors."
Recommendations
• Take as much vitamin C as you can.
• A little too much of a vitamin is much, much better for a person than a little too little.

Compare/Contrast with Other Books

This book reminds me a lot of Fertility, Cycles & Nutrition in that it emphasizes the importance of taking vitamin and mineral supplements. Orthomolecular Medicine for Everyone says that food must be "nourishing and palatable" (216). This is similar to Nourishing Traditions, which says, "To make us healthy, our food must taste good; it must be digestible, and it must be eaten in peace" (73).

My Critique

A few parts of this book were a little bit too hard for me to understand, but I like that it included stories of real people who were helped or healed by orthomolecular medicine. I was a little confused, though, why the front cover would advertise "5 rules for healthy eating" when the book only lists two – the avoidance of junk food, and the avoidance of foods one is allergic to. "The longer a food is stored, the less nutritious it becomes," is another claim made by this book (22). But, I thought, what about fermented foods? The process of fermentation enhances the nutrition of a food by increasing the vitamins and adding probiotics. While I am quite sure that freshly harvested vegetables are healthier than vegetables which sat in the refrigerator for two weeks after being shipped in from halfway across the country, I do not believe that this claim is universally true.
Details

By

Marie MacPherson
Reviewed by Rose MacPherson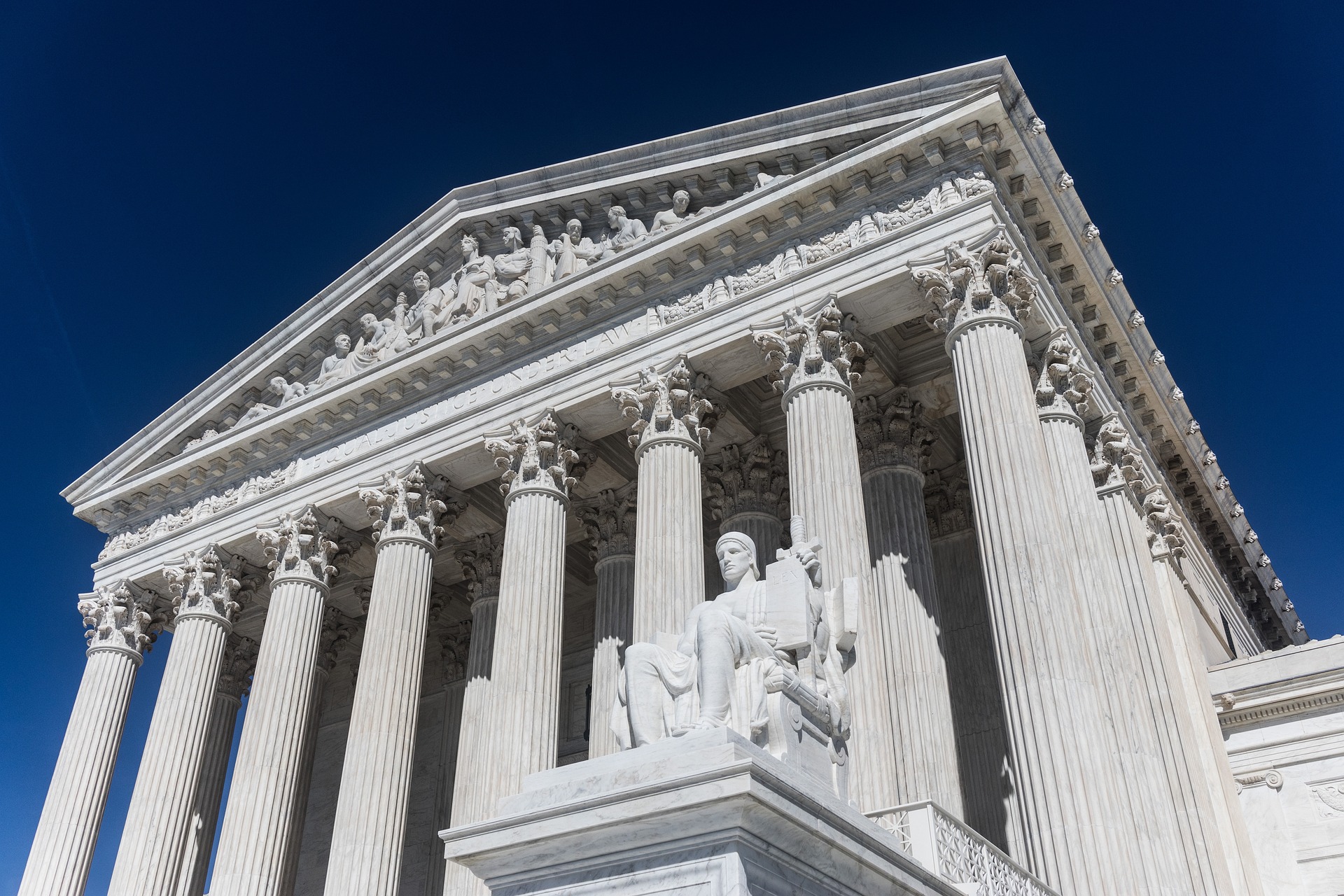 Thesis
We should not always believe what the CDC and the government say, because they do not always have our best interests in mind.
Unique Points
• "I have to over-test, over-treat, over-order, overcompensate, under-think, under-feel, and under-serve just to get past the rules that well-intentioned but inflexible bureaucrats have put in place to 'protect' the patient" (11).
• We should not care whether or not our political leaders are the party we want; we should care whether or not they protect our freedom.
• Many doctors are forbidden to use hydroxychloroquine to treat patients suffering from Covid-19. "Never mind that the treatment's safe and effective use has been
voluminously documented in leading medical journals over sixty-five years" (12). "Prior to March 2020, every doctor all over the world knew HCQ was safe" (19).
• There is no evidence that children's risk of infection increases when they attend school (73).
• "The public therefore was at best confused, or at worst relying on junk science" (16).
Worldview
Dr. Gold is Jewish. Some of what she says on the subject of religion is true, such as her comment that "we often fall short of the ideal God sets before us" (63). This is similar to the verse in Romans 3:23 which says, "All have sinned and come short of the glory of God." But, she is missing the point – that we need a Savior and we have a Savior. She speaks of "bearing witness to God's truth," although as a Jew she doesn't know and believe the truth of Christ crucified.
Also, other things she says about her religion do not quite make sense to me. She says, "I don't consider myself a devout person" (63). If this is true, than why would she go on for several sentences and tell us about how important her religion is to her? In addition, Dr. Gold mentions "the transcendent
truth only religion can provide" (63), speaking vaguely of religion in general. However, only orthodox Christianity is truth, and other religions are full of lies and deception.
Dr. Gold did not write a whole lot on the subjects of worldview and religion, but what she did say seemed to me to be largely irrelevant to her topic of doctors and disease.

Recommendations
• Always keep in mind "how easily governments and the scientific community could do the wrong thing" (27).
• Don't trust newspapers, cable TV, or social media. They are generally filled with propaganda instead of facts.
• Take supplemental zinc. "The lower the zinc levels, the easier it is for COVID-19 to reproduce itself inside a host" (8).
Compare/Contrast
Abram Hoffer, MD, PhD and Andrew W. Saul, PhD's book Orthomolecular Medicine for Everyone, in proving the safety and efficacy of vitamin and mineral supplements, stated that hundreds of people die each year from overdose of Tylenol, even though this drug is considered "safe." I Do Not Consent agrees with this (53), and says that hydroxychloroquine is much safer.
The Truth About Covid-19, by Joseph Mercola, while it agrees with Simone Gold about how the government isn't always correct, offers suggestions of supplements and healthy diet. On the other hand, Dr. Gold says little of the many ways immunity can be improved and infection prevented, instead recommending HCQ as a cure.

My Critique
HCQ may have only very rare and very mild side affects, but it is still a drug. I think that it is better to use more natural means to improve immunity, and minimize the need for even safe medicines such as hydroxychloroquine, acetaminophen, and ibuprofen. I am thankful, though, that God has created doctors and scientists to invent these drugs for when they are necessary.
Details

By

Marie MacPherson
Into Your Hands LLC's teen author, Grace MacPherson, was recently interviewed for her book and pro-life activism by the Home School Legal Defense Association. Check out the interview here!