Meditations on the Vocation of Motherhood, Volume 1: Old Testament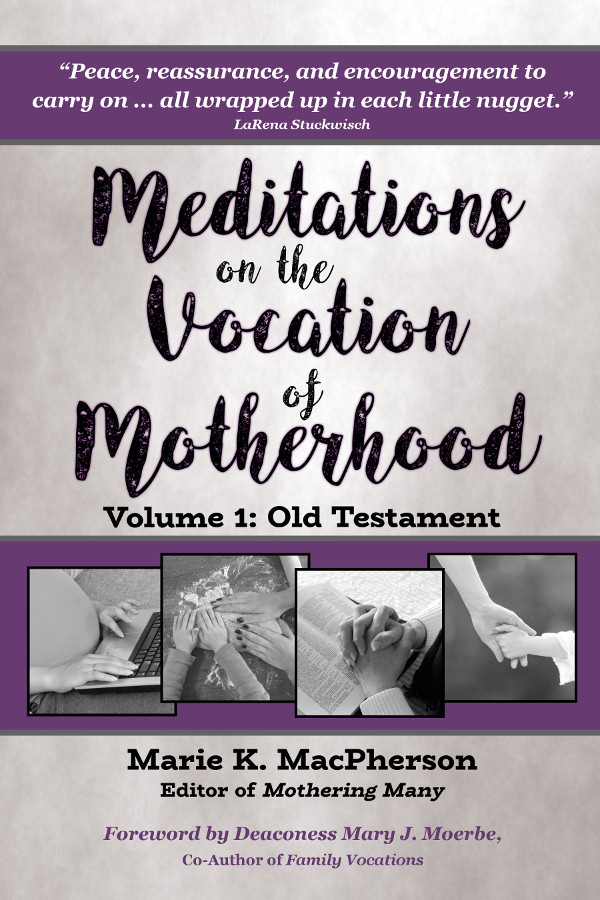 By Marie K. MacPherson
Mankato, MN: Into Your Hands LLC, 2018
ISBN 13: 0–9857543–6–5 / ISBN 10: 9780985754362
198 pages / $13.95 paperback
(see also vol. 2: New Testament)
Overview
You don't have to be the "perfect" mom to read this devotion book! If you feel worried and concerned and burdened about mothering, then you're in the perfect position to be comforted by the message of the Gospel: Our perfect God sent His Son to take the punishment we deserve for our sins. You have been made right with God. Heaven is yours. Even though you will still struggle as a mother here on earth, your Father is with you, each and every moment. He equips you for the vocation of motherhood, whether or not you feel adequate for the task. As you read Meditations on the Vocation of Motherhood, find encouragement and solace as a mother, knowing that God is working in you, through you, and also despite you. In Christ, God forgives all of your failures and sends you the Holy Spirit, building you up for the important work of mothering that He has planned for you from eternity.
On each page, Meditations on the Vocation of Motherhood presents a brief portion of Scripture, historical background, reflections related to motherhood, a timeless hymn verse, and Biblical references for further reading. The appendix includes personal narratives written by the author, sharing her journey through miscarriage and her mother's battle with dementia.
What Mothers Are Saying about Meditations:
Cheryl Swope, M.Ed., author of Simply Classical: A Beautiful Education for Any Child (Memoria Press, 2013), creator of the Simply Classical Curriculum (Memoria Press) for special needs, co-author of Eternal Treasures: Teaching Your Child at Home (LCMS, 2015), and wife of nearly thirty years, is mother to Michael and Michelle, adult twins with special needs:
Meditations on the Vocation of Motherhood by Marie K. MacPherson packs both convicting and comforting reflections into conversational devotions for all mothers, whether new or seasoned. Each meditation begins with a carefully chosen Scripture passage and concludes with a meaningfully poetic hymn stanza. Old and New Testament selections are suggested for further study.
Honest, thoughtful, and personal, Meditations on the Vocation of Motherhood faithfully commends the reader to our only Lord and Savior Jesus Christ. Raised by Christian parents, educated in Lutheran schools K-college, and now writing as a mother of five, Marie admits that perhaps more than anything, her "own inadequacies" have equipped her to share the comfort she has received from reading God's Word. She offers due gratitude to "the Father of all mercies and God of all comfort, who comforts us in all our tribulation, that we may be able to comfort … " (2 Corinthians 1:3–4). If you sometimes wish you had a wise woman of faith living next door to you, these meditations will bring the much-needed companionship, sincerity, and wisdom directly into your own calling of motherhood.

Rebekah Curtis, wife, mom, occasional writer, and co-author of LadyLike: Living Biblically (CPH, 2015):
It's common knowledge that "they grow up fast," but less commonly acknowledged that the hours can be slow. Marie MacPherson's thoughtful devotions are the perfect habit to accompany the cup of coffee, quick stroll, chat with a friend, and other small oases that help a day along. Her domestic gaze reminds the reader that every person who comes to the Lord's Word comes as His workmanship, including those who come holding the little hands of others.

Nicole M. King, Managing Editor of The Natural Family: An International Journal of Research and Policy:
In a world that scorns the traditional family and often mocks the vocation of motherhood, Marie MacPherson has brought forth jewels of wisdom from the Old Testament, and demonstrated how these passages bear specific wisdom, grace, encouragement, and admonition for mothers of all ages. I certainly would not have thought to read some of these passages in the light of my own vocation as a mother, but Mrs. MacPherson has shown me how. For the Lutheran and non-Lutheran mother, mother-to-be, grandmother, or even childless woman who nurtures others, these well written and accessible devotionals are a must-read.

Karyn Lukasek, wife, mother of four, and children's book author/illustrator:
Lutheran mamas, here is a truly Christ-centered devotional for your everyday life. Bible history, relatable application, and hymn verse are neatly packaged with a comforting, cross-shaped bow holding them all together.

Mrs. Rick (LaRena) Stuckwisch, Emmaus Lutheran, South Bend, Ind., mother of ten, grandmother of 7 grandchildren (so far):
Life is busy. By definition, motherhood is busy, 24/7, yet in a brief moment Marie's book can "save the day" or at least put it into spiritual perspective. In a minute before rolling out of bed, or while nursing a baby, in the waiting room, while stirring a pot of soup, or just before turning off the bedside lamp, a moment can be snatched to receive the blessing of a Word from God and the consolation of a Sister in Christ. Peace, reassurance and encouragement to carry on are all wrapped up in each little nugget.

Julie Quist, wife, mother, grandmother of 47 (so far), and board member of Child Protection League:
Meditations on the Vocation of Motherhood is remarkable for its clear and incisive walk through the Old Testament. MacPherson directs us to the greatest women's spiritual self-help of all time—God's enduring and timeless wisdom, the Bible. She invites us to consider its meaning through the lens of our own unique vocation—motherhood. I appreciate the embedding of hymn excerpts with each meditation. She keeps the meditation brief, but points to further scriptural references for deeper study—when we moms get the discretionary time to dig deeper. This book masterfully directs us to the source of all encouragement, discernment, and support—God's Word.

Glenda Mumme, mother of five, grandmother of one, board member of Wittenberg Academy:
In her introduction, Marie MacPherson states, "You don't need to read these meditations. Really! There's nothing here that you can't find in a devotion book written for any and all Christians." She's right. You don't need to add one more thing to your reading list nor feel any guilt about not having time to read this devotion book or any others, for that matter. But she's also wrong. You do need to read these. Beautifully written for mothers, Marie writes succinct devotions based on Biblical texts that pinpoint so many of a woman's fears and joys. Pointing to Christ, each devotion will give you thoughts to chew on throughout your day and throughout your life as wife and mother. You don't need to read this book of meditations, but I encourage you to buy it and do so anyway.

Tricia Zahner, mother of six sweet souls, who is deeply thankful for God's daily forgiveness:
By pointing the reader to God's Word and the gospel message of salvation, these short and to the point devotions continually lift up the persevering (and sometimes exhausted) mother with assurances of God's almighty love, grace, forgiveness, and eternal presence. What a tool of encouragement these devotions are for the tender mother who gives her all and faces her failings daily!

Paula Sulzle, pastor's wife, mom to 6, author, teacher, volunteer, and small business owner:
The author is living the joys and challenges of motherhood, wrapped in God's grace through it all. These devotions are a testament to that! The Scripture and brief devotions are ideal for the on-the-go mom; the hymn verses tie it all together. And for those times when you desire a deeper study, continue with the suggested additional readings. So relatable with clear Law and Gospel messages. Just what this mom and wife needs!

Amanda Gerdts, Licensed Marriage and Family Therapist, Christian Counselor, and founder of Footnotes: Family Counseling Services:
Marie writes from a beautifully graceful and humble perspective. These short meditations are great for the realities of how busy and challenging motherhood is … [W]e are designed to be blessed and a blessing right where we are planted, no matter where that may be!
About the Author
Marie K. MacPherson is wife to Ryan, homeschooling hausmutter to their six living children, and redeemed child of God. She is editor of Mothering Many: Sanity-Saving Strategies from Moms of Four or More (2016). She has a bachelor's degree in Elementary Education from Bethany Lutheran College, with Lutheran school certification and a specialty in communication arts and literature. She used to actively participate in theater, debate team, choir, and international travel, but realizes now that those were merely a foretaste of the joys of her current vocation: managing children's dramatics, arbitrating kids' arguments, singing hymns and lullabies, and sharing unbelievable mission stories. She has been an advocate for mothers, serving as a La Leche League Leader for over six years and a volunteer at a local pro-life pregnancy clinic. When she's not caring for her own children, or the mothers of other children, Marie reads extensively, researching natural health, healing diets, alternative medicine, dementia, homeschooling, theology, evangelism, marriage, and parenting. Follow her blog at: www.intoyourhandsllc.com/blog.
Ordering Info
This book is available for purchase at Amazon.com, BarnesandNoble.com, etc. To request bulk orders for resale, please contact Into Your Hands LLC