Mothering Many: Sanity-Saving Strategies from Moms of Four or More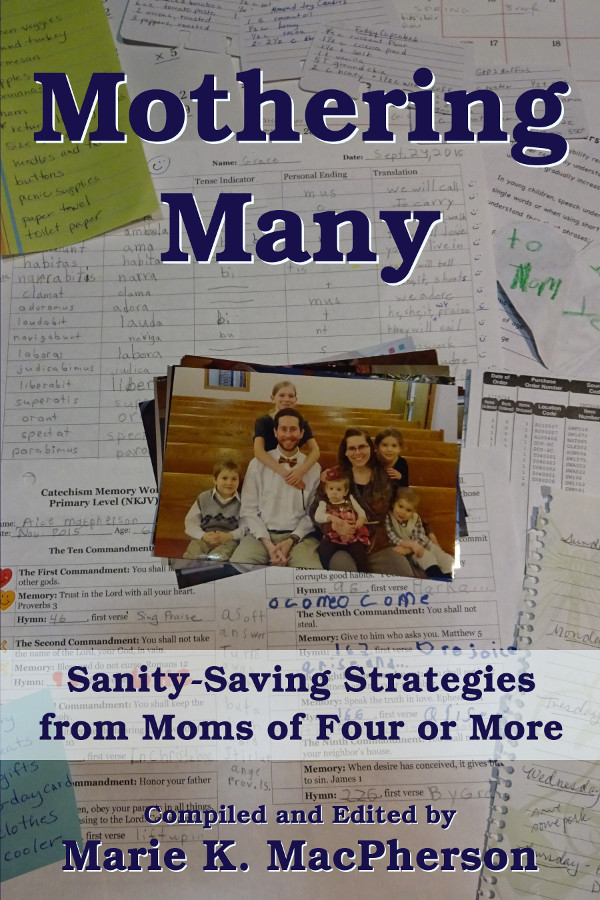 By Marie K. MacPherson
Mankato, MN: Into Your Hands LLC, 2016
ISBN 13: 0–9857543–4–6 / ISBN 10: 9780985754341
226 pages / $12.95 paperback / $9.99 Kindle
Overview
25 moms of 160+ children navigate 56 challenges that mothers frequently face: menu-planning, laundry, time-management, self-care, homeschooling, intimacy, home-devotions, and much more!
Conceived by one perplexed mom and gestated over eight years, Mothering Many has finally been birthed through a labor of love by dozens of fellow Christian women. Literally written between nursing babies and wiping bottoms, this book offers hundreds of strategies, insights, and ideas for strengthening your home for the Lord. So, if you're too busy from the rigors of motherhood to brainstorm for improvement, crack open this book and let these moms troubleshoot for you!
Bonus sections of this book include: a comparison between the editor's own perspective as a mother of three in 2010 and a mother of five in 2016; a quiz for discovering your own mothering personality; plus insights from seven "mature moms" whose children are now grown and raising children of their own. Discussion questions are provided for use in moms' groups.
Endorsements
Rosie Adle, blessed wife, mom, deaconess, and co-author of LadyLike:
Mothering Many isn't a narrow how-to guide, but a broad how-do compilation. How do moms of 4+ kids do it? A huge range of relevant questions has been asked and answered in this helpful resource. The book provides ideas and encouragement for caring moms who are grateful for more of those things. Thank you, Mrs. MacPherson!
Anna Gullixson, mother to four blessings and pastor's wife:
"I wish I could have read this book years ago! Reading Mothering Many has given me new insight into my vocations as a mom and a wife. I appreciate the diverse approaches to mothering. While there is no one right way, through the insights given in this book I have found some "better" ways of approaching motherhood. The focus on grace is evident and much needed in our (and every) day and age."
Emily S. Olson, pastor's wife, mom of five, and freelance writer/columnist:
If you want a wealth of knowledge, advice, and encouragement from saint-and-sinner mothers, this is it. I wish I would have had Mothering Many on my reference shelf years ago, but I am so grateful to Marie for conducting her project and for sharing it now. Many moms—of 2 or 10—will benefit from its breadth and depth of insight into surviving and cherishing this hard, wonderful vocation."
Related Resource
Visit the Mothering Many Resources Page for web links to resources recommended by the mothers from Mothering Many, conveniently organized by the same chapter organization used in the book.
Contents
Chapters:
Domestic Tranquility

Kitchen Tools
Menu Planning
Snacking
Table Clean-Up
Dishes
Chores
Laundry
Diapers
Shopping
Shopping with "Helpers"

Money Matters

Money-Saving Shopping Tips
Buying in Bulk
Supply and Demand
Gifts
Haircuts
Family Portraits
Allowance
Entertainment
Cost of College

Generally "Kid"ding Around

Baby Books
Picking Up Toys
Appointments
Clothing
Being Presentable
Leaving the House
Bathroom Time
Rooms and Sleep
Baby verses Big Kids
Alone Time
Socializing
Responsible Older Children
Environment

When You Really Need a Break

Self-Care
Beauty Routines
Exercise
Friends
Hobbies
Vacations

Learning Time

Choosing a Style of School
Balancing Home and Homeschool
Differentiating Between Home and Homeschool
Schedules
Extra-Curriculars
Advice

The "Wife" Part of Being a Mother

Welcome Home, Dad!
Alone Time with Hubby
Dates
Get-Aways
Coping without Dad
Exhaustion
Looking Back

Spiritual Wisdom

Time for Devotions
Types of Devotions
Children's Involvement
Handling Church
Prayer
Wonderful Big Families
Appendices: Wisdom of Mature Moms, Discussion Questions, Editor's Answers in 2010 vs. 2016, Recommended Resources, and More!
About the Author
Marie K. MacPherson is wife to Ryan, homeschooling hausmutter to their six living children, and redeemed child of God. She is author of Meditations on the Vocation of Motherhood (2018), a devotion book for moms. She has a bachelor's degree in Elementary Education from Bethany Lutheran College, with Lutheran school certification and a specialty in communication arts and literature. She used to actively participate in theater, debate team, choir, and international travel, but realizes now that those were merely a foretaste of the joys of her current vocation: managing children's dramatics, arbitrating kids' arguments, singing hymns and lullabies, and sharing unbelievable mission stories. She has been an advocate for mothers, serving as a La Leche League Leader for over six years and a volunteer at a local pro-life pregnancy clinic. When she's not caring for her own children, or the mothers of other children, Marie reads extensively, researching natural health, healing diets, alternative medicine, dementia, homeschooling, theology, evangelism, marriage, and parenting. Follow her blog at: www.intoyourhandsllc.com/blog.
Ordering Info
This book is available for purchase at Amazon.com. To request bulk orders for resale, please contact Into Your Hands LLC.