Health Insurance Premiums
2018 vs. 2017
In an era when double-digit inflation has become the norm for health insurance premiums, a mere 7% hike on rates would be most welcome. But who can imagine a 7% cut?
Perhaps this would be unthinkable in the health insurance marketplace, but participants in medical cost-sharing ministries occasionally receive mail like the following, from Samaritan Ministries in January 2017, announcing a 7% reduction in members' monthly shares:

And again, in June 2017, announcing a 6% reduction:

Or what about this one, in reference to an 18% discount in October 2016? A lean and efficient administration sent savings right back to healthcare consumers. Can you imagine that?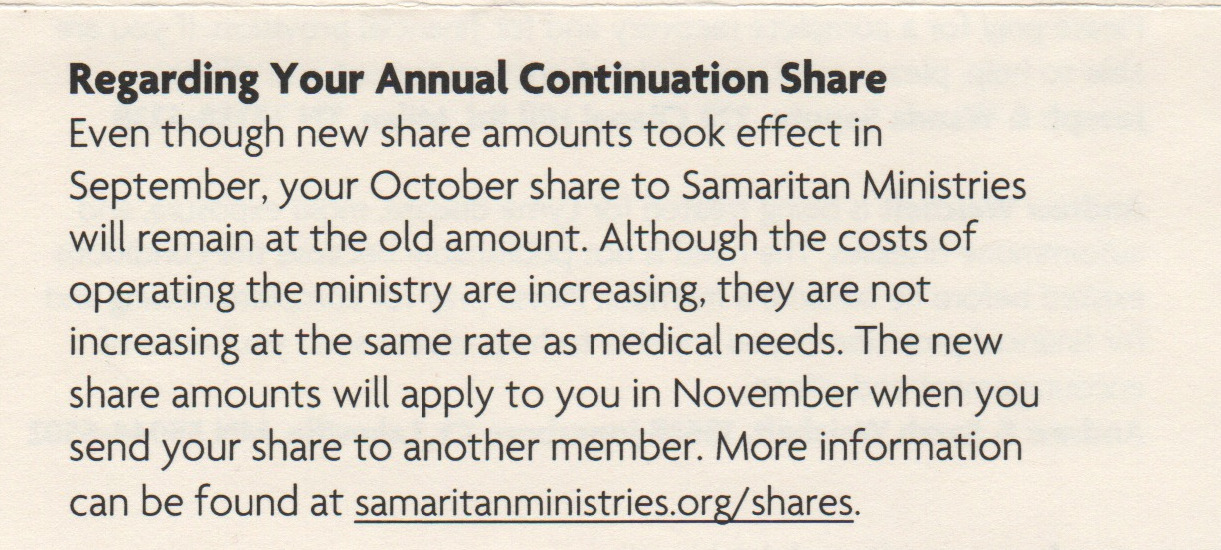 How would you react if your health insurance company cut your premium by 6%, 7%, or even 18%?
Samaritan members, already having budgeted for the full amount, often respond by passing their savings along to others in need. Samaritan Ministries lists as a "Special Prayer Need" someone who has a medical need not covered by the ordinary medical cost-sharing arrangement. "If every member could send just $25 for their suggested SPN," explains the mailing, "all these needs would be met in full."
That being said, there are times when members' monthly budgeted shares do not fully cover the qualified medical needs of their fellow members. For example, Samaritan Ministries prorated the needs at 90% in May 2016 and at 80% in June 2016. Following three monthly shortfalls, the members voted to increase their monthly shares by 22%, a decision requiring a 60% majority. (The discounts noted above resulted because this increase was more than necessary for those months.)
A 22% increase may not sound much different than the health insurance market—that is, until one realizes that for more than two years running there had been no increases at all. Moreover, the prior increase had been quite modest. On an annualized basis, the share increases at Samaritan Ministries have remained comfortably in the single-digit percentages, remarkably lower than the typical scenario in the health insurance market. Samaritan's share adjustments also are voluntary, resulting from a 60% majority vote of all households involved.
And what about those months when members' bills were reimbursed by fellow members' shares only at 80% or 90%? Compared to the health insurance marketplace, which typically involves 20% copays anyway, Samaritan members were no worse off. In fact, they were better off in numerous ways.
First, Samaritan Ministries does not leave individuals/families with the first $4,000/$8,000 of their bill, like the "deductibles" typical of the health insurance system. Only the first $300 is excluded from the shareable amount, and if discounts are negotiated with the provider, then the first $300 of the discount goes to offset the member's $300 payment, often reducing the member's liability to zero. After a few minutes of negotiation with the provider for a cash discount, Samaritan members usually have nothing analogous to a deductible and nothing analogous to a copay.
Second, fellow members often voluntarily give more to overcome those shortfalls. Just because the participants do not have to cover each other's costs fully does not prevent them from choosing to do so. When you learn that someone had heart surgery, and that medical needs are prorated at 90% that month, you might decide to write a slightly higher amount in the check you send to that patient, ensuring that 100% of the surgery costs are shared among fellow members like yourself.
Third, if a surplus results in a following month, Samaritan will pass it back to those families that experienced proration of their submitted bills in prior months. Samaritan's members have a steady track record meeting needs in full, albeit the final 10% or 20% sometimes is delayed a month or so due to prorating followed by catch up.
Fourth, Samaritan often covers expenses that insurance will not. For example, there is no "in network" versus "out of network" distinction; patients may have providers of their own choosing, without penalty. Samaritan also tends to cover alternative medicine and home births more readily than insurance. A pregnant woman, for example, may seek chiropractic care without a physician's referral or prior authorization, since Samaritan considers it a "no brainer" that the strain that pregnancy places on her ligaments and muscles may be eased by a chiropractor.
Fifth, Samaritan members are able to receive discounted rates competitive with those negotiated by insurance contracts. In my family's experience, simply identifying ourselves as "cash pay" patients often takes 20% off the bill. One time we received an instant 49% discount as soon as the clerk plugged "cash pay" into his computer. Sometimes we have to prod a little further, as in: "So you don't have a standard cash discount? Well, if I offer to pay 60% of the billed amount this week, would you accept that as payment in full, given that you typically give insurance companies a similar rate—and they will take months to pay you, but I'm willing to pay it off right now?" Most billing departments are reasonable and will accept an offer like that, or at least meet you half way. For larger bills, Samaritan also provides a negotiating service to handle the details for its members.
Sixth, it's not really about the money anyway. It's about trusting God to provide, and being willing to bear one another's burdens patiently. Yes, Samaritan members send checks to each other in times of need. More importantly, they send handwritten notes, quoting Scripture and promising to pray for each other. That's different than health insurance, and "different" can mean "better."
For example, here's a note I recently received, together with a gift that resulted in my medical bill being paid in full by fellow members—just as I help them to pay their bills in full: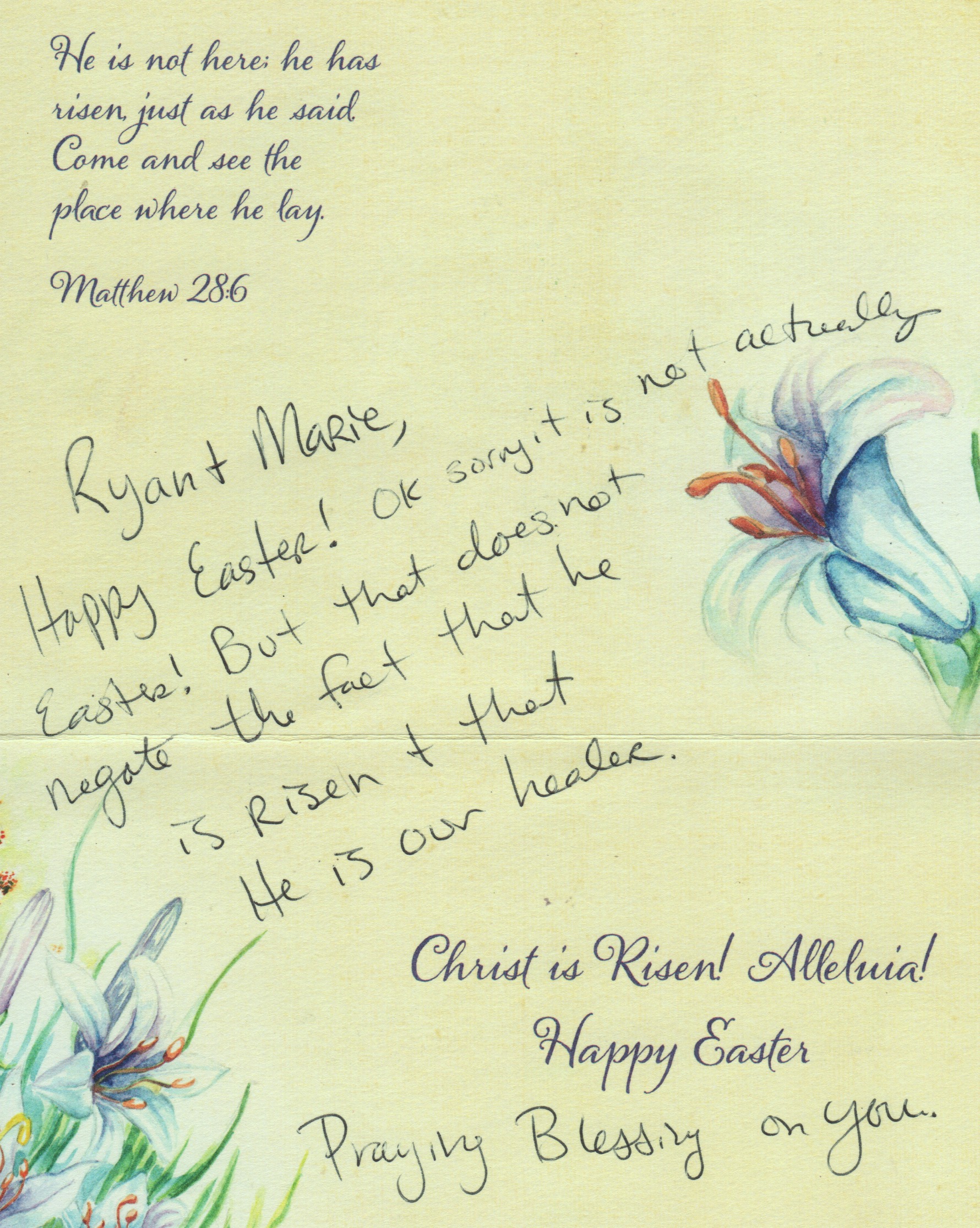 Celebrating Easter during Open Enrollment season? We'll, that's what Christians involved in medical cost-sharing ministries do year round!