Each December brings a renewed opportunity to inquire what Christmas really means. Many people think the holiday is about extended families gathering together. Some people pay a premium to photograph their children with a Santa Claus impostor. Other people know the true story of St. Nicholas. Meanwhile, children want to play in the snow, while adults wish there wouldn't be quite so much snow—even if they sing that they are "dreaming of a white Christmas." Snow or not, the very name "Christmas" has Christ in it. That's an important clue to the real meaning of Christmas.
A first-century historian also was interested in this question, and his account, in Luke 2, has been memorized for children's Christmas programs longer than I can remember. My take is that St. Luke wrote the Gospel according to Luke and the Book of the Acts of the Apostles as a two-volume set intended to assist in the legal defense of his friend and fellow missionary, St. Paul, who was awaiting trial before Caesar in Rome. Both books are full of detailed, specific facts, anchoring the narrative into the political culture of the Roman Empire and the religious heritage of Rome's peculiar Jewish subjects. It's as if Luke had to prove to a judge where St. Paul got all the "crazy" ideas (cf. Acts 26:24) that he had been preaching throughout Rome's jurisdiction. For example, in Luke 1:5-6, 2:1-4, 3:1-6 we read:
There was in the days of Herod, the king of Judaea, a certain priest named Zacharias, of the course of Abia: and his wife was of the daughters of Aaron, and her name was Elisabeth.
And they were both righteous before God, walking in all the commandments and ordinances of the Lord blameless. ...
And it came to pass in those days, that there went out a decree from Caesar Augustus that all the world should be taxed. (And this taxing was first made when Cyrenius was governor of Syria.)
And all went to be taxed, every one into his own city.
And Joseph also went up from Galilee, out of the city of Nazareth, into Judaea, unto the city of David, which is called Bethlehem; (because he was of the house and lineage of David) ...
Now in the fifteenth year of the reign of Tiberius Caesar, Pontius Pilate being governor of Judaea, and Herod being tetrarch of Galilee, and his brother Philip tetrarch of Ituraea and of the region of Trachonitis, and Lysanias the tetrarch of Abilene,
Annas and Caiaphas being the high priests, the word of God came unto John the son of Zacharias in the wilderness.
And he came into all the country about Jordan, preaching the baptism of repentance for the remission of sins;
As it is written in the book of the words of Esaias the prophet, saying, The voice of one crying in the wilderness, Prepare ye the way of the Lord, make his paths straight.
Every valley shall be filled, and every mountain and hill shall be brought low; and the crooked shall be made straight, and the rough ways shall be made smooth;
And all flesh shall see the salvation of God.
Thus reads the King James Version of 1611. Although its language is somewhat archaic, it still has a familiar sound. Perhaps too familiar. Reading Luke 2:7-14 as it appears in the Pilgrim's preferred translation, the Geneva Bible of 1599, may surprise you, and teach you something you've overlooked:
And she [Mary] brought forth her first begotten son, and wrapped him in swaddling clothes, and laid him in a cratch, because there was no room for them in the inn.
And there were in the same country shepherds, abiding in the field, and keeping watch by night, over their flock.
And lo, the Angel of the Lord came upon them, and the glory of the Lord shone about them, and they were sore afraid.
Then the Angel said unto them, Be not afraid: for behold, I bring you glad tidings of great joy, that shall be to all the people,
That is, that unto you is born this day in the city of David, a Savior, which is Christ the Lord.
And this shall be a sign to you, Ye shall find the babe swaddled, and laid in a cratch.
And straightway there was with the Angel a multitude of heavenly soldiers, praising God, and saying,
Glory be to God in the high heavens, and peace in earth, and toward men good will.
She laid him in a cratch? Noah Webster's American Dictionary of the English Language (1828) defines this term to mean "a rack, a grated crib or manger." Cratch is the English derivative of the French crêche, but nowadays the French term seems more familiar in America. By the time Webster compiled his dictionary, the KJV Bible, with "manger" rather than "cratch," already had replaced the Geneva Bible in popularity. Concerning "cratch" he noted, "I believe not used in New England." I wish we'd use it again. The hard /kr/ sound at the beginning and the complex blend /tch/ at the end gives the word "cratch" a jarring harshness, as if to interject into an otherwise idyllic narrative a sense of tragic desperation—absent other options, she laid him in a cratch.
A multitude of heavenly soldiers? What about those delicate angels we see in pop art, the ones with fluffy wings? Once again, the Geneva Bible grabs the attention even of those who think they have heard it all before. When the translators commissioned by King James I of England switched the wording to "host" in 1611, that term still conveyed the meaning of soldiers, or literally, "an armed encampment," quite a fitting way to render into English Luke's Greek word stratia (cf. the English military concept of "strategy"). Luke, meanwhile, was using the Greek equivalent of the Old Testament Hebrew term tsaba, or tsabaoth in the plural, as still preserved in the liturgical chant "Lord God of Sabaoth," from a phrase used hundreds of times in the Old Testament. It is worth noting that sabbath, meaning rest, is a different term altogether; the term tsabaoth that forms the backdrop to Luke's stratia comes from Hebrew verb meaning "to muster the troops, to wage war." Unfortunately, "host" has lost its military significance in English, and we tend to read "heavenly host" to mean "a large choir of angels." A choir they were, but probably brandishing swords and belting out the lyrics with voices like trumpets. Consider:
Angels commonly arrive on the scene wielding swords, and they know how to use them (e.g., Genesis 3:24; Numbers 22:23,31; 1 Chronicles 21:12,16,27,30; 2 Chronicles 32:21).
Whether praising God, comforting His people, or warning evildoers of impending judgment, angels are not exactly quiet or subtle creatures:

"And I saw a strong angel proclaiming with a loud voice ..." (Revelation 5:2).
"And I beheld, and I heard the voice of many angels round about the throne and the beasts and the elders: and the number of them was ten thousand times ten thousand, and thousands of thousands; Saying with a loud voice ..." (Revelation 5:11-12).
"And I beheld, and heard an angel flying through the midst of heaven, saying with a loud voice ..." (Revelation 8:13).
And similarly in Revelation 7:2, 8:5, 11:15, 14:19, 16:1, 16:17, 19:17. No matter the occasion, angels know how to command immediate attention.
Whatever those "heavenly soldiers" looked and sounded like that first Christmas night, it certainly was enough to make the shepherds "sore afraid." Fluffy cupids and dainty fairy godmothers would never scare shepherds, whose livelihood depends upon their willingness to chase away wolves and hyenas. (Why else were they keeping watch over their sheep by night?) Recall that David protected his flock from lion and bear alike (1 Samuel 17:34,37), and later wrote, "The Lord is my shepherd ... I will fear no evil, Thy rod and Thy staff they comfort me" (Psalm 23:1,4). Shepherds protect; they don't easily become afraid, and even less likely would they become "sore afraid." Of course, a sword-bearing messenger from the Lord, soon to be followed by a battalion from God's own army, suddenly appearing in the sky, yes, for that, the initial reaction even by an otherwise brave shepherd would be one of great fear. And it was.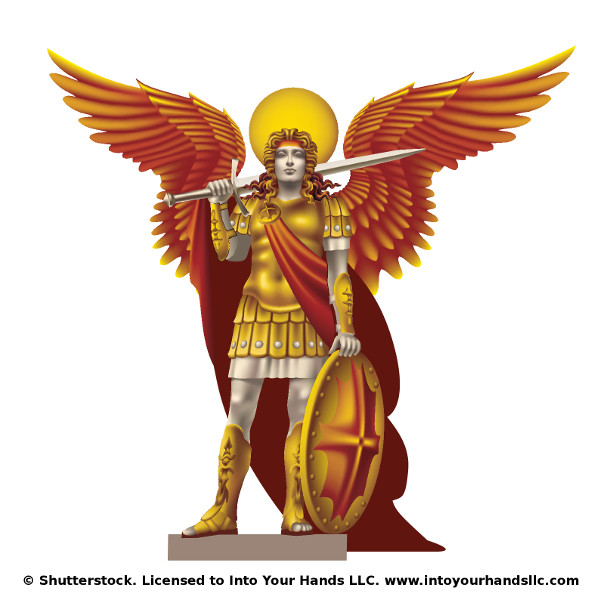 No wonder the angel's first words were "Fear not."
And as intimidating as those heavenly soldiers were, they came with a double comfort. First, fear not—because they bring "glad tidings of great joy." Second, the good news itself is that One even more powerful than all these angels put together has arrived to forgive sins and establish lasting peace between God and man. The Christmas angels sang "peace on earth, goodwill to men," just as St. Paul later wrote in his epistle to the believers in Rome, "We have peace with God through our Lord Jesus Christ" (Romans 5:1).
Paul. Rome. Awaiting trial before Caesar. That appears to be Luke's reason for writing both his Gospel and the Book of Acts. As one of the first great Christian apologists, Luke was explaining that Paul had good reason to preach that Jesus Christ has risen from the dead (even though the Sadducees hated him for this) and good reason to preach that through faith in Christ, apart from works of our own, we have peace with God the Father (even though the Pharisees hated him for that). It all started when the Baby was lying in a cratch, some heavenly soldiers appeared in the sky, and a woman pondered why.
"Mary kept all these things, and pondered them in her heart" (Luke 2:19).
So go ahead. Read Luke 2 this Christmas, as if for the first time, and ponder all these things in your heart, too.