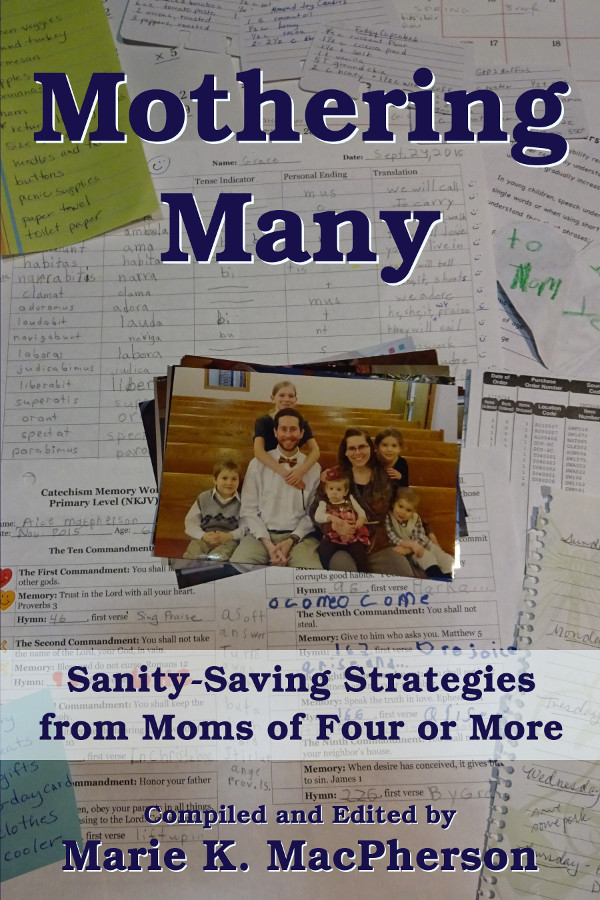 The following preview is provided for you for free with love and prayers, by Marie MacPherson. The chapters below are taken from Mothering Many: Sanity-Saving Strategies from Moms of Four or More, and includes approximately 1/3 of the entire book. Be blessed, sister in Christ, as you raise God's little lambs!
Chapter One: Domestic Tranquility
"Who can find a virtuous wife? For her worth is far above rubies. … She is like the merchant ships, She brings her food from afar. She also rises while it is yet night, And provides food for her household, And a portion for her maidservants. … She girds herself with strength, And strengthens her arms." Proverbs 31:10,14,15,17
While high-profile careers appear to bring women glory and fulfillment, most full-time mothers can attest to the feeling of success after nourishing a small child with a home-cooked meal, seeing a tummy round and full. Cooking, cleaning, and changing diapers may not be particularly exciting, but they are important elements of a happy home. Christ humbled Himself to wash the disciples' feet on the night before He was crucified; surely it should be a privilege for us to spend our days serving His little lambs. Here, mothers describe how to effectively keep on top of the necessary tasks God has called them to accomplish in the home.
Which kitchen items help you feed your large families efficiently?
The basic items that I find helpful are: 1) a large stock pot—excellent for one dish meals such as soups, stews, and beans with ham, 2) a crock pot or pressure cooker—great for roasts with potatoes and carrots, whole chickens, or bulk chicken, 3) a large skillet or large electric griddle—good for grilled sandwiches and making large batches of pancakes, 4) several 9 x 13 inch casserole dishes—for lasagna, ziti, macaroni and cheese, barbecue chicken, pork chops with tomatoes or herb gravy, chicken and rice, broccoli and rice, rolls, cakes, and brownies.—Janet
I have a great set of pots and pans that we bought a couple of years ago. They are high-quality, cook the food efficiently, and are easy to clean. Also, I dish up food at the stove (no "serving dishes" for me) so I can make sure everyone gets their fair share. There's usually some left if anyone's still hungry. It just means an extra trip to the stove, but that doesn't bother me! I also regularly use my Kitchen Aid stand mixer, bought at Walmart eight years ago for about $170. I mix my bread and baked goods with it. We're even thinking of getting a bigger one, so I won't have to make bread twice a week.—Kate
I use my cast-iron dutch oven to cook things slowly in the oven. Preparing meals early in the morning is helpful for us, since we seem to get a lot of melt downs before dinner. A large stock pot is essential. I have an 8-quart one and it just wasn't big enough so we added a 12-quart. There are times when I wish for an even bigger one! A quality stool is nice so kids can help. Hiring a waiter would be nice too: by the time I sit down to eat someone is already asking for more!—Ann
A full-time cook would be nice, but if that is out of the budget, then a roaster! A regular crock pot isn't big enough but one (or more) of those big roasters is great. You can put your soup in it, or two to three chickens, a turkey, whatever, and it's ready for supper. A roast or ham cooked at about 150 degrees all night long and served for supper the next day is so good! It melts in your mouth!—Sheri
I recommend a coffee maker, in the sense that it gets Mom through the day. I also recommend a nice pitcher for serving guests tea or lemonade. And good knives. Don't hesitate to use plastic plates and cups for young children.—Lissa
My most used and useful items are an automatic can-opener, spatulas, and Kitchen Aid mixer.—Shannon
I wouldn't be caught without my large Cuisinart food processor and my Blendtec blender. Throughout the years, I've used other brands, but both of these brands are excellent quality. They get used at least once a day every single day. The Cuisinart is large enough to easily handle kneading two loaves worth (six cups) of bread dough and within minutes, I have dough rising. The base of the machine is heavy, which keeps it from sliding all over the counter while it's kneading. We use the blender for making smoothies and pancake batter. I love that it will turn off automatically if I get distracted momentarily with a little one.—Karol
Editor's Note: Sometimes it pays to invest in high-quality appliances, even though they are more expensive. Think of it as an investment that will pay for itself over the years by not needing replacement. Learn from my mistake of purchasing over half a dozen blenders before investing in a Vitamix! Also, be sure to save your receipts from these purchases so you can make good on the company's warranty if anything breaks. Often, they will send a free replacement within a certain time frame.
Most mothers may mention certain appliances, but for me it is just the simple things. I have a lot of basics on hand. We have several sets of measuring spoons and cups, several bigger measuring cups (2 cups and larger), a lot of big bowls for mixing, and a lot of mixing spoons. This way everyone gets to help, and if something gets dropped on the floor, which happens a lot with little ones, you have another one handy. It also means that you don't have to stop and wash anything while preparing the meal. We have a cabinet in the dining room where we store plates, cups, and bowls. This way, the children can help set the table without getting in anyone's way or getting near a hot stove or burner. Also, always give yourself an extra 30 minutes to prepare the meal!—Lyn
Crock pot, crock pot, crock pot … did I mention a crock pot? I couldn't survive without mine! I actually have two, and there are days when three would be nice.—Harriet
I keep two sets of silverware in the drawer. Also, an extra freezer is helpful to store food.—Betty
I've never felt comfortable, let alone "gifted" in the kitchen. I seldom make bread, never cook breakfast, and only bother with dessert when we have company! I've always had tiny kitchens, so I have no decent space for items I'd like. I used to have a four-slice toaster, but someone melted a plastic toy in it! Someday, I'd like two waffle makers (they don't make "family-sized" ones to my knowledge). My dad gave me an electric griddle. It's wonderful to make eight pancakes or grilled-cheese sandwiches at a time.—Reba
A dishwasher, a salad shooter, pots and pans (watch Amazon.com for good deals on pots and pans. I purchased a $200 Calphalon pan for $30!), enough utensils to cook and serve with, good knives, a lot of bakeware, serving dishes, and at least two cutting boards. As your family gets larger, so do your pot, pan, and serving dish needs.—Dana
Stereo speakers in the kitchen for calming music!—Mitzi
I recommend a grain mill, food processor (chops, grates, blends), blender, glass-top oven, and a coffee grinder (for flax and spices, not coffee).—Sarah
Do you plan meal menus ahead of time? How do you know that you'll have enough?
I "plan" according to what meat is on sale during the week. As for how I know I'll have enough—I err on the side of making too much; then we have leftovers for lunches the next day. You could say that I "ration" juice because my husband calls me the Juice Police. I always notice if he takes a second glass! But since we don't do snacks often, the kids are encouraged to eat at least what's on their plate, and have more if they want it.—Kate
If I don't have a written meal plan, I usually have a general idea of what I'm going to make before I go shopping. I used to be much more organized in this area, but I had a hard time planning ahead this year. I try to keep certain ingredients on hand in case I forget to plan, like homemade pizza or other staple recipes. I usually check to see how many servings a recipe makes, and then double it. We collect leftovers and then have a potluck day since one recipe rarely makes enough for two whole meals. I don't usually have to ration, but if I do, I try to have something else to supplement the main dish.—Ann
Ideally, I like to sit down towards the end of the week to plan meals for the upcoming week. I grab several cookbooks and cruise through them, making my shopping list as I go. We do loads of crock pot meals, as well as one-dish meals. I tend to make more than I need and the extra becomes a second meal for later, or lunch for the next day. I do ration the pricier things, if there's a smaller amount. We don't use huge amounts of meat—a person can fill up on the pasta, potatoes, bread, or veggies.—Karina
Not specifically. I enjoy panicking about supper every morning too much. I ration milk, more expensive items, like berries or bacon, and anything that will run out if hit too hard during the week since we live quite a distance from the store.—Betsy
I plan ahead sometimes but almost never end up following the menu. We have been going to town several times a week, getting two or three days' worth of food. It's not very cost-effective with the price of gas, but it is keeping us alive. I am pregnant with number 12 and not feeling well.—Sheri
I plan every morning what we'll have that evening. Since I stock pile in bulk and when things go on deep discount, there is always something I can make.—Lissa
Planning ahead is a must! I plan two weeks' worth of meals, but shop weekly for the freshest produce. My kids aren't huge eaters (yet) so we generally have leftovers. But yes, we ration into decent portion sizes.—Shannon
Yes, I plan ahead. I've found some great forms from Cindy Rushton (*1) and Donna Young (*2) that I'm implementing. I'm starting to do some freezer meals, so I don't have as much preparation to do every day during the week. As far as having enough, I guess you just figure it out as you go. No, we don't ration; you just have to eat your veggies first! I have planned breakfast, lunch, and dinner menus for years now, especially after having two children. Not only is it a blessing to the budget, but grocery shopping and keeping a stocked pantry is a time saver. Beginning with this school year, I have gone to a month at a glance menu plan.—Dana
Yes! Here's a sample. For Breakfast: Sundays—homemade pancakes made in bulk (freezing the remaining for use during the week); Mondays—ham and jam croissants and tator tots; Tuesdays—frozen pancakes and fruit; Wednesdays—scrambled egg and sausage bagels; Thursdays—homemade muffins and yogurt; Fridays—frozen pancakes or frozen waffles and fruit; Saturdays—eggs, cinnamon rolls, and sausage or bacon. For Lunch: We always eat leftovers first, and if there are not enough, then we have sandwiches, pasta, or chicken tenders or fish fillets, fruit or veggie sticks, and chips or bread. For Snack: Mondays—co-op or activity snack; Tuesdays—cheese stick or a couple of graham crackers; Wednesdays—apple or yogurt; Thursdays—popcorn or cup of dry cereal; Fridays—cup of cheese crackers or animal crackers; Saturdays—spoon of peanut butter or cup of pretzels. This allows them a choice, as not all of my children have the same preferences. Dinner: Mondays—crock pot meal; Tuesdays—meat and potatoes; Wednesdays—soup or dry beans with ham and bread; Thursdays—Italian Night; Fridays—Mexican or Asian Night; Saturdays—a meal worthy of guests; Sundays—I leave these blank to allow for some flexibility with church and fellowship time. Sometimes we may go out for lunch or dinner, or sometimes we may get together with other families. If we are home, my family has their favorites that I will prepare, like homemade tortillas or something on the grill.—Janet
I plan two weeks' worth of meals before I hit the grocery store. I make my list from my menus. I don't plan specific meals for specific days, but I know which meals I have to choose from.—Amy
I do plan menus ahead of time. When I don't, I regret it. Knowing just how much to prepare takes practice. There have been times when what I've cooked isn't enough, so we eat more bread with it, or add macaroni or rice as a side dish. Our family is currently in a location where meat is expensive, so I'm learning to cook meals with beans, lentils, and more vegetables.—Christy
I don't plan ahead because it's not my style. I double or triple most recipes, and I keep in mind the needed foods when shopping. We make sure to have veggies (or fruit when it is in season and affordable), and bread on the table as "fillers." We only ration when food is really tight or the meal is a favorite and goes too fast.—Sharon
Yes, definitely! I plan a week at a time. I create my meal plan using the computer. I first start with what's left in the fridge and pantry and use it up. Then, I plan the meals that I need to go shopping for. Usually, if I use up what we have first, then I don't need to get much at the store, saving us money. I am starting to make meals a month ahead and freeze them, which takes more planning, but it may be worth it financially.—Tina
Planning the meals ahead of time works great for most people, but not for me because I have a lot of health problems. I never know how I am going to feel physically from one day to the next. If I am having an "off" day, then something quick and easy gets made. As for rationing, I don't think there is any way to know for sure if you'll have enough. I just guess. If it isn't enough, then I make notes on my recipe cards about what changes I need to make for next time.—Lyn
I should. It would be so much more helpful! I have a few standards that I fall back on when I don't plan meals. How do I know that we'll have enough? I usually double or triple the recipe. Do I ration? Sometimes, like when I have made turkey patties and there is a set amount. I start everyone off with a certain amount and then if there are more, we go from there. Other times I don't have to ration because I know I will have more than enough. If I am trying to double a meal for another day, I have learned that I need to take that next meal's portion out before we start eating!—Harriet
We plan dinner meals a month at a time. I can always rearrange things as needed from day to day. I keep breakfast staples on hand: eggs, bread, sausage, grits, oats, fresh fruit. At lunch, we typically eat leftovers and have simple meals that don't require much preparation.—Laurie
In the past, I planned menus. I even did the "once a month cooking" a couple of times. With church two or three times a week, I just barely manage to keep us from starving as we run to services! Quick things with hamburger are the staples around here. In winter "vats" of soup that can be quickly heated are eaten for several meals. I often cook extra, so there will be "planned leftovers," at least for Daddy's lunch. Appetites grow gradually, and since kids usually comes one at a time, I've just gradually increased amounts—nothing scientific or organized. I usually prefer that the kids eat as much as they want at mealtime, so I don't have to deal with snacks. I hate to deal with food prep and dishes all day! If they snack, they don't eat decent meals! And snacks are expensive.—Reba
Editor's Note: And thank you, Reba, for that perfect transition to our next question!

Do your children snack on what they want when they want to, or do you have specific times and foods?
No, they don't snack on what they want to when they want to, or I'd be out of food! We usually don't snack at all, but if breakfast was less filling in the morning, I'll offer something (usually, fruit or yogurt) around 10 a.m. If they're extremely active in the afternoon and need something, I'll do the same. But usually, I aim for a good protein serving at breakfast and lunch to tide them over until the next meal.—Kate
We didn't use to have a snack everyday, but child number 4 is very cranky after nap unless he eats as soon as he wakes up. So, we've been doing an afternoon snack, usually a cheese stick or granola bar or a fruit/veggie. Sometimes, we have a morning snack, too. If I am cooking, they beg for the veggies I'm chopping. Sometimes, I will just leave a bag of baby carrots or a plate of cabbage or apple slices on the table and let them eat as they please.—Ann
Not much snacking happens here, but we do have a rather erratic schedule some days, where meals aren't necessarily "on time." At that point, I do allow some munching. We try to eat with Dad in the evenings, but because he has his own business, his hours aren't always predictable. I don't want food to become a huge issue, so I don't make a big deal about it for the most part. They're not allowed to be picky, though. All have to have a bit of something that's there. (Of course, the older kids can eat what they choose, but they normally choose well because they were trained young.)—Karina
No snacking or we'd be out of food! Snacking is a no-no. They eat well at meals and eat everything set before them, and then some.—Lissa
Unfortunately, my kids snack way too often (which is why they're not huge dinner eaters). They seem to be hungry every two hours. They have to choose healthy snacks as much as possible: fruit, yogurt, low-sugar granola bars, pretzels, etc. Nutritionists say it's healthier to eat small meals more often, rather than three large meals. So, I try to balance between letting them eat when they're hungry and eating at scheduled meal times.—Shannon
They're definitely not allowed to snack when they want. That would make me crazy—I'd run out of what I need and wouldn't even know it! And it would be too expensive. But, some of the menu-plan forms I mentioned above include a plan for snacks. I want to start doing this with cheap snacks like popcorn, fruit, veggies, and sometimes a treat from the store that was on sale. If I'm hungry or more than one child has said they're hungry, then it should be snack time. Otherwise, they can drink some water or eat carrots.—Dana
We tend to let little ones snack as needed, provided it isn't close to a mealtime. The others get one snack between lunch and dinner and one at bed time. They do have to be relatively healthy snacks.—Sharon
We have a philosophy of eating when we are hungry rather than when the clock dictates. However, the drawback is that the dishes are never done until the children are all in bed for night. I limit things like juice and yogurt, and only fruit and/or veggies are allowed after 7 p.m.—Karol
We try to follow our meal plan. Snack is about 4 p.m. and it's listed on the meal plan. But, I am also flexible because I want my children to learn self-control, but also to have healthy eating habits and to listen to their stomachs when they are hungry. I can't tell them when they are hungry, but, we can establish a sensible daily routine which will encourage their bodies to have hunger at the same time each day. But, some days they have gymnastics class at 2 p.m. and they are all starving by 3 p.m., so I don't make them wait.—Tina
When they are hungry, they may have crackers, fruit, cheese, or yogurt between meals. We are very flexible about snacks, but the children must clean their plates at meals. They get whatever amount they ask for, but must finish it.—Lissa
My two children that have later bedtimes can get a snack before they go to bed. Their snack is usually whatever we have on hand like chips, crackers, or bananas. I don't like my children having snacks during the day because it makes them not want to eat their meals. But, I don't know if this would work for everyone. My children are homeschooled so they can have their meals at reasonable times.—Lyn
We typically stick to three meals a day. Sometimes we have a simple snack, especially when I'm pregnant or nursing. If I do a snack, I usually prepare something first, then offer it. That way they will gladly take what is offered if they are truly hungry.—Laurie
Yes, but I do ask that they get permission for food before they partake.—Diana
In the past, when I've let them eat whenever they like, I've found this to turn my kitchen into a revolving door. We had a hard time getting things done in our day. So instead, I've learned to have one mid-morning snack, one mid-afternoon snack, and a little drink before bed. I usually feed my children fruit for morning snack and vegetables for afternoon snack.—Sarah
How do you clean up effectively after a meal (especially if you have one or more children in high chairs or booster seats)?
Everyone who is big enough carries their own dirty dishes to the kitchen counter. I take care of the few remaining items on the table. That's another plus to not having serving dishes on the table! Also, I use a tablecloth that I switch every couple of days. It gets a little crummy, but then I don't have to wash off the table and it still looks nice.—Kate
Everyone helps out with setting up for dinner and clean up. For moms with young children, I would suggest "story time with Daddy" while Mom cleans up, or Mom and Dad could clean the kitchen together while children are still in their seats. I also am a big proponent of the "clean as you go" philosophy: wipe up messes as you cook, wash items as you finish using them while cooking. Keep it simple when possible—reuse items if you can during food preparation.—Janet
A dog really helps get most of the crumbs off the floor and out of the booster seats! We got rid of our high chair after our second child. The high chairs take up too much room; the booster could be right up to the table with us. I try to have everyone clear their own spot when they are excused, but apparently I haven't been consistent enough because they don't do it automatically yet! If I am paying attention, I will have someone wipe off the table, but I usually end up doing that. Sometimes it doesn't get done until the next meal. I should probably sweep more often, but I don't like sweeping! My 7-year-old is pretty good at it, though!—Ann
We're still working on developing a system for this since our oldest is only 5. Ideally, everyone helps to clear the table and clean the eating area (and clean the younger kids!) while I put away leftovers and wash the dishes, but I think I might be the only one who knows that.—Betsy
The children all take turns at clean up and some are better than others. I have just come to realize that things won't look like Better Homes and Gardens.—Sheri
The kids do all of the kitchen clean-up. Here's the breakdown: The 8-year-old cleans the high chair, wipes down place mats and the table, and puts away leftovers. The 2-year-old cleans her booster seat. The boys (7, 6 and 3) clean the chairs off. The 16-year-old rinses pots, pans, and dishes and loads dishwasher. She also wipes down counters and stove top. During this time, my husband and I talk together about our day with the 9-month-old.—Lissa
This was one of my downfalls when the kids were small. I usually did the bare minimum for kitchen clean-up and always left it for morning. (Bad habit.) Now, the kids are a little older, and there are no highchairs. They take care of their own dishes. I usually tidy up the kitchen while my husband plays with or watches TV with the kids to keep them busy.—Shannon
I think we're still working on this one. What's clean to them doesn't always pass my test! I have made a chore chart broken into morning, noon, and evening, so the table is being cleared and washed after dinner, and the kitchen floor is being swept daily.—Dana
The dear children do most of the clean-up with Mom, Dad and/or adult sibling overseeing. Once the children are 2 years old, they are responsible to take their own dishes to the kitchen counter. We don't use highchairs because they take up so much space in the house. Babies usually sit on one of our laps during a meal.—Karol
We have one child who takes off food and puts it away. Another child clears the table. The 13-year-old cleans the table, chairs, and floor. (The dining room is his chore room). And our 14-year-old washes the dishes. (She has the kitchen as her chore room.)—Sharon
Everyone is responsible for clearing their place setting. I have one child in a high chair and one in a booster seat. The baby sits in his high chair while we clean up or an older child will take and entertain him. We just start delegating jobs and everyone helps. We go through seasons where we assign specific jobs, but then I grow tired of that system because it tends to discourage going "the extra mile." But when we all work together and they wait for instructions from us, they do more than is required and we have more fun together. Our family works better with this system and my spontaneous dear husband does, too.—Tina
My older children have kitchen duty. I got a Clean 'n' Flip Zone Cleaning for Kids (*3) chart that helps my kids do a thorough job. I still have to come back and inspect for some things, but they are getting better and better. Some days, though, the kitchen just doesn't get done like I want and I have to let it go because other things have taken priority. I usually pair an older child with a younger one to assist.—Harriet
I have two daughters that are 13 and 7 and this is their job. The boys take out food scraps (if there are any) and I leave the little ones in their high chairs until I bathe them after dinner.—Mery
Most food messes are easier to clean up when you wipe them right away. One exception to this is rice. If there's rice everywhere, I find it's easier to leave it a few hours and then sweep it up. I have a couple shirt-bibs that velcro in the back and they help to minimize mess. If my baby is especially messy, I like to give her a quick wash in the shower rather than spend too much time trying to wipe everything off. This is where I really appreciate my shower wand (*4)!—Sarah
Lots of children means lots of dishes. How do they get done?
We use the dishwasher mainly, running it once a day. Paper plates are used for quick breakfast days and lunches. We pick a cup and use it throughout the day to minimize the large number of cups that could accumulate. The children rinse them and keep them on the counter until they need them again.—Janet
That's a good question! Sometimes, I'm not sure! I take a pretty relaxed approach, partly because I leave the house for the gym and to run errands on Monday, Wednesday, and Friday at 8 a.m. On a typical day, I have the breakfast dishes done by 10 a.m., load the dishwasher after lunch and dinner, and run the dishwasher in the evening. The dishwasher is unloaded once a day by either my husband or me, at varying times of the day. As long as it gets done, we're good.—Kate
Dishwasher! We are on vicarage this year with no dishwasher and I miss mine a lot, especially now that I am washing dishes for six while being grossly pregnant! It is one of my least favorite chores and I confess to letting them pile up sometimes. My kids love to wash the dishes, though! I try to use cups for more than one meal if they only drank water.—Ann
We run the dishwasher at least once a day, usually twice. The kids are in charge of rinsing their own dishes and putting away the clean dishes. I'm picky about loading the dishwasher, so I do that. If we have more dishes throughout the day, I'll assign someone to wash them occasionally.—Shannon
We've invested in a small under-counter commercial dishwasher, which does each load in 3 minutes. This way all the dishes are getting washed, dried, put away, and everyone's working at it together.—Karina
You eat, you clean!—Mitzi
One of my children is assigned the chore of kitchen duty. As my others get older, they will rotate through the chore. Occasionally, I help out and do the dishes for that child to give her a break.—Lyn
We have an extra adult who lives with us, rent free. She helps with cleaning, dishes, date nights, etc. I highly recommend this idea, if at all possible. Before that, we simply tried to rinse dishes and load the dishwasher after every meal to keep them from stacking up. Even toddlers can unload and sort silverware. And by age 6 or 7, many are able to unload most of the dishwasher, if they are trained well.—Laurie
My husband and children are in charge of this, and we do use paper plates and napkins at times.—Diana
Often, after supper, I will wash dishes while my husband reads a story to the children. Occasionally, my husband has offered to do supper dishes for me, which is a treat. Our oldest is starting to learn to wash dishes, and as the others get older, they will start taking turns.—Sarah
At what ages are children capable of helping around the house? Do you have your children participate in these ways?
A lot sooner than most people think! If you can teach your 2-year-old to fold a wash cloth, he can help with the laundry. A 3-year-old can help rinse or dry dishes while the older ones wash. I try to find a way for them to help at whatever age they are, if they show an interest. My 2-year-old loves to push the clothes into the dryer and close the door and thinks he's doing a great deed. Anyone can dust and it makes them feel like they're helping to have a dust rag. I should have started chores for my older ones when they were younger. But, I have learned from this and other mistakes I have made, which makes them all valuable. You can't learn without making mistakes.—Ann
If I need a kid to do a job, I ask the youngest one capable. There's no shortage of work to be done, so the older ones keep busy, too. Even an 18-month-old can put something in the trash.—Betsy
If they're old enough to get a toy out, they're old enough to put it away. Everyone chips in. I have a chore chart. It's an outline that would keep my house in top shape if it was done completely. We're still working towards that.—Karina
This is something I've been surprised to learn. I started really stressing "picking up after yourself" when my oldest was 5, the next was 3, and we had a baby. Believe it or not, as the "baby" has grown up, she's better at it than her older sisters are, because she's grown up seeing it. Even teaching a toddler to put blocks away is appropriate. I think age 2 is a great time to start teaching the concept of putting previous toys away before moving on to something new. 4 years old is a good time to start having them put their clothes away, because they need to be able to carry a stack, open a drawer, sort through piles, and not make a mess of the clothes in the drawer! Since I have natural cleaning products, my 7-year-old has been cleaning the bathroom. I showed her how to do it properly and she takes a lot of pride in that job.—Kimi
When I'm working on a big job—like cleaning cupboards—the kids love to help. I find a way to include them. Usually, I end up surprised because they are actually helpful! But mainly, they help by keeping their own things in order. They are responsible for keeping their own room picked up, cleaning their bathroom, and putting their own toys away. If they can keep their own space in decent order, I'm happy to take care of the rest.—Kate
All of my children 2-years-old and older have assigned chores in the morning and afternoon everyday. This is a valuable lesson in our family and gives them needed life skills. I tweak our chore charts annually, with special chore charts over the summer. I have gleaned from Managers of Their Home by Steve and Terri Maxwell (*5) over the years. It provided me guidance on what children can do and how to be a good steward of time. I have always been a list- and schedule-maker, but their book helped by giving feasible ideas and guidance for large families. Aside from morning and afternoon chores, we do clean sweeps throughout the day, just putting items back in their proper places and tidying up when needed. Establishing good habits and training is essential with large families in maintaining order and joy in the home. The initial time invested in training reaps future blessing.—Janet
My 2-year-old brushes teeth, gets dressed, makes his bed, takes out dirty diapers (from the little brother), makes sure all bathrooms have toilet paper, dust-busts bathroom floors, and entertains the baby. My 4-year-old does all the above, plus sweeps the floor, wipes the table, wipes the bathrooms with basic disinfectant, dusts (but not quite up to par), and empties silverware from the dishwasher. My 6-year-old does all the above, plus takes out the garbage from all inside cans, vacuums downstairs, cleans the bathroom even better, vacuums all carpets, empties the entire dishwasher, sorts and starts laundry. My 8- and 10-year-olds make simple meals and do laundry from start to finish (excluding ironing). I have pretty much worked myself out of a job! I read somewhere that until age 6 children make more work in the house, but after that they should at least carry their own weight and be contributing positively by age 10.—Amy
1-year-olds can put away their own toys and put dirty clothes in hamper; 2-year-olds can put dishes away, clean up after themselves, and make their beds; 3-year-olds can feed pets, set the table, empty small trashcans into large, and vacuum furniture and stairs with a small hand-held sweeper; 5-year-olds can dry and put away all dishes, sort laundry, unload the dryer, fold and put away laundry, and sweep and vacuum; 7-year-olds can wash dishes or load the dishwasher, learn to use the washing machine, pick up and vacuum an entire room, do dinner prep (clean fresh veggies, shred cheese), and set the table completely (napkins, drinks, condiments); 9-year-olds can help with the baby (change diapers), be in charge of a toddler's morning routine, fix breakfast or lunch, clean the bathroom, and take out the trash; Older kids should be taught to mow the lawn, shovel the snow, take on more responsibility with the younger kids, and be more self-directed with school work.—Dana
I'm sure younger kids can do chores well, but I've started mine at about 6 or 7 years. My 7-year-old takes turns wiping the table after meals, sweeping the kitchen floor, and vacuuming our spacious and empty entry way. She can also clear the table. My older children (ages 9 through 12) do those chores as well as mopping, laundry, and window cleaning.—Christy
Young children have quite a short attention span, so they work in short spurts. The only way I've found to extend this is if I'm working along side them. If I send them by themselves to do a job, they usually tire quickly or get easily distracted.—Sarah
They clean up all their own toys and books. They put away their laundry and sometimes help fold it. My 4-year-old is responsible for taking his sheets off and bringing them down to the washer when he wets the bed. They change their own clothes and bring the dirty ones to the laundry. They all love to push the vacuum around; I figure if they all take a turn, most of the dirt will be picked up. They can do the dishes. My oldest even cooks with supervision.—Ann
They all have dusters to "help" on cleaning day. Our 5-year-old feeds and waters the cat and helps with dishes. They can also help with some yard work, like picking up sticks.—Betsy
We have a chore list that rotates each day. Each child is assigned a room with specific things to accomplish in that room, such as, "Bathroom—clean sink and counter, mirror, toilet. Change garbage and sweep floor."—Shannon
One of the biggest ways they help is that they each do their own laundry. Two of my children do their laundry on Monday and the other two children do their laundry on Tuesday. On Wednesday, the towels get washed and the children take turns each week with washing, drying, and putting them away. Every other week, they wash their sheets and blankets (two on Thursday and two on Friday). I also make sure my children know how to clean every aspect of our home. I want my children to learn how to be able to keep their own home when they are on their own. Besides just the laundry, they do 90% of all house work. I have had some major health problems and they have had to learn to do everything, including cooking.—Lyn
We usually work together, but I also hire someone to help me. This is a weak area in my life. They all do what I need when I ask them. My older children appreciate chore rotation because they do not get "stuck" cleaning everything.—Dana
Every Saturday, each child is assigned a task like cleaning the bathroom, vacuuming, or washing the kitchen floor. It rotates every week. Sometimes, they help fold the clothes.—Betty
How can you keep up with the laundry?
I typically do one load per day. My older children (ages 10 and above) do their own laundry and are responsible to do it on their assigned day.—Janet
You don't ever "keep up" with laundry! One of my older girls is generally assigned this job. I try to keep several baskets out at one time, so things get sorted into dark, light, white, and towels. Our problem isn't getting things washed and dried, it's getting them folded and put away. One thing that has worked really well for me is storing the four youngest kids' clothes near our laundry room. These clothes get put away right there, where an older child or myself can keep on top of it more easily. Ideally, if we ever build another house, I'd have a huge laundry/clothes storage/changing area, complete with showers. No more clothes in the bedrooms. It would make so much sense to have a "dressing area" in your house and would save so much time in moving the clothes around!—Karina
Don't get behind! I do one or two loads each day and catch up on the weekends. Always fold, sort, and put away each load right away or it will back up on top of the dryer or stay in the basket all week.—Shannon
They all do their own. The bedrooms are divided with a big guy and a little guy in each room. The big guy does the little guy's laundry.—Sheri
Hah! Can you ever?! I do at least two loads everyday. Right now, my 4-year-old wets his bed every night, so I like to get that washed right away. I'm on top of getting things washed, but folding tends to get put off. When all the baskets are full of clean clothes and everyone is complaining about having no clothes, I will work on folding. Sometimes, I have the older children fold for me. If I am extra motivated, I fold right away. I gave up on sorting laundry. I keep out my husband's dress clothes for a separate load, and, of course, the diapers go by themselves, but everything else gets thrown in together!—Ann
I can't, but I have learned not to let it bother me. If it piles up and we're running out of undies, then I need to make more of a project out of it! My husband will also put a load in if he needs something washed, but that embarrasses me for some reason. I tell him, "If you need something, just let me know and I'll do it!"—Kate
I like to do laundry compared to doing dishes! I got a front-loading washing machine this year. It does larger loads of laundry. I say this because I read that they're not different, but I beg to differ. Laundry just isn't a problem for me.—Dana
I've assigned certain days for certain items like kids' clothes, adult clothes, sheets, towels.—Christy
I was utterly surprised at the help a front-load washer provided for our family laundry. We got one when we had six children and it helps things run so much more smoothly! I have basically always done one load a day. If laundry piles up, I am more particular about separating, but I don't cater to whites and often avoid purchasing them! I do my bedding weekly, but the children don't seem to care to do it that regularly. I usually wash their pillowcases weekly, but their sheets I do bi-weekly.—Karol
Do it twice a week and use a front-load washer. Keep the dryer vent clear of all debris and it will dry a load in 30 minutes. We use Seventh Generation Liquid Free and Clear because it uses only six squirts per load and really gets the stains out! I wash all of the sheets together, all towels together, and sort clothes by color and weight.—Mitzi
I have received great help from Fly Lady (*6) in setting up routines and schedules. Back when I was doing more of the household laundry, having it scheduled in my week helped a lot. There are times, like now, when my own laundry is in sore need of some help! I can get it washed and dried, but for the life of me I can't seem to get it folded and put away on a regular basis.—Harriet
We try to conserve clothing as much as possible by reusing pajamas and jeans when they are not dirty. Then, we reserve one day a week for most laundry and try to wash, dry, fold, and put away as much as possible on that day. If we can't finish it all, we wrap up the rest of the folding/putting away on the next day. As needed, I do an isolated load or two during the rest of the week (spills, sickness, wet beds, etc).—Laurie
I can't! Socks make me crazy! The boys are supposed to do their laundry on Tuesday and the girls on Thursday, but it doesn't always happen!—Reba
It's fairly random at this point. I think that as our family grows, I might have to get more organized.—Sarah
How do you manage all of the diapers?
I have had three in diapers a couple of times. Most of the time, I use disposable. I used cloth up until child number 10 and decided it was just too much work.—Sheri
We've had three in diapers at the same time! Felt like an assembly line! I always used disposable. I think we have our own landfill.—Shannon
I've usually had two in diapers. I've gone back and forth between cloth and disposable. I love cloth because they never run out. I wash them with a high-quality product. Some day, my husband wants to set up a drying line outside, but that hasn't happened yet. I use disposables when we go out, and for now quite a bit, because my current baby has such sensitive skin and the disposables keep her drier.—Karina
I've had two in disposables three times and have switched to cloth since then. I rinse with a sprayer in the toilet, then put them in a dry pail. I wash in hot water with regular detergent and vinegar on the heavy duty cycle. I line dry whenever possible; they take forever in the dryer. Cloth diapers are a pain and I'm really not convinced they're cost effective considering all the extra laundry. Their greatest virtue in my opinion is that my little dude hardly ever has a blowout in them; with my older three, blowouts were a daily event in disposables while they were exclusively nursing.—Betsy
We use cloth diapers. In fact, I make my own pocket diapers. I wash them about every three days, but that might become more frequent. I run a rinse/spin cycle to start, and then run a regular cycle, plus a second rinse cycle with detergent, baking soda and a little bit of vinegar. I keep them in a "dry" pail until washing. I also use cloth wipes and put them in with the diapers. I air dry the diaper covers and dry the rest in the dryer. A diaper sprayer (*7) that attaches to your toilet is wonderful for cleaning off the poop without having to dunk.—Ann
I've never had two children in diapers at the same time. My kids generally have been potty-trained by age 2. I use a combination of diapers: cloth once they're about 3 months old; disposable if we're going somewhere and for overnight. For washing cloth, it's easy as long as the baby's fully breastfed (in our case for about 10 months): Put it all in the washer, run a rinse or prewash cycle, and then run a long hot cycle. Separate the Velcro diaper covers, hang those to dry, and throw the rest in the dryer. For babies on solids, I'm fortunate to have a small bathroom next to my laundry room. Using gloves, I rinse the chunks out, rinse the wipes, and throw everything in the washer. Incidentally, cloth diapers save us around $1,000 per year. So worth it!—Kate
I'm a wimp—disposable! I had received some hand-me-down cloth diapers, and I honestly couldn't stand how long it took to change a newborn! It wasn't even a laundry problem, just too time-consuming.—Dana
When we lived in Central Asia, I had two in diapers and was using cloth because disposables were hard to find. It was exhausting! Sometimes, we didn't have any water to wash them. Or if we did, it wasn't clean. So, whenever we found disposables, we bought them to save my sanity! From then on, I used disposable.—Christy
Haha! I have had three in diapers a couple times, including now!!! I started cloth when my third child (in less than three years) was born.—Sharon
At one point, we had three in diapers since the 3-year-old would freak out on the toilet; she didn't like her poops flushed! We fluctuate between disposable and cloth. I enjoy the freedom to do what fits with our lifestyle at the time; I don't give in to condemnation about filling the landfill with disposables when family life is stressful. I have also had some great success with elimination communication (*8).—Karol
I used to use cloth, but all the washing and rinsing when I was trying to homeschool was too much. I gave up. I wasn't sure we were saving money and it made me sick when I was pregnant.—Reba
How often do you go shopping for food? When do you buy non-food necessities?
I do a "main" shopping trip once a week. That's when I get meat, milk, frozen veggies, and baking things. Sometimes I split my shopping because of a sale that's located somewhere else. For other necessities, I frequent a thrift shop every couple of weeks for clothes and household things. We order soap through Melaleuca (*9). I get to Walmart for other products about every 3 weeks, but often we do this as a family trip on Saturdays so we can all spend time together.—Kimi
I go once a week for a family of seven, but it's getting to the point where we need another fridge or I need to shop more often. I would prefer to shop every 2 weeks and I think that would work if we had a second fridge. For grown-up clothes, we usually shop online. We get a lot of hand me downs for the kids, so I haven't had to actually shop for them very much. We usually make it a family outing if we need to go clothes shopping. I use cloth diapers and cloth menstrual pads so I don't have to worry about running out of those things.—Ann
Groceries are purchased about every other day. Laundry soap is from Sears in the big five gallon bucket. Clothes are hand-me-downs. Soap is homemade. Cleaning products are from Don Aslett (*10) in gallon jugs. Toothbrushes are from eBay. Toothpaste is from our dollar store.—Sheri
We shop every one and a half weeks at a wholesale club where we stock up on milk, eggs, and staple items, as well as some toiletries. We shop at Walmart every one and a half weeks for regular grocery items and most toiletries. We shop Aldi once a month for odd items that are cheap there. We hit the bread store every two weeks. Paper towels and toilet paper are bought online about every three months from Staples. Clothing is bought twice a year at the church consignment sale. It is kept in bins for younger siblings and handed down as needed.—Lissa
I make a big shopping trip on my husband's day off while he watches the kids. If we need something refilled during the week he picks it up while he's out.—Betsy
I am a part of several food co-ops. I get produce every other week. I order meat every two months. I get my milk from a local farmer and pick up once a month. I freeze some to pull out later. I get oats and rice in bulk about once every three months. I order my toiletries and spices at the same time I order meat. I shop at Sam's Club about once a month or once every other month. Canned goods, cereal, and additional produce and diapers, I shop for about every two weeks.—Harriet
This is a sticky issue for me. My husband has taken over the shopping, but doesn't know a Roma from a cherry tomato. I would prefer to go once a week, shop sales, and work from there. But now, I make a list which he often forgets and try to deal with whatever he brings home: usually meat, frozen veggies, cereal, and milk. I order all our housecleaning and body supplies online once a month. This saves money because miscellaneous items don't "jump" in the cart!—Reba
Who goes shopping with you? Does it work well?
I bring whichever kids are home. During the summer, that means all four. It goes pretty well, especially at stores where they offer kids' carts, but it is very tiring for me. My kids are very well-behaved, but it is a little distracting trying to maneuver through the store. One fun part is that everyone always wants to talk to my kids! The girls get practice at how to be polite to strangers, answer questions clearly, and accept compliments! One store has a free daycare room. There are closed-circuit televisions around the store which I can use to check on the kids. I know all of the ladies that work there, and the girls love to go! They get to play with neat puzzles, make crafts, and see toys that they don't have at home. The best part is that it's free. So, when that particular store has the best sales, I get a more relaxed shopping day and the kids look forward to it.—Kate
I take all the kids with me. The younger two ride in the extended cart, the older two walk, and I wear the baby. Occasionally, my husband will come along and we'll have two carts, but it goes a lot more quickly when it's just me. They know that they won't get treats if they beg, so they do get really excited when I purchase something special. Sometimes, I will get to go just by myself (with a baby) while the kids stay with Dad.—Ann
I used to go on my own because it was one of my down times, but I've recently started taking along one or two middle children and they have been very helpful with loading the groceries.—Karina
I prefer to go shopping alone. I have found that when I bring the kids (or my husband) along, we spend more money!—Shannon
No one, if I can get away with it! My husband is disabled so he is home most of the time. He and I will go together, once in a while, for a date.—Sheri
To spend time with each of the children alone and since I have an older child who can babysit, I rotate who goes with me on each trip. This works well and allows for one-on-one time with the children.—Lissa
No one, usually. I sometimes will take one of my kids with me as a treat to them. Since my oldest is now able to stay home while I shop, I often go during rest time in the afternoons.—Harriet
I take all the children with me most of the time. It works. Does it work well? Yes, some days and of course, other days, not as well! Picking a good time to go is essential. We go mid-morning. The children are well-fed and not too tired or in need of naps, yet. If my list is well-organized and I stick to it, the trip goes much more quickly and smoothly! I try to pack a small snack (like a baggie of cereal or suckers) to boost everyone on the second half of the trip. When they begin to get tired of the cart and the store, we pull out the snacks. They help us get to the end without too much drama! This works the best for us, and keeps the shopping out of our evening/weekend times with Dad!—Laurie
The children come along with me so they can learn how to shop wisely.—Betty
Chapter Two Money Matters
"She considers a field and buys it; From her profits she plants a vineyard. … She perceives that her merchandise is good, And her lamp does not go out by night. … She makes linen garments and sells them, And supplies sashes for the merchants." Proverbs 31:16,18,24
Finances seem to be a common reason that husbands and wives choose to limit their family size. However, in God's Word, He continually reminds us to rely on Him for all of our earthly needs. These mothers of many are shrewd stewards of the gifts God has bestowed on them, making the best of their station, and focusing on heavenly treasures.
What are your money-saving tips for shopping?
1) Plan meals around whatever meat is on sale. I look at the stores' sale pages that come in the mail, or look online. 2) Stock up on great deals. I got cereal and granola bars for $1.50 a box yesterday, but I had to buy 8. I'm storing the extras in our garage fridge. 3) Purchase whole foods. They're healthier and less expensive, but they take more preparation on my part. 4) Find a good thrift store to frequent every couple of weeks, keeping upcoming seasons and clothing needs in mind. Store too-big clothes in large plastic bins labeled with their sizes. …
Editor's Note: The next book in this series will be Photos of Home Organization by Mothers of Many!
… 5) Recognize anything beyond a basic need as a luxury. Alcohol, fancy cheese, packaged food, cookies, steak, ice cream, and even chewing gum fall under that category. I always ask myself if it is a necessity twice before buying things like that. As far as ice cream goes, if it's under $3, the answer is usually yes! 6) Use a credit card with cash back on grocery purchases. We use the Citi card and get 2% cash back. Every 6 months or so, a check comes in the mail, usually around $50 or $60. 7) I buy food that is marked down for quick sale. Sometimes, it has to be used right away, but sometimes it can be frozen. Early morning shopping is your best chance to get those deals. 8) With a few exceptions, I only buy groceries at the grocery store. I buy diapers and household products Walmart. Those things cost a lot more at the grocery store. 9) The kids aren't allowed to ask for toys or expensive foods. Instead, they can comment, "Look at that Barbie! I sure wish I had one like that!" Otherwise, our shopping trips turn into a long string of, "No, you can't have that." The children have learned how to make creative comments about toys/foods without begging. 10) Get to know the people who work at your store. Just from doing that, I've been able to get free food for our school, a free patio set for the kids, tips on which foods will be on sale at different times of the year, and even free cookies for the kids while we're shopping. It also gives me a chance to talk about our church and school. The "bakery lady" at our nearest grocery store even bought a birthday gift for my son.—Kate
Stick to your list with only rare exceptions (especially when you're pregnant)! Buy produce that is in season. I loosely plan vegetable dishes and then see what's on sale when I get to the store. I suppose looking at sale papers is probably helpful, but I never do that. I don't clip coupons because they are usually for prepared food items that we don't buy.—Ann
No brand names. No prefabricated items, especially baby food. Stick to Aldi and Walmart. Yes, it is possible to have a healthy diet shopping there. Quinoa is a privilege, not a right. Have a husband who hunts and fishes, and be willing to eat what he brings home. Have a garden and can or freeze things for use all year.—Betsy
Never go grocery shopping when you are hungry! Try to have an idea in your mind or a list before you go. Keep an eye out for bargains, but always make sure it truly is a good bargain.—Sheri
Buy paper items, such as toilet paper and paper towels, online. You usually get them cheaper and the shipping is free if the total purchase is over a certain amount. Buy in bulk and store it in a freezer! Buy bread at discount bread stores and freeze! Buy only when items are on sale! If it's not on sale, it's not in the cart! (Staple items, such as milk and cheese, would not be included in this.) Check Freecycle (*1) before buying household items. Check online for discounts on everything!—Lissa
I used to be greatly concerned in this area, doing bulk buying, always checking fliers and using coupons. I have taken a different perspective now, walking away from an attitude of lacking, to more of an attitude of abundance. I don't fret over our grocery bill, and the Lord always provides. I will still buy what's on sale, but I won't delay a purchase just because it is regular priced. The Lord is my Shepherd; I have all that I need.—Karol
I like to "make my own" whenever possible. I make things like onion soup mix, taco seasoning mix, and laundry soap.—Lyn
Potty train early! Ha!—Diana
Do you buy in bulk?
If I can, I do. It is usually cheaper. I always check unit prices and watch the packaging. The box may look like the same size, but I have frequently found that the amount inside has been reduced. It's deceptive on the company's part, but it seems to becoming more commonplace. Building up a pantry also helps with the food budget.—Janet
We do with some things. We travel to a big city occasionally for medical appointments, so we stock up when we're there. I get bread flour, white flour, sugar, maple syrup, fruit, meat, eggs—mostly staples—there. If I had more access to bulk shopping, I would definitely do it more.—Kate
We bought half a cow from a local farmer. That lasted 3 years! We are thinking of doing it again, but only getting one-fourth this time. It was really nice to never have to buy beef. I like to buy grains, beans, and dried fruit from bulk bins at the natural food store.—Ann
It depends on what you call bulk! We purchase huge bags of whole wheat, rice, the large cheese chunks. We get a cow slaughtered once or twice a year. The guys in our family fish for salmon in the summer, so that provides fish for the year. In the fall, we've sometimes had a deer from one of the boys hunting. So yes, I guess we generally "buy" bulk!—Karina
Yes, we've joined a buying club with some local ladies. You must have containers and room to store the food, of course. When my group purchases enough, we can earn a discount!—Dana
I keep my eye out for deals, especially certain dry goods, and stock up when I see them on sale. For example, we like to buy whole grain pasta, and when that comes on sale, we buy a huge amount that lasts half a year. We have a bulk barn in our city, and I buy certain nuts and raisins there. We buy a variety of grains (and some legumes and multi-grain mixes) from the farmer there, and mill our own flour. We get bulk honey from bee farmers. We buy raw organic sugar from an uncle who's a farm consultant, and use it sparingly. We buy free range eggs from a farmer (six to ten dozen at a time), and pay less than we would at the store. We buy rice in bulk at an ethnic grocery store.—Sarah
How do you manage to keep your family supplied with toiletries like shampoo, toothpaste, deodorant, and toilet paper, on a budget?
I have tried every system under the sun! I recently bought little baskets so each child could have their own personal products to take to the bathroom with them but the little ones have already lost all of their "stuff." Some children are naturally clean and organized, and others just aren't! It doesn't matter what you do, that's just the way it is! The best advice I can give is move to the country so you don't have nosy neighbors looking in on how often the children didn't get their teeth brushed or hair combed!—Sheri
I always buy double of everything so we have an extra supply. I try to supervise how much of the products the children use. I don't believe in harsh punishments for childish accidents. I'll admit that it sometimes gets frustrating, but kids are clumsy. They break stuff, they spill stuff, and they lose stuff. I don't go over the top about the little things.—Shannon
I think dental floss is our biggest investment. I buy everything for them until they're bringing in some of their own income. Then they have to start supplying their own personal stuff. For Christmas last year, I made up "travel bags" for my 3 up-and-coming "men" (then 15, 13, 12). It contained normal size containers of all the pertinent stuff, which lasted each of them at least four or five months. Then they chose to replenish some of their own things.—Karina
Our children are still young enough that we supervise closely. I ask the grandparents for personal items as stocking stuffers to give us a leg up on the year in toothbrushes and shampoo. If I see huge wads of toilet paper in the trash, I do some ineffectual ranting.—Betsy
We haven't gotten to the point where they use too much of anything other than the occasional excessive pumping of soap or tearing off too much toilet paper. I try to buy toothbrushes when they are on sale and just have a box full of them. I haven't had to make any rules limiting things, but I'm still mostly in control of how much they use. Only the oldest washes his own hair and no one uses deodorant, yet. We do seem to go through a lot of toothpaste, but we all use the same tube.—Ann
I've shown my girls how much of a particular product to use. We had a bottle each of shampoo and body wash in their bathroom, and they both lasted 12 months. I also make sure they don't use too much toothpaste. As for toilet paper, we buy in bulk from Costco, and I remind them every once in a while how much is appropriate for them to use. As far as that goes, though, since they haven't clogged the toilet yet, I'd rather err on the side of using to much and getting "it" all, than using too little!—Kate
I am usually right there when the children are brushing hair and teeth, so I monitor most product use and see to it that they are not fooling around. We mostly all do our hygiene at the same time. I have pumps on the shampoo and the girls know only to use half a pump, because we use expensive shampoo for their waist long hair.—Amy
We go through things so quickly. Especially if the baby dumps the shampoo or the boys flush something!—Diana
We order most of our personal supplies through a company online, so I don't have to pick it up. I place the order once a month and keep track of needed items with the use of our dry-erase menu board, just like grocery items. When something runs low, the person who notices or opens the "last one" is supposed to write that item on the board. We try to balance teaching good habits with economy, using enough, but not too much. If a child lost something once, I'd give grace. If it became a habit of carelessness, then I would help them learn the value of things by working of the value of replacing the item. As children get older, I know some families who find ways to let their children earn money and then begin paying for some of their own personal supplies. This obviously encourages them to be frugal in their use―or learn how to afford their own habit of usage.—Laurie
I just buy more when we run out. Children 8-years-old on up are required to write down whatever on the list when we run out or are close to running out. They've all experienced the natural consequences of running out and forgetting to put it on the list. For example, my daughter who wears a pull-up at night forgot to put it on the list. I went to the store and didn't buy any. So, she had to wear her brother's for a few nights and they were quite small for her. Also, we ran out of children's shampoo and it wasn't written down, so they had to use mine, which they don't like. They are all pretty good about this and, of course, my husband and I try to do a quick scan for everything before heading to the store. We have cell phones so they can always call us while we are out if they remember something they forgot to write down. In the past, we set many rules about product use, but are moving more towards a "grace-based" parenting style and also "natural consequences." So, if we notice a child is spending too much time in the shower I will require she use a timer and stay within that limit for a while until she can take less time on her own and learn time-management skills. We are preparing them for real life. What happens when I lose something? I have to pay for a new one. So do our children. But, we may help them have opportunities to make money or they may choose to go without. We try to look at each individual situation and, of course, give lots of empathy.—Tina
We instruct on using smaller amounts of toilet paper when they are still young. I buy toiletries for the whole family to use. The adults might buy their own shampoos/conditioners occasionally, but they usually use the family ones. I don't like the shower full of lots of different products; it makes it messy. The adult girls with long hair use baking soda/water for scrubbing hair, and rinse with vinegar/water. Cheap! They love how soft it makes their tresses.—Karol
Editor's Note: I started using Karol's baking soda/vinegar hair wash over 5 years ago and still use it! It works well and is inexpensive, but for obvious reasons, doesn't work well for children who still drip the wash into their eyes during baths or showers.
We try not to let a child under 5-years-old in the bathroom alone for self-care. We do dilute our hand soap, as we go through it pretty quickly. Those foam dispensers (*2) are good; seems like you're getting a lot. You can reuse the dispenser and the soap has to be diluted, even liquidy, to work right.—Dana
How do you keep Christmas and birthdays special, but affordable?
Christmas is simple on our part as parents because grandparents give a lot! We only give them educational items; either a group gift or each child gets something small. On birthdays, we don't do gifts. We have the child choose the dinner they want to have and Daddy makes them chocolate chip Mickey Mouse pancakes for breakfast!—Lissa
We make sure they get quality, not quantity. When they were younger, we stuck with practical gifts like crayons or even their favorite box of cereal. They loved that! I've always gone overboard on birthdays and Christmas. Simple things like a McDonald's party, skating, or a family party are still costly, but always fun.—Shannon
We let the grandparents buy most of the presents. Our kids are still little enough that they don't know they're being deprived. I'm in an online book/music/movie trading group, and any time I land a good kid item, I save it for the next gift event. Last year, our older two kids both said their favorite Christmas present was the lip balm they got, scooters and dolls from Granddaddy notwithstanding!—Betsy
We don't usually buy presents, unless it is something little. They get enough stuff from relatives! I like to make a lot of gifts and we try to get the kids into doing that too. At birthdays, my children get a cake or cupcakes and his or her choice of meal. We also tell the story of the child's birth.—Ann
Editor's Note: At Ann's suggestion, we've started telling our children their birth story around the table at their birthday dinner. Year after year, they soak up all of it, though I never tell them the bloody, painful details! Sometimes, a sibling will add in a detail that Daddy and I forgot. For some reason, the other children also like to tell the details of what they ate on the day a younger sibling was born. I suppose once they start having friends over for birthday dinner, they might not want me to tell about pushing them out in the tub of water "right over there." But for now, it's great fun!
A friend advised me once, "Always try to get them something they really want at Christmas." She was right. What the kids want, and what I think they should want, are two different things. So, at Christmas, we buy one gift for each child, spending around $25 each. Christmas Eve is special because they open their stockings. They almost have more fun with the stockings than the other gifts! Each year they get a Christmas ornament, socks, hair things, a pack of Kleenex, and other small miscellany.—Kate
We have tried for the past two years to have the "three gifts" principle, representing the gifts from the Magi, for each child at Christmas. We have asked extended family to keep gifts to a minimum. Birthdays always include a cake and usually their favorite meal. A tradition we started years ago is that, starting at 5 years of age, my husband takes the birthday child to the beach to watch the sunrise and pray, and then out for breakfast at The Cracker Barrel. We usually have a family party that evening.—Janet
Lots of family and lots of traditions make holidays special. We give one big gift to the whole family for Christmas, and then a few really small ones, too. If we have been blessed with a second-hand something, we'll wrap and open that. We were just given practically brand new Bitty Baby Twins. My 2-year-old is getting them for Christmas. My kids would get more excited over an activity like baking homemade Christmas tree ornaments than a huge gift. They have a hard time even thinking of something to ask for.—Amy
My husband gets overtime pay pretty regularly, so we buy Christmas gifts from the extra in those paychecks. We are trying to scale back, as we've realized our kids don't appreciate all that they have, because apparently, they have too much! Birthdays are always a big party with the whole family invited, but everything is homemade, and no hired clowns or animals!—Dana
We spend only a preset amount on each child. We don't buy for extended family members unless we have extra money. We get little items and focus more on the reason for the event, especially at Christmas. It is especially fun to have over extended family members who live nearby.—Sharon
Birthdays: We almost always bake a cheesecake, only invite family, and do minimal/if any decorations. We don't even do gifts. It might sound very boring, but we try to make each child feel special throughout the whole year! Christmas: We don't celebrate Christmas with gift giving either, nor all the decorations. We do celebrate Christ's birth throughout the year, and more importantly His death. He never suggested His disciples celebrate His birth. But even before His death, He set up a remembrance of His death. Interesting!—Karol
For birthdays, I bake a cake and decorate it. They get to pick their birthday dinner and I put up balloons and birthday streamers in the kitchen. Sometimes, they invite a few friends. Sometimes grandparents are able to come. We set a limit on how much we spend, with more spent on birthday presents than Christmas presents. I don't want them to be materialistic at Christmas, with it being Jesus' birthday, and they get to play with each other's toys, so they don't need much.—Betty
At Christmas, we're totally wiped out running to several services daily throughout Advent and Christmas. We have our "gift" thing stretched through the 12 days of Christmas. We usually can't afford gifts, but grandparents give a few, so we open them every other day or so through 12 days and the Feast of Epiphany.—Reba
We like the idea of keeping the number of gifts small and doing more homemade kinds of things. We like to talk about their birth on their birthday and share special encouraging words and prayers. At Christmas, we've kept things as simple as possible, trying to keep the focus on Christ. We've enjoyed doing the advent calendar together and reading Scriptures as a family to meditate on Christ's birth and the prophecies that lead up to it. We're working at making Easter the biggest celebration of the year, since that is the time we celebrate Jesus' death and resurrection, which is the center of our faith. We incorporate the passover into our Easter celebrations as well.—Sarah
How can you afford hair cuts for so many children?
I cut everyone's hair including myself and hubby. My oldest daughter wants layered hair, so we got onto YouTube and I learned an easy technique that satisfied her. It saves lots of money and I actually enjoy it. I hope to learn how to do more haircuts over the years.—Tina
I cut everybody's hair, including Dad's. After nine years, I'm having fewer heart palpitations over it.—Betsy
In the beginning, my husband cut our boys' hair (usually nice clipper cuts) and I trimmed the girls' bangs. Later, my oldest daughter was interested in learning to cut hair, so we invested in a course for her and she purchased some basic equipment. When all her brothers and father need cuts, it's quite an undertaking! As a thank you, I pay for her professional haircuts; she has lovely, long, curly hair.—Karina
My sister is a hairdresser and I've learned some tips from her. Now I can cut all my children's hair myself. She found me a pair of professional hair-cutting scissors which make the job so much easier! I'm blessed to have her trim my hair when needed.—Sarah
I bought a hair-cutting kit years ago and it's saved us tons of money! I usually keep the boys' hair real short; the girls have varying lengths of long hair which requires only occasional trimming. Any of the adults in the household can buzz the boys' hair. My husband cuts his own, but I help with trimming the nape of the neck and around the ears. We usually try to do the younger boys around the same time as each other for one quick clean-up.—Karol
Many moms in smaller families are religious about getting their children's photographs taken professionally. Is this something you do? Are there alternatives?
We had 2 family pictures taken in the past 8 years. We had the children's photos taken in old-fashioned clothes, offered as a fund-raiser for a local group.—Sheri
We get them done once a year at Christmas at a place where they can accommodate large groups and there's no sitting fee. We are considering having a photographer take us somewhere else, though, as we've been getting sighs and comments from our children when going to the studio the last two years.—Lissa
I let school pictures take over. Ordering smaller packages really helps. It was important to me and I was faithful about having their photos taken.—Shannon
We buy the basic Walmart portrait package whenever we have a 6-month-old. If it weren't for family members who expect this kind of thing, we probably wouldn't even bother with that.—Betsy
I don't think my fourth child has had professional photos taken. It's not a huge priority for me, or it would probably have happened. My husband does photography as a hobby, so we have a lot of interesting pictures of the kids, although not posed.—Ann
I'm not regular with it, but we have professional pictures taken at Christmas. I would rather have great photos of all of us together. However, I have thousands of digital pictures of each of the kids. We are fortunate, because our friend is a photographer and does it for free when we have the family shots taken.—Kate
Not since our third child! Instead, we take a lot of digital pictures and transfer them to CD-ROM and try to keep scrapbooks current and on display throughout our home. Good shots are enlarged and framed for that purpose. Those shots hold special memories that can be shared and they are usually more reflective of our children and family than posed or professional shots.—Janet
We did this more when we had smaller, younger kids. Now we don't bother much. We take tons of pictures with our digital camera! We also recruit friends who seem to have a natural gift for photography to take family pictures for us.—Christy
Jesus brings life. Do whatever brings life to you and your family. We don't do professional photos. Some of our children are great with the digital, and I'd rather look at candids.—Karol
I've had each of the kids' pictures taken in the hospital and at one year of age. In school, they get taken every year, which does add up financially. I know of one family who had school pictures taken every other year to save on expenses.—Betty
My husband enjoys photography and used to do some as a hobby when he was single. Of course, once we started having children, they became his favorite subject for photography! I think outdoor pictures are so lovely and far better than indoor professional ones. I also agree that the time and expense of doing so many pictures professionally would be too much.—Sarah
What are your ideas about whether or not children should receive allowance?
I don't think allowance should be based on doing chores. I think if you're going to give an allowance, then give it. But, do not loan any money for extras. Chores are simply required because you live with your family.—Shannon
I think children should have an allowance so they will learn about managing money. I also want them to learn how to tithe. However, I don't think large amounts are appropriate. I'm thinking about starting my 5- and 7-year-olds at around $1.50 a week. Obviously this topic isn't hugely important to me, or I already would have implemented it, but it is something I want to try.—Kate
Ours are too young for this, but we do want them to learn the value of a dollar. We have started some introductory work in this area by giving them a little money to spend when we hit garage sales. I also give them the opportunity to sell me the candy they receive from people. And if they don't sell it to me, I just throw it away after they go to bed! Mwa, ha, ha, ha, ha, ha!—Betsy
I'm not sure about this one; it's always confused me a little. Kids shouldn't be paid to breathe, and everyone has to chip in to keep things in working order. If you eat here, you work here. On the other hand, who doesn't like getting rewarded for a job well done? We all do! The older kids have small jobs they get paid for outside of home. This summer, I'm paying my 11-year-old daughter to be my gardener. She's in the middle of four boys though, so I feel like she does so many other things automatically, and this is one way I can reward her.—Karina
I'm not against allowance, but I don't see the need for it in our family. Plus, we just don't have the finances to do it. I think it's more important to show the children how to work hard for the family. Our children are needed.—Sheri
My husband is a financial planner and this is how we handle allowance. We pay each child, once they turn 3 years old, a set allowance on the 15th each month. For instance, our 3-year-old would get $3 a month. Ten percent of the total amount goes for tithe (30 cents). Half of the gross amount ($1.50) automatically goes to his savings account at my husband's work. This savings can be used for education, house down payment, or business start-up costs, as an adult. The rest ($1.20) he has to spend on his own. Because our children have all their needs and wants pretty much met, they usually just have me keep their money in their account. Lately, they've been saving for family vacation treats and extra things that would not be paid for by us, like souvenirs. In the Parable of the Talents, the master gave the servants "talents" which could also be viewed as allowance, since it wasn't payment for a job. It was a "test" to see what they would do with their master's money. The servants spent, buried, or invested that money and each received his reward for his actions. In the same way, we give our children part of our income. My husband instructs them on the hows and whys of using money properly. But in the end they either spend wisely or unwisely and each will eventually receive their "just reward" for their spending actions. As far as working outside the home, we don't really want our children doing that, so that's not an option with our own family's values and vision.—Lissa
We don't do allowance. They help because we all live here. Don't get me wrong; the kids don't do all the work while I read a book or visit with friends. We all work together and all play together. They rotate with what they do. They all understand that the more they help, the more time there is for fun.—Amy
First, we do a stewardship class with them. Right now, they each get one dollar's worth of dimes on Monday; if I have to do something for them that they can or should do for themselves, they lose a dime. If there's any money left on Sunday, they split it between church and savings.—Dana
We don't do allowance. Our philosophy on this has evolved over the years. But, I believe we are definitely settled on it now. Basically, any chores we would do ourselves that benefit the entire family are the responsibility of the entire family to work together (or individually) to get done. Any chores that we would hire someone else to do (like going to a car wash), we could instead hire one of our children to do. This provides an opportunity to teach them and give them an apprentice-type job that they can learn from. We have paid our 10-year-old to mow the lawn because my husband wanted to hire a gardener to do it. She is learning to be efficient and do a good job and hopefully will be able to work for someone else in the same way someday. We have also not paid the agreed amount if the job was not done properly—also a learning experience! It takes time, but it's worth it! We also pay our 13-year-old to babysit for our date night once a week. She has been doing this for 2 years and makes $1 per child per hour. It's a deal for us and a deal for her since she couldn't find a job at 13 that pays that much! She has learned from this experience, but it has required us to keep a close eye on the process to make sure it was done to our standard.—Tina
We're still trying to decide about this. We'd love to hear ideas on the subject.—Laurie
I tell my children there are things we are rewarded for on earth and some just in heaven.—Diana
We will probably put something in place at some point, but aren't doing it yet. We are not opposed to the idea. We think it helps them to appreciate money and learn to use it wisely. It can also be helpful as a motivator, depending on how you set it up.—Sarah
What does your family do for cheap entertainment?
We order pizza when there is a $5 special! We also rent Netflix family movies, usually educational.—Lissa
Editor's Note: I've seen alternatives to Netflix called FaithFlix, PureFlix, and Faith and Family Films (*3) which feature family and Christian films.
We make excuses. For example, when a kid finishes a piano book, we all go out for ice cream. I also rely on gimmicks. Arrange toast creatively and kids will think it's a treat. We divide and conquer: for example, we want to take the older kids to the symphony, so we bought four tickets. Dad will take one of them on one day, and I'll go another day with the other kid; no babysitter necessary. Plus, bonding-time built in!—Betsy
We do eat out weekly, but stick to the lunch menu. We often use coupons or discounts, such as kids eat for free with a paying adult. For fast food, we have a local restaurant with a dollar menu, so we can easily feed our whole family for less than $15 dollars by drinking water bringing the younger children's juice cups from home.—Janet
We do reading programs at the library to get free movie tickets, even though not much out there is acceptable. We also do small vacations, like camping.—Amy
We buy a box of flavored ice cream and place it in the middle of a picnic table. All of us go-at-it until it's gone! We've bought canoes, paddles, and lifejackets that are a one-time purchase with no more running expenses. Now we spend the summer canoeing.—Karol
One easy tip is buying the ingredients for a favorite treat and making it at home, rather than eating out. This allows for the enjoyment of the treat for everyone, but at a fraction of the cost. Some examples are milkshakes, Italian crème sodas, ice cream sundaes, brownie sundaes, and lemonade shake-ups.—Laurie
Frozen pizza night! When I make dessert, or if we have ice cream, that's a treat! It's cheaper for us to buy a DVD than go to a movie, so we do that sometimes.—Reba
Our favorite treats include our annual camping vacation, discounted movies, overnights at the grandparents' house, and swimming at the public beach. We also have special nights where we all sleep in the living room, watch movies, and eat popcorn. We try to take advantage of many of the free things in life from parks and playgrounds to bonfires in the back yard, or simply getting together with friends.—Shannon
We bought a membership to the zoo which has more than paid for itself after two visits!—Ann
Editor's Note: If you have generous relatives or friends who like to buy gifts for your family, perhaps you could request a membership for your entire family to a local museum or zoo for the year.
If the weather is nice, we take walks or go to the park in town. We like to entertain other families, too, and I cook with what's on sale. The kids love having company.—Kate
We do not go to the movies, but we like to add to our video library when good movies come out. Sometimes we include other families in our movie night, with a time for dessert afterward.—Janet
We love to bike ride! We go six miles each way to visit friends. Sometimes, we ride to a forest preserve. The boys and Dad like to go in the woods and shoot air guns. We like to ice skate on ponds.—Amy
We go out just for dessert to save the cost of meals.—Dana
We can play board games, now that the kids are bigger. We watch our family home videos taken a few years or months back. We buy cheap DVDs and enjoy watching them together.—Christy
Parks, walks around the block, going to the store as a family (just imagine the looks and comments we get!), and playing card games are all cheap entertainment for us.—Sharon
We love fishing, hiking, camping, reading aloud, renting videos, having a family fondue, going to the beach, beach-combing, and building forts.—Karol
Many families cite the high cost of college as a valid reason not to bring any more children into the world. Do have a plan as far as college goes?
If our children decide college is worth their time and/or money, they can spend their time and/or money on it. We're not convinced college is worth anyone's money. Dad was a National Merit Finalist, which was a great way to pay for college, and maybe some of our children will spend the time to earn their way through similarly.—Betsy
Even if I only had one child, I do not feel it is my responsibility to pay for a child's college education. I am proud to have a child who is going to attend college next year. However, I feel she will take more pride in her work if she has to pay for it. I also don't mind letting her remain at home while in college, to save money on room and board. And with our low income and large family size, she should qualify for more assistance than my youngest children will!—Laurie
We just sent our first child to college. Coming from a large family, I think he probably got more financial aid than those from small families. Our kids know we won't be able to provide them with a full college education. They have been saving what they can and will probably take out some loans. My husband came from a family of two kids and I came from a family of three. Our parents didn't provide us with any financial help for higher education. We had part-time jobs while we went to school and it worked out just fine.—Betty
Our government seems to want to pay for everything, including college! Either a cheaper state college will be fine with you, or you can trust God to provide enough money for a Christian college. I don't believe all children are meant to go to college. If it is important to the child and to the family, I think the child needs to have a part in the finances. Otherwise, the individual may not work as hard if someone else is footing the bill. I just don't believe it's the parents' full responsibility.—Dana
College costs? Now we're planning families based on how much college education we can afford? That means I can't afford to have any kids. That means my husband and I shouldn't have been born. But wait! My husband and I, and the two kids I've had graduate so far, got scholarships! It all depends on where you go to school, what you choose to study, and how long you take to finish. We can not know any of that prior to conception. Besides, Bill Gates, Rush Limbaugh, Beatrix Potter, and a whole host of others, didn't need a college education, and they are extremely successful. Read "Weapons of Mass Instruction" (*4). Maybe we shouldn't be sending our kids to college anyway.—Reba
My response to this is simple: don't send them! If they must go in order to be better prepared for the vocation the Lord has called them to do, let them work their way through without taking out loans. It may take them a little longer, but the education they receive will be cherished more so than something that was handed to them for free.—Sheri
Chapter Seven: Spiritual Wisdom
"She opens her mouth with wisdom, And on her tongue is the law of kindness." Proverbs 31:26
Besides our husbands, our children are our greatest earthly treasures. But we want them to be heavenly treasures, too. How can we give our all to train up these children in the way they should go, and guide them toward the ultimate goal of eternal life with our Savior? These mothers describe God's grace in allowing them to be instruments of His hands, keeping His little lambs in the one true faith.
When do you find time to have family or personal devotions?
We have time in the evening with Daddy! We call it family worship! The kids choose a few songs to sing. We listen to a passage from the Bible and my husband asks them what they think it means and corrects their thoughts as we go along. It really sticks with them, too! We also have "quiz time" on Sunday nights where my husband sees how much they can remember of what the pastor said in church that morning. They tell what they remember and they earn a special dessert if they impress Daddy enough.—Lissa
7 a.m. each morning, with whomever is awake.—Karina
Just as my own father did, my husband reads from the Scriptures at the end of each breakfast. Right now, we're reading the book of Psalms. No matter how hectic the day is, we're all starting out together at breakfast, so it's the best time for us to have regular devotions.—Kate
I do "school time" devotions with the kids in the morning, and Daddy usually does prayers at bedtime. Sometimes we get a "teachable moment" and have a spontaneous discussion.—Dana
Again, this is done by living our life. We don't actually do a particular "devotional" program nor schedule a specific time.—Karol
We try to have devotions regularly after dinner. That is the best time for us since we are all home and it's a routine.—Tina
I try to read the Bible with the children after breakfast but I'm not always as consistent as I would like to be.—Sheri
Usually we do this in the mornings, but we've been forgetting recently. The Enemy has been working overtime to make these past four weeks tight and over-scheduled in the early mornings.—Mitzi
We read the Bible together first thing every morning before breakfast and also at night before bed.—Lyn
We have a brief devotional time during our schooling each day. We also try to do a family worship time a couple of times a week after breakfast. We pray, sing, and study the Word together. This home worship time really helps children become accustomed to corporate worship settings and church functions in general.—Laurie
Devotion time is in the morning. My husband and I get up first and have our own quiet prayer time. Then, the children get up and we all sit together while my husband reads some Scripture.—Sarah
Family devotions are done whenever we can fit them into the schedule. I normally can incorporate them into the Bible lessons.—Sharon
Time for personal devotion and prayer is a problem for me, and I suspect I'm not alone. Like hygiene, the best case scenario is getting up early to get it done. But one kid is an early riser, and I'm usually not too inclined to roll out of bed before he does. If the toddler and baby nap at the same time, I can sneak away for devotion, but I also hate to give up the alone time with the older kid, and there's no shortage of other work tempting me away from it either. Postpartum is absolutely terrible—I'm so exhausted that if I do get a minute alone I just fall asleep. I highly recommend private confession with a minister for all people. This is the only time I can count on to be completely uninterrupted.—Betsy
I do devotions with the kids every morning. My husband does them every night.—Amy
What types of devotions appeal to your family which spans several age and interest levels?
I read a chapter from the Bible and we talk about it. Then, one child gets to draw a picture of the subject on a 5x7 card. The cards are kept for review every once in a while. I still have the cards that the older children drew when they were little; they are one of my prized possessions.—Sheri
The Bible is and should be interesting to all age groups. Every age can tell something about what was just read. Devotion books can be nice, but they can sometimes either distract from the Word of God, or the family can become so overwhelmed with the activities required that they end up quitting it altogether. Reading a verse or two from the Bible is interesting if read with enthusiasm! It's not about entertainment, but about content. Every age can understand the Bible! We didn't always see it this way, but wow, have we seen a difference since we changed routes. We also do a short catechism with the kids on a regular basis.—Lissa
We have a wide variety since we "blend" denominations. My kids go to Catholic religious education classes, Sunday School, and AWANA. We read children's devotions at home and say prayers at mealtime and bedtime. We're far from perfect, but we do try to teach our children about God's love and grace.—Shannon
Lately, we have been learning the commandments and their meanings from the Luther's Small Catechism (*1). Everyone is eager to have their turn to recite. We discuss the sermon on Sundays and go over the readings and Sunday School lesson.—Ann
I find that children are especially interested in the Psalms and Bible stories. They frequently ask questions. Also, we spend a week on each Psalm, rereading it each day, which has helped them memorize portions of them, too. We have devotion books and Bible Story books that we share with the kids when we have reading time before bed, but that isn't a regular thing.—Kate
We have done both catechisms and the reading of scripture in small segments with applicable discussion. More in-depth, age-appropriate studies are done first thing in the morning, with my husband teaching the older boys using book studies. The younger children and I often study Proverbs and good character books with key Scripture themes.—Janet
We read the Bible. It's the best devotion out there. Occasionally, we'll use Luther's Catechism.—Amy
We're doing Clarkson's Our 24 Family Ways (*2) and really enjoy it. They don't make it too simple; I think it meets each child where he or she is at. I'm amazed at how kids can really get deep ideas!—Dana
In addition to our Christian homeschool curriculum, when we're in the car, I only have on Christian music.—Sharon
We talk about the Lord throughout our day. We recite Scripture as it pertains to our situation. We share what the Lord has told us with whomever is around at the moment. We have constant conversations about the goodness of the Lord, about what the cross provided for us. Most evenings we share communion, which also includes checking our hearts for forgiveness. We read aloud Christian books and biographies, read and share testimonies we find online, and listen to Christian music throughout the day. I don't believe that Christ sat down at a particular time each day with His disciples to have devotions. He taught as they walked and lived their lives. I personally feel that Christians have unfortunately compartmentalized all areas of our lives, but Christ has called us to one whole life.—Karol
We do a traditional reading of scripture using a children's Bible with pictures. All children have a copy of the Bible. The children can either follow along while Daddy reads or draw a picture of the story. They are all working on creating their own Bibles. We are done with the Old Testament, and half way done with New Testament. It has taken us 2 years so far to complete it. We sometimes have the older children read and teach. Coloring for the younger children helps focus attention. I usually have the older children write a paragraph summary of the story.—Tina
We listen to the Bible on tape. We have a reading plan that has us reading through the entire Bible in 90 days. Once we finish the Bible, we start over again. Plus, they get little "life lessons" through out the day.—Lyn
We sing praise and worship songs together, work through a devotion book, spend time praying for one another, and Scripture reading time. I don't try to find something of interest for everyone. Rather, I try to discern what is relevant for our family as a whole.—Harriet
We primarily use the Bible as our devotional. My husband usually organizes this time and leads it. We will often repeat a worship song or hymn for many family worship times in a row to help the children become familiar with it before we change to something different. He usually reads a short passage from the Scriptures, often from the section of Scripture we are currently studying at church.—Laurie
Attend Dr. Bender's Concordia Catechetical Academy (*3) next June! You can download and print Dr. Bender's Congregation at Prayer each week for daily catechesis. It is set up for daily family devotions/catechesis with scripture reading, hymns, and praying the catechism. You can shorten it as needed to fit your family. It's how we begin our school day and end our family evening meals. Sometimes, we do an abbreviated version, but the children absorb it quickly and there's no need for kiddie devotions.—Reba
Do all of the children participate in these devotions? Do you allow the younger ones to eat or play during devotion?
We are all at the table after breakfast. They all participate in the conversation after the reading or I will ask them questions if they don't offer any input.—Sheri
Yes, we all participate and listen! Children 2 and older must sit still, as this is learning to respect God and His Word. It is also training for sitting in church. Children can also color something about the Scriptures being read. Of course, babies just sit and play. On Mondays, we pray for all our missionaries, 54 so far. We keep cards for all the families we know.—Lissa
I expect them all to listen and be quiet during story time. They can ask questions, but I insist they pay attention. When they were too young or fidgety, we would just say prayers or sing Jesus Loves Me and put them in the crib before devotions (so they wouldn't be a distraction). It's kind of a "right of passage" when they're old enough to sit and listen to devotions.—Shannon
Sometimes the littlest ones will still be asleep, but if they're awake, they're sitting with us.—Karina
Since we usually do this during meals, we wait until mostly everyone is finished, but those who are still eating are allowed to continue.—Ann
The kids are allowed to finish their breakfast while my husband reads the devotion. We also let the older ones take turns saying the prayer after devotion time. They can also ask questions about the story or Psalm, and both my husband and I offer answers.—Kate
Our littlest ones are in the same room as all of us, but usually on the floor playing.—Janet
Sometimes, they're allowed to color. I've noticed devotion does go better if we do it at breakfast. But when we do that, the baby is still sleeping.—Dana
Everyone participates! No eating is allowed because we are usually in the family room with carpet. But, coloring, drawing, or writing is definitely allowed. We train them to listen well and think of one question to ask.—Tina
Not usually, although I think it would be good if I had a special toy box for my younger ones for when our devotions go longer.—Harriet
We gather everyone together for our family worship time. We do not bring any toys or snacks. We all sit together in the living room, the little ones on our laps. We explain that it is time for family worship and we're going to be still and quiet and listen to what Daddy has to share with us. When we are faithful to do this regularly, the children get very accustomed to this and it is a normal part of their routine! We keep it pretty short, 20 or 30 minutes, so that it's not necessary for toys or snacks.—Laurie
Yes! Babies on laps. Sometimes kids are finishing meals during the readings and a toddler may play or wander, but generally it's short enough and good practice for sitting still in church.—Reba
All three of our older children participate, and the baby just crawls and walks around and plays during this time.—Sarah
How do you handle getting through church services or Bible study with many little ones?
Everyone takes a Bible and notepaper and a pencil. The younger ones draw a picture of something the pastor says. The next older ones will write single words that the pastor says. The next older group will write full quotations from the pastor or Scripture references. The oldest will take full notes. This keeps everyone occupied and listening! Also, prayer! If a child is distracting to others, I take him or her out and handle the situation. This is my job, and I take it seriously when it comes to church.—Lissa
My husband and I used to do a "split shift" and leave the baby and toddlers at home, especially for Mass. Now, he doesn't attend church very much and I take them to my Bible church. They usually have Children's Church during the message. When they were really small, I'd bring things for them to do—usually coloring worked best. Sitting them on my lap was helpful, too. I'd always hope they'd fall asleep!—Shannon
Practice "sit-time" at home. Start with 10 minutes a day, where they can look at Bible story books, and then slowly add time. Praise and reward them. This is a skill they need to learn for many things in life. Start early on. They can look at books but they may not talk and they may not get off their chair.—Karina
I don't allow any toys or playthings. Only those who are able to read may get a bulletin or hymnal. Everyone is expected to stand and sit and pray with the congregation, and participate to the best of their ability. I'm pretty strict in church, but it has paid off. Anyone who acts up gets taken out and disciplined. Leaving the service is never pleasant for them. Since my husband is a pastor and I'm handling everyone by myself, it's really important for them to know what's expected and have me follow through.—Ann
It all comes down to the tone that we've chosen for discipline in the household. My husband and I have always enacted loving discipline, and we are strict. However, every time a child is disciplined, we follow up with forgiveness and a hug and a kiss. This lays the groundwork for our experiences out and about, traveling, and at church. The discipline that we've established is a big part of the reason that we can travel as much as we do, enjoy a pretty flexible schedule, and know that the children are going to have fun, too. I've never been the type to take toys or snacks to church. I think that sends the message, "Adults are supposed to listen, but you can play or eat in here." It's God's house, not our home! The kids are expected to sit. I find that they challenge me the most when they're 18 months to 3 years old and that's when I have to lay it on the line. I've had several tests with each of the children, but we've learned together, and they are very well-behaved in church. Part of the reason I need this from them is that my husband never has the chance to sit with us. If a 2-year-old is being naughty, talking to her hours later is pointless and unfair. I need to enforce our rules, not expect anyone else to do it. The last reason I need the children to know how to behave in church is because I play organ about half of the Sundays. If they won't behave for me, they certainly won't behave for a friend! If I let my kids behave like animals in church, that takes away my opportunity to serve the Lord through music. So, the loving discipline that comes from the Lord is a comfort to all of us; My husband and I are enabled through the Spirit to serve during the church service, knowing that the children are not going to detract from the Word by anything they'll do. And don't get me wrong; I'm not saying it always goes perfectly, but many people make a point to tell us, "Your children are so well-behaved in church."—Kate
Our babies have always stayed with us in church for their first year. The 2- and 3-year-olds are in the nursery as we work with them to learn to sit quietly for service time. Then, from age 4 on, they are with our family in the sanctuary. For the non-readers, we have special notebooks that they use to copy words from the Bible or that I have written, draw pictures related to the message or quietly "read" through their Bibles. I do use faith-based stickers to reward their participation in worship, which they put on their notebooks. For the older children, they are encouraged to copy the Scripture passage that was taught or take notes from the sermon. At home, we all discuss the sermon and ask the younger children questions.—Janet
We have found it really helpful to train for church. I line up chairs and put on a tape recording of the Bible for 20 minutes. All the children are expected to sit still as if in church. If they did not, I could discipline them more immediately than I could at church. After a while, they all did really well. The baby sits on my lap.—Amy
Editor's Note: I have found Amy's "church practice" tip to be really helpful for our family!
My children have their own church classes that they attend, but I keep the youngest with me until at least one year of age.—Sharon
We have never used the nursery, other than to change a diaper! I used the "cry room" to nurse a fussy baby. Otherwise, we kept the dear children in church or walked the back hallway where we could still usually hear the service via a speaker system. We did allow snacks sometimes, but wasn't a regular occurrence, nor were toys. They just learned to sit during the preaching, and we encouraged them to join in with the group parts.—Karol
I like our children to be with us, but I leave it up to my husband. I always have my nursing baby with me until about 2 years of age. Then, they start going to Sunday School with an older sibling. We have children in Sunday School until about grade 3 or 4, and then they come back into church with the adults. We feel they get more out of the Sunday School lesson from 3 years to 9 years. At about 9 years, they are ready to listen and gain wisdom from the adult message. This has worked for us because of our church set-up.—Tina
My children were allowed to bring crayons, coloring books, and toys to church until they were 3. Once they turned 3, they could bring one doll or stuffed animal, but were expected to sit and pay attention through the whole service, although I did let them stay asleep if they happened to fall asleep. Once they turned 4, they were no longer allowed to bring anything to church and were expected to stay awake throughout the whole service.—Lyn
We sometimes use snacks at church or Bible studies for the smallest ones. We also sometimes allow quiet toys and coloring or drawing. The smallest ones are often on Mom or Dad's lap for easier management.—Laurie
Church is a struggle! I'm usually in the "Catechetical Nursery" we have set up at our church. We moms sit in the back room, with a big window, and try to teach/talk/catechize our kids through the service. During the sermon, we moms try to listen while the little ones clamor about. We have a student who keeps the children who are 4 and under in the nursery during Bible Class. The other children sit with parents during Bible class and quietly color or play with puzzles. When my son turns 4, I'm not sure he's going to be capable of sitting for Bible class. I may have to throw in the towel and go home after services, as I did before. We'll see.—Reba
I bring books or a snack to keep the little ones occupied. Many times, we end up in the cry-room. Kids will learn to sit still eventually. The older kids help with the younger ones, and sometimes people from church help.—Betty
Do you pray with each child before bed?
We all pray as a family in the living room at night before bed.—Sheri
We pray after family worship, and then we tuck them each in bed individually.—Lissa
I do it if Daddy isn't around, but this has become a special time for them. I'm done by the end of the day. So is he, and he often just falls asleep with them, but that's okay, too.—Karina
Bedtime is, thankfully, Daddy's time. I read the bedtime story and then he brushes teeth and says prayers with everyone, usually the Lord's Prayer, the Creed, and Luther's Evening Prayer. I say goodnight and give hugs and kisses afterward.—Ann
We don't do this individually. We say Luther's Evening Prayer together with all of them together, allow each to add their own extemporaneous prayers, sing a hymn, and have kisses all around.—Kate
My husband blesses each of our children and prays over them every night. John Piper—Desiring God Ministries (*4)—has a wonderful booklet and set of blessing cards that has served as a tool for this special time each night.—Janet
Daddy does that—maybe a small devotion with all, then prayers, sometimes separate with the boy and the girls.—Dana
Honestly, I don't, although I should take more time to pray for, and with, my children.—Sharon
This is not necessarily an "every night, every child" occurrence, but most nights either my husband or myself or both of us spend time in the children's bedroom praying, teaching, and talking with them. And at least once a week, we lay down with all of them and "soak" in worship music.—Karol
We pray with all of our children either together or individually every night depending on if the baby is crying or what the other needs are. They will remind us if we are occupied with another child—they won't let us forget to pray with them!—Tina
We all start our day praying together as a family and end our day praying together as a family.—Lyn
My husband usually puts the children to bed at night. He takes time, if possible, to read to them for a few minutes before tucking everyone in to bed. He then takes time to pray with them and allow them time to pray as well!—Laurie
I pray in the doorway of their room.—Diana
Yes, my husband and I always say prayers with our children and tuck them in before bed.—Mery
I do get the kids ready for bed and say prayers with all of them. After our hugs and kisses, the kids usually listen to music, books on tape, or the Listening to Luther CD (*5).—Reba
We all kneel beside the bed and pray together. Then, they all crawl into bed and we give each of them hugs and kisses. If they have questions, then we talk a bit. After we leave the room, they are given freedom to sing or talk quietly until they fall asleep. There have been some times when they've felt the need for extra cuddle time. So, I've sat by their bed and had them each take a turn cuddling on my lap for a bit more prayer time.—Sarah
Big families are wonderful because …
… there is never a dull moment! You can change the world for Christ! No two days are the same!—Sheri
… God created and crafted each and every one of these precious children and we want all the little blessings He wants to give us! How humbling that God has given me my beloved husband and my precious children.—Lissa
… there is never a dull moment. My kids don't have to ever worry about finding someone to play with. My kids learn to stand up for themselves and be heard. They learn to be individuals and compete for what they want, or back down if needed. My kids learn to pick their battles. My kids learn that they cannot have everything they want. My kids learn to obey because Mommy and Daddy don't have the time to say it twice. They will never be lonely and there will always be someone to lend a hand or to lead the way. We are almost guaranteed to have a house full of grandchildren visiting someday!—Shannon
… there is so much love and excitement and opportunity to show Christ's love within the family and without. Big families stand out in today's society just by being big! Use the opportunity to be a blessing to others.—Karina
… it's so exciting to see the older children helping and loving the younger ones. Every time we have a baby, the whole dynamic changes and each person has something different to offer.—Ann
… they provide a safe, loving atmosphere for kids. They teach Mom and Dad to put others first. There's always someone to talk to or play with. They support each other in their walk with the Lord.—Kate
… children are a heritage from the Lord, a gift! They provide a means to bring our homes joy and are the means, at times, that the Lord uses to grow us and change us for His purposes.—Janet
… any size family is wonderful if they are serving the Lord God with all their hearts. The size of the family doesn't matter. It's being content with what God will give you and making Him Lord of your life in all areas.—Amy
… there's never a dull moment!—Dana
… I have to keep dealing with my selfishness. I have to keep allowing God to strengthen me. I don't ever get to think I can do this well without His daily help. It is great for my kids because they learn patience, sharing, and working together as a family. They also have built-in life-long friends.—Christy
… they are God's gift. I will always have some family around, and if I get old and decrepit, I'm more likely to have family to help me.—Sharon
… God builds them, and all that He creates is very good.—Karol
… there are more hugs and love!—Tina
… you always have someone to talk to.—Harriet
… God gave each child to us in His perfect timing! There are few things that I am sure of, but this is one.—Diana
… the children always have someone to play with. It is never boring.—Mery
… you are surrounded by people who love each other. The kids always have someone to play with and they learn to get along with others in a good environment. In a big family, you have more people you can count on.—Betty
… when you're a widow, you won't be alone.—Reba
… there's never a dull moment; everyone has lots of playmates; the energy and creative juices run high; there's ample opportunity for everyone to learn relationship and teamwork skills; and one day we'll be able to have our own musical band and informal sports team just with our own family!—Sarah
… eternity, baby! I'm taking them along, God-willing.—Betsy
Appendix One: Wisdom of Mature Moms
"[Train] the older women likewise, that they be reverent in behavior, not slanderers, not given to much wine, teachers of good things—that they admonish the young women to love their husbands, to love their children, to be discreet, chaste, homemakers, good, obedient to their own husbands, that the word of God may not be blasphemed." Titus 2:3–5
The mothers featured in the body of this book are "in the trenches" of motherhood. Several mothers whose children are fully grown reminded me of "big picture" questions that needed to be asked. They responded with encouragement and advice. My heart goes out to the following mothers of many: Cheryl B., Sandy S., Julie Q., Joslyn M., Karen B., Susan G., Frances F., Amanda M., and my late Great Aunt LaVerne. Thank you from the bottom of my heart for your examples and wisdom!
Big families are wonderful because …
… they give each other strength when it is needed, laughs when times are sad, and hugs every day. Each child is a unique individual, something like his or her siblings, but offering something to the world and to the family that no one else can give.
… each child is a gift from God! These wonderful little beings are our reminder of all those He loves and calls His own. I love my children because of who they've helped me become. I am not the same person that I was in my 20s!
… they are a picture of God's handiwork. Through them, we learn endless possibilities for relationships, support, creativity, self-reliance, self-sacrifice, service, and strength. A large family is a complex social network that is deep, fulfilling, and interconnected. We are provided for and we provide. When one falls, another picks us up. We learn that we can do without many things people think they must have: a room of one's own, dawdling in the bathroom, new clothes, and the latest gadgets. We learn to share what we have and not to focus on ourselves.
… they are able to provide the support for other family members. More members in a family keeps the family from getting bored and keeps them on a God-fearing course. Chores are shared and life is never lonely.
… for the children: they develop relationships with each other and life-long friendships that are special and different from all others; they learn to respect others by dealing with their siblings on a daily basis; they will have several other siblings to help them with the care and decision-making when their parents age.
… for the parents: The pleasure it brings is priceless! To give children new life experiences, to watch their personalities develop, to teach them about their Savior, to watch their faith grow and see it in action, to have so many loved ones to share life's experiences with, both good and bad. Truly gifts from God! To know that as you age there will be many loving hands to help you and many loving hearts to love you and pray for you.
… there are more people around to love and be involved in each other's lives.
… as they grow, they become your friends as well as your children. They also learn to care for others and not just themselves. Sharing is also something that children from a large family do more automatically.
… they give you such joy and pleasure as you see them raising their own families. The love and attention from grandchildren is so rewarding!
… when they are small, they are fun (mostly) to care for. It's exciting to watch them learn, to teach them, to know their friends. As adults, they are wonderful companions.
What pieces of equipment would you recommend to mothers currently raising big families in order to make their lives easier? Why?
I don't remember any one piece of equipment that was a great help, other than backpacks for carrying my twins—one each for my husband and me—and of course the double stroller that my mom found at a yard sale.
I do have a dishwasher now, but I didn't in the beginning; I was very thankful when we did get one! I also enjoy having a microwave, because I wasn't always "organized" for planning meals. Other than that, we tried different approaches to things all the time. I can't tell you how many times I literally moved the "toy room" because the toys always seemed to take over the rooms they were in! Finally, I tried to do what my mom had done for many years. She always packed away half the toys and then, every few months, when the six of us kids would get bored, she'd magically find all the hidden ones and it was like Christmas! Don't ever be afraid of trying new ideas. You'll never know until you try!
Editor's Note: We love the suggestion of having a majority of the toys packed away. Each week, we rotate through a "new" set of toys. This keeps them fresh and exciting!
There needs to be a place for the children to run, to work off their energy, whether it's 'round and 'round in the house, in the backyard, or in a park. Projects are important as the children get older, so they can focus their energy on something productive and rewarding. The home should look lived in. Regular mealtimes when you all sit down together, wholesome food, and adequate sleep are very important for health and a sense of security and order.
I would recommend good devotion books and Bible story books. In the kitchen, a large mixer with dough hooks, if you enjoy making bread.
A dishwasher will save time for other more important things. A vegetable garden and a freezer to store the produce will result in healthier and better tasting produce, and it will save you money. It's also a great experience for children. They love helping plant and pick and will also eat more veggies if they've helped to grow them, especially fresh peas, strawberries, and carrots straight from the garden.
I'd recommend a deep freeze and maybe even a second refrigerator. These help cut down on trips to the grocer, and lets you buy in bulk to save money. After we'd been parents for 23 years, we began to realize that nearly all our friends had two refrigerators. We had a bigger family than they did and we lived much further from the grocery store! My husband is a pastor, and we lived next door to church, where the huge fridge sat empty most of the time. We got permission to start using it. That made it so much easier to buy more produce and to have a place to store 6 gallons of milk.
Get a front pack/baby sling so your hands are free to deal with older children and baby feels secure and settled. Big toy boxes are handy; A room can be tidied up very quickly if all the toys are thrown into there. Develop routines. Having the children in bed by 7 p.m. gives you time with your husband and time to unwind from the day to do your thing, be it a quite time in the Word or a relaxing hobby. (People used to tell me that they could not get their kids to bed so early, but I always maintained that we as parents put them to bed. When they were babies, they got used to the routine.) Even now, our 16-year-old has an 8:30 p.m. bed time on school nights.
I think garage sales and thrift stores are a wonderful boon for mothers these days. They weren't around when our children were young. Dishwashers are a big help, too, or use paper plates.
I recommend a heavy-duty mixer, a vegetable chopper, a dishwasher, and any labor saving device that leaves parents with more time and energy to care for their children.
Do you have any regrets about how you spent your time during your children's growing years? What would you recommend to mothers with young children?
I went back to teaching when my first son was less than a year old, so his babysitter got to potty train him and see a lot of the early learning. I was there for all of that with the other children. There were good and bad things about each situation. If you can stay home with your children while they are small, do it, but if you have to be out working, do your best and don't beat yourself up about it. Just leave it behind when you come home, and enjoy the kids when you are together. Don't use all of your at time at home cleaning and catching up on housework.
I really enjoyed not having to work outside the home with our first two children. With our third, I started volunteering, and by the fourth child, I was working a full-time job so we could buy a home. I regret that I wasn't around as much for the last child. But you have to do what you have to do. When those regrets set in, I try to tell myself to have faith that God is in control of my children, whether I am present or not. But, I was always pretty picky about who was with our children. And to me, that was just common sense! We were blessed with good neighbors and friends. Another gift from God! Realize that just because you are legally an adult, you're not done being formed into whom God wants you to be. Don't be afraid to "grow up" a little more with your kids. There's so much to learn! Another thought: really try to learn about your kids. Just when you think you have them figured out, you don't! Pick yourself up, dust yourself off, and start again!
What would I do differently? I would take the time to listen more and converse more deeply, especially with the boys. I would be less insecure about what I had to offer my children.
I was very happy I could be a stay-at-home mom, and would recommend it to any family that could afford it. They were very happy years.
I am so thankful I was home when children were small. I think home jobs are the best way to supplement income.
I regret not spending more time with some of our children in the garden. Remember, the dust and cleaning will always be there, but the children will grow up and leave home. There are things that need to be done like laundry, meals, and yes, some cleaning, but remember to prioritize people above things. Sometimes you and the children both need a break from home. Go for a walk, to a park or playground, to the zoo, to visit a friend or relative with children, for an ice cream treat. It's amazing how getting away can stop the fighting, complaining, and whining and give everyone a new outlook!
I should have been more diligent in teaching them chores. Not that I didn't do it, but not as well as I should have. I also didn't know that you can teach children to sing! Most of our kids learned to sing naturally, without training. It came easily to them. But the two that didn't could have been taught if I'd known that it was possible and if I'd known how. I also regret how much time I let them watch TV or use the computer. My kids didn't veg in front of a screen as much as the average American child. But it was still too much. And I got more lax with the younger kids due to the older kids' influence with regard to movies or activities. On the whole, though, I spent a lot of time with the kids. We homeschooled, and that allowed us enough time together, so that I am not pining for the days when they were young, days that I missed. I didn't miss those times together because we were living them, and had "time with the kids" to the full. Also, don't put too much in the schedule. Allow plenty of down-time, plenty of play-time, and plenty of veg-time. If the kids go to school, don't have them in sports and music and other activities.
I have an embroidery picture I made when our third child was born. It said, "Scrubbing and cleaning can wait till tomorrow / 'Cause babies grow up I've learnt to my sorrow / So fly away cobwebs and dust, go to sleep / I'm rocking my baby and babies don't keep."
If you are financially able to stay home with your children, that is a great positive for them. My eldest son told me at his age of 45 years old that he hated the day that I went to back to work. He said he thought about it all the day long at school! That made me feel very bad.
I was a stay-at-home mom who "earned" money by canning, baking, sewing, and haircutting. For recreation, I had 10 piano students. I enjoyed my time immensely.
Having already raised a number of children, what advice do you have for today's mothers of big families?
Rejoice in the privilege of watching these amazing new people grow and develop into terrific adults that you will love to have for friends.
I am going to share a saying that my oldest sister has told me on days when I was ready to pull out my hair. She would lean over and whisper in my ear, "Just keep telling yourself, 'They do grow up, they do grow up!'" It not only brought a smile to my face; but got me through some rough times. And you know what? She was right. They've grown up to be some wonderful people!
The comments I hear from overwhelmed mothers who don't feel like they can possibly do any more than what they're already doing are from women with two or three young ones and no older children. That seems to be the roughest time. But I've noticed that if you hang in there, they do grow up, and the older children begin to help carry the load. Even entertaining the baby, or emptying the dishwasher, or setting the table, or answering the phone, or running errands, or bringing the diaper, or picking up are all huge supports for a busy mom. Children can take on their share of responsibility and it makes a world of difference. While no one's situation is identical, the time of having a few small children at home may be most demanding. You might get that especially needy child, but each new baby doesn't automatically multiply your work again. The demands actually become more manageable as your family grows if children have learned they are an essential part of making it work. When children learn obedience to parents, care and respect for one another, love for the Lord, and find their valued place in a secure family structure, they are part of a team. A large family needs order and it needs love. Everyone should know what is expected of them.
Don't be afraid or feel guilty about getting some assistance, even if it's with the laundry, cleaning, cooking, baking, baby-changing or whatever. Help is a good thing until your children are able to be of more assistance. Even a little assistance on a regular basis goes a long way.
Stay home with them! Find a hobby that inspires you. Doing daycare is not for everyone, but I did enjoy it and my children enjoyed the friends.
Remember the importance of daily prayer for guidance for both you and the children. Keep the lines of communication open, especially as children enter their teens. Don't be a dictator; really listen to them. Speak lovingly, but be firm.
They grow up in stages. Keep reminding yourself, "This too shall pass." Promote respect and love for their siblings; children are selfish by nature and need guidance to think of others. This comes with time, so don't give up. Teach them to say special prayers for each other at bedtime in their own words.
Stay the course! The rewards will come in the love of your children and grandchildren and great-grandchildren!
If you see a behavior problem in your child, confront it immediately. Don't wait for someone else to discover it or solve it.
If life with several children seems too difficult, maybe you need to simplify your life in some other way so that you have the energy to keep up with the kids. Maybe if you're involved with lots of other activities, you might have to say "no" for a while, until your other priorities are at a level that don't cause so much stress. This can be very difficult at times. But if you are stressed, the kids can feel that. I also know it's important to have time for yourself. This doesn't have to be elaborate, but, do you find things like going for a walk help you unwind? Then make time to do that! For me, I enjoy sewing and crafting. Once a month, I looked forward to going to "craft night." There, I could enjoy my friends and we would share things like raising kids, recipes, patterns, etc. It was only once a month and my husband was always willing to let me have that time away. I never understood how he didn't need some time like that. But, maybe his work was all he needed? I don't know. But he never complained about me going. And it sure helped! It was like going to church once a week. I needed to start a fresh week of being a mom, wife, and housekeeper. No matter what happened last week, I knew I was ready to face the next.
Most of all, moms need the support, encouragement, and help of their husbands. He needs to let you talk about the challenges you face. And you need daily family devotions from the beginning. Teach the children to read early and provide them with good reading material. They will expand their horizons independently and be occupied for hours on end!
It seems to me that the mothers who miss their kids most when they are grown are either the moms who sent their kids to school (and thus had only off-school time together), or those who had just one or two kids. It's almost like there is a certain amount of "mothering" that's in each of us and it needs to be spent. If it's not spent by the time the youngest is all grown up, then the mom misses the kids more. But the moms who really have plenty of time with the kids can begin to move on with other aspects of life, while still loving their kids deeply. Mothers are not "bad" if they don't fuss over the baby's milestones or get involved with every little thing. We live in a society where there is just way too much fawning over children and childhood. We all know that there is too much consumerism going on out there. Kids have too many toys, too much TV, too much computer, too many clothes, too many treats, too many cool vacations, too much stuff altogether. We know that Americans have the monetary resources to totally spoil kids. We know that we shouldn't spoil kids. But we just keep doing it because we don't want to deny them any advantage. The problem is, paradoxically, by lavishing things on them, we are denying them something even more important—the need to work, the lesson of learning to wait, the resourcefulness that comes from doing without, etc. But few of us have the self-discipline to deny our children all those things when we have the monetary ability to provide those things. That's why there is a significant blessing in poverty! Even our poverty in this country is filthy rich compared to most people throughout the world and throughout history. Our so-called poverty today forces us to deny our children things that they ought to be denied, but which we may not have the heart to deny.
If we can understand the concept when it comes to stuff, we ought to understand the analogy when it comes to time, too. Now, don't get me wrong. I think it's very important to spend time with kids, to be available to help them when they need it, to give hugs, to dawdle over post-meal conversation, to go on errands together, and do chores together. But children also need to learn to entertain themselves. And they need to learn that the world does not revolve around them. If your need to straighten the house, to make a nice dinner for your husband, to have a hobby of your own, or whatever it is, if those things help the children learn that they are not the center of the universe, then your "neglect" of them serves a good purpose.
Ask for help! Find a person you can telephone and say, "May I bring my children over to play while I grocery shop, freeze corn, help at church?" Don't be afraid to ask. But don't expect your "grandmas" to know when to volunteer. Ask her (or him) and they'll say yes or no and love your children as their own. Everywhere I've lived, I had someone who helped us. Sometimes, these "grandmas" get tired easily, so short periods work best. Hire someone occasionally to clean.
I would like to share a prayer with you that I found when my children were young. I prayed it often.
O heavenly Father, make me a better parent. Teach me to understand my children, to listen patiently to what they have to say, and to answer all their questions kindly. Keep me from interrupting them or contradicting them. Make me as courteous to them as I would have them be to me. Forbid that I should ever laugh at their mistakes or resort to shame or ridicule when they displease me. May I never punish them for my own selfish satisfaction or to show my power. Let me not tempt my child to lie or steal. And, guide me hour by hour that I may demonstrate by all I say and do that honesty produces happiness. Reduce, I pray, the meanness in me. And when I am out of sorts, help me, O Lord, to hold my tongue. May I ever be mindful that my children are children and I should not expect of them the judgment of adults. Let me not rob them of the opportunity to wait on themselves and to make decisions. Bless me with the bigness to grant them all their reasonable requests and the courage to deny them privileges I know will do them harm. Make me fair and just and kind. And fit me, O Lord, to be loved and respected and imitated by my children. Amen.
What are your words of encouragement for mothers of large families who are struggling and feel burdened?
Everybody is burdened with something, but not everybody's burden will bring the overwhelming joy and rewards of raising your children.
Take it to the Lord in prayer!
Don't listen to those who act like being overwhelmed is a sign from Heaven that you're not doing the right thing. What an incredible loss of God's immeasurable gifts for us to say we are not able to handle any more children! He offers life. He also provides the way. Many things He calls us to are terribly difficult. Do we say no? Of course, we don't. We say, "He will provide." I will tell you without hesitation, that the rewards far exceed the times of trouble. The rewards are immeasurable, and even inexplicable. Many people will never know that deep and abiding richness of a large family who walks in His way. I am more blessed than I have any right to be. I don't say too much about it, because I don't want it to in any way diminish small families, especially since in some cases, it's not by their design. But they have no idea what they've missed. There is just no end to the blessings! And how I came to it is a mystery to me, except that He is lavish in His graces.
Remember, there is no such person as a perfect mom. We're all sinful human beings doing our best with God's help. Daily prayer is so important. Always go to the Lord first before you throw up your arms and say, "I can't handle this!" Organize! Daily life flows more smoothly when children know what to expect when. Prioritize chores and meals. Establish a regular bedtime. They need the routine and you need a little time for yourself in the evening to unwind from the day. Find joy in everyday things and remember to laugh; it works wonders! I know a mom of 14 children who turned her children's attitudes around by laughing with them instead of trying to solve each complaint and disagreement they had with each other. Remember that kids are resilient and forgiving. A few mistakes on our part won't ruin them for life. They often forget more quickly than we do.
These children are the work God has given you to do in life. His blessing will be on your efforts, and even on your failures. When you are burdened, when you are struggling, when you can't do for your family what you know you should do, go to confession and hear Jesus' words of love for you. Hear Him declare you to be the perfect mother, because keeping your eyes on Him and receiving His forgiveness is the only thing that changes your heart and your will to be more like the mother you long to be.
Editor's Note: Are there any more lovely and comforting words? Copy this down and stick it somewhere for a beautiful reminder of the truth!
Every time you have to get up at night or change a diaper, just remember you are one day closer to not having to do it and one day, that child will be older and not need so much of your energy. Your baby is your greatest masterpiece. It is a beautiful reflection of the love God pours on us through our marriage. And as much as you love your child, God loves him or her even more, and knows exactly what your child needs.
Trust in the Lord, who knows your needs! He will supply the needed strength and understanding to get through each day!