Rediscovering the American Republic: Biographies, Primary Texts, Charts, and Study Questions—Exploring a People's Quest for Ordered Liberty; Volume 2: 1877-Present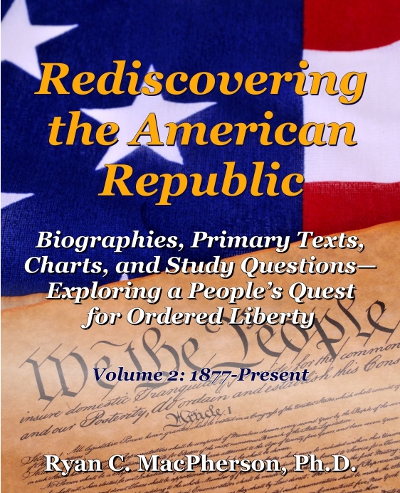 By Ryan C. MacPherson, Ph.D.
Mankato, MN: Into Your Hands LLC, 2013
ISBN 13: 978-0-9857543-1-0 / ISBN 10: 0-9857543-1-1
742 pages / $59.95
Overview
This volume contains over 700 pages of time-tested teaching tools, including biographies and inaugural addresses of every American president from Rutherford B. Hayes to Barack Obama. As the only elected office representative of all Americans, the presidency serves as a national voice concerning America's ongoing quest to establish both order and liberty. Although America's presidents have differed from one another and from their contemporaries as to the proper mix that would foster a lasting ordered liberty, all of them have interacted sufficiently with people of alternative persuasions to ensure that a focused study of their lives also will be revealing of a broad diversity of American experience.
Primary source texts, time lines, and explanatory tables have been interspersed among the presidential biographies and organized into five distinct periods of American history:
America in the Gilded Age, 1877-1901
Progressive Reform and Human Nature, 1901-1929
The Emergence of the American Superpower, 1929-1953
The Cold War and Civil Rights, 1953-1981
The Triumph and the Vulnerability of the World's Only Superpower, 1981-Present
Hundreds of study questions bring distinct historical episodes into sharper focus. The result is full coverage of the most fundamental content essential to any advanced placement (AP) high school or introductory college survey course.
About the Author
Ryan C. MacPherson holds a Ph.D. in History and Philosophy of Science from the University of Notre Dame. He currently serves as Chair of the History Department at Bethany Lutheran College in Mankato, Minnesota. He also has served as a featured instructor for Rich in American History, a continuing education program for middle school teachers of social studies. Dr. MacPherson's publications span the fields of history, theology, law, and public policy.
Ordering Info
This book is available for purchase at Amazon.com. To request bulk orders for resale, please contact Into Your Hands LLC.